Presenting The Information You Need...
Notebook Computer Guide*
Quick... Reviews... Summary...

The Best Gaming Laptops or Notebooks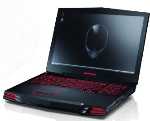 NEW Kaby Lake Alienware 17

$1,899 via Alienware
Read Review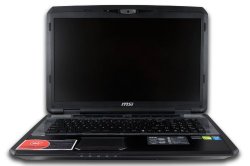 MSI GT72 Dominator Pro G-034 17.3"

$2,999
Read Review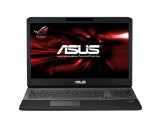 CUK ROG Strix

$1,899
Read Review


For NEW Cyber Week Alienware Deals/Coupons Click Here
Serious Gamers Please Note... Top 5 Gaming Noteboks - Quick Roundup
Or if you're on a Tight Budget - Check out these Gaming Rigs:
Cheap Gaming Notebooks Which Won't Nuke Your Bank Account
Looking for a gamer's laptop - view our video first:
Gaming Notebooks - 5 Things To Consider Before Buying One
Gamer's Guide to Some Serious Extreme Gaming Notebooks
GRAPHICS, GRAPHICS, GRAPHICS
You must have the best/latest/fastest Graphics on the market. DUH!
Serious gamers are concerned with graphics; obsessed would probably be a better word. And rightly so. Graphics or the quality of the graphics chipset in your notebook computer will be your first consideration and it will greatly determine the gaming performance level of your PC.
You want a discrete or Dedicated Graphics Card with as much RAM and Video RAM you can afford.
Go with the latest Graphics Chipset and also check to see if you can upgrade your Graphics Card on the particular machine you're thinking about buying. With laptops, this is much more difficult than a desktop PC, so it's important to choose a graphics card or cards which can play all your current video games smoothly - 30 FPS (Frames Per Second) and much higher.
Most Gamers go with the latest NVIDIA or ATI GPUs
Here are some Graphics Chipsets or GPUs which are highly rated: AMD Radeon™ R9 M290X and the Nvidia GeForce GTX 1080... for the moment.
Keep in mind, new GPUs are constantly being introduced into the marketplace and the card you bought a few months ago, may not be the fastest now. This issue doesn't matter so much if your present system can play all the video games you want it to play.
The GPU makes your notebook computer capable of many functions: 3D games, wide-screen HDTV, dynamic presentations, mobile video editing studio and graphic processor.
Many low-end notebooks come with integrated graphics, where components interact and are sometimes shared, especially memory. This is not ideal for high-performance gaming, and as mentioned above, you need a dedicated graphics card or cards. Also, if you want a notebook computer for 3D games - check the amount of video RAM - this is the memory that's dedicated to graphic or video applications.
If you can, go with a NVIDIA GeForce card or for the real game diehards - try the New Nvidia GeForce GTX 1080 (DX11) or try a top level ATi Mobility Radeon card.
Gamers will be aware of NVIDIA SLI technology, ATI CrossFire and Hyperthreading. All good stuff that's bringing the gaming experience up to a higher level of perfection that would even be worthy of a Spielberg or a Lucas Production. Not really, but it's getting there.
Display quality is also extremely important to your gaming experience. Make sure the resolution and display quality of your notebook computer can handle the graphics of 3D Gaming. Most high-end notebook displays are now full HD 1080p and can easily handle the most demanding visuals gaming machines sometimes require.
However, if you're going for a top-end expensive laptop, resolutions should be higher - in the 4K ballpark. For example, the Asus ASUS NX500 has a 3,840 x 2,160 display.
RAM, RAM, RAM
Get the largest amount of RAM possible, well not really.
RAM - will determine how much graphics your notebook computer will be able to handle. It's best to get the largest amount possible on your machine or what you can afford. Well, within reason, there is such a thing as having excess RAM that your OS can't use. Gaming laptops now come with a ridiculous amounts of RAM... 8GB, 24GB or even 32GB of RAM.
In most cases, unless you're future proofing your machine or are doing extensive video editing, running virtual machines... this is way too much - 4GB to 8GB of RAM will do nicely.
Also check the video ram - this is RAM that is dedicated to handling video pictures on your PC.
RAM or random-access memory. This is what the computer uses to run applications and data on your operating system. For Windows 7, many devices come with 4 Gigs of Memory which should be sufficient for 32-Bit systems - many argue that it can only use around 3.6 GB of that memory and you can get away with using only 2 GB since Windows 7 is light on RAM.
Just of interest's sake, Windows 8 can support up to 128GB of physical memory (running the 64-bit edition), while Windows 8 Pro can go up to 512GB. But again, as mentioned above, while we don't know the games of tomorrow - tests have shown that most systems/games don't use more than 4 GB of Ram.
Most computers/laptops now come with Windows 10 and all but the cheapest and most basic of Windows 10 systems will come with 4GB of RAM.
RAM or the amount of RAM on your notebook computer is extremely important if you want to handle heavy graphic files or want to play games on your notebook. The more RAM you have, the more applications you will be able to handle. Some notebooks now come with up to 32GB of DDR3 memory.
DDR3 SDRAM - is a new standard which is short for "double-data-rate three synchronous dynamic random access memory". DDR3 lets you have chip size of 512 megabits to 8 gigabits, giving you max memory size of 16 gigabytes. Many top-end systems have 8-32 GBs of Dual Channel DDR3 at 1600MHz.
This is much better than standard SDRAM that tops out around 150-166MHz and DDR SDRAM which starts at 200MHz and goes up to around 400MHz and DDR 2 SDRAM at 533MHz.
Video RAM. This is RAM that is dedicated to handling the visuals and graphics on your notebook computer. This is helpful if you want to play a lot of the latest 3D video games on your notebook.
Video RAM or VRAM is a special memory that's used by video adapters on your notebook. It is somewhat different from ordinary RAM because it can be accessed by two different devices at once - enabling screen updates while the video processor processes new data. VRAM provides better graphics but is more expensive than ordinary RAM.
Gamers please note. There is also a special kind of VRAM, known as Windows RAM (WRAM) - which gives even better visual performance than VRAM.
Also check out: Why RAM Is Mission Critical?
SPEED, SPEED, SPEED
You need the fastest computer money can buy. Period.
In order to get the maximum performance from your ultimate gaming computer you must have the fastest speed you can get or afford. Your ultimate PC must be able to process and handle the latest 3D video games with ease. There is nothing as annoying as your PC freezing up in the middle of some major gaming action.
Therefore, your Processor's speed is very important.
CPU or Central Processing Unit, you probably know it as the processor. It's the heart or rather the brain of your notebook or computer.
It does all your computer's data processing and applications. Since it does most of the work, it is usually the most expensive part of your notebook computer.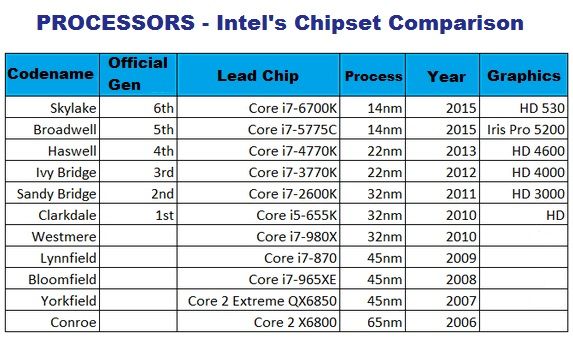 Go with SATA!
New Skylake Intel quad core i3, i5 and i7 processors are now commonly found in a lot of laptops, especially gaming notebooks. These also have the new turbo boost technology which supplies the extra performance with it is needed, such as high demand visuals or gaming.
Skylake - the new 14 nm microarchitecture was released August 5, 2015. Goldmont which borrows heavily from Skylake processors was released in April, 2016. Kaby Lake is the successor to Skylake which will be followed by Coffee Lake. Also be on the lookout for Cannon Lake which is expected in 2018 and Tiger Lake which will arrive in 2019 if all goes to plan.
Another choice would be the AMD A6 & A8 Fusion processors - where AMD has merged both the CPU and GPU into the main platform which they refer to as an APU. For example, we have a quad core A8-3850 at 2.9GHz and sporting 4MB L2 cache with an embedded GPU running at 600MHz.
The speed of microprocessors is measured in MHz.
MHz is short for megahertz. One MHz equals one million cycles per second. The speed of processors, usually known as clock speed, is measured in megahertz (MHz) or these days in gigahertz (GHz).
The higher the clock speed, the faster the computer will process applications and data. It determines how powerful your notebook computer will be.
Processor speeds for notebooks or laptops are steadily increasing, not quite the same as a desktop but the gap is narrowing quickly. Some of the gaming notebooks listed below have speeds of 3.4GHz or more. For example, the top Alienware gaming laptop now can be overclocked at 4.4GHz
SATA is a type of hard drive and stands for Serial Advanced Technology Architecture. It was developed by a whole group of companies including Seagate, Intel, Maxtor, Dell and others. SATA transmit data in a serially (in a single stream) as opposed to PATA or Parallel ATA which is commonly referred to as an IDE hard drive.
Serial ATA hard drives use less power and are ideal for notebook computers; they are also more advanced than PATA hard drives which use multiple streams of data - go figure! But Serial Technology carries data in a single stream and unlike PATA is not limited to a particular clock speed, Serial transfers data packets almost 30 times faster than parallel.
If top performance in your notebook is one of your goals, go with a SATA hard drive.
Don't forget to ask or check the hard drive speed! A 7,200rpm hard drive is faster than a 4,200rpm or 5,400rpm - and usually gives better performance.
The introduction of the SSD or Solid State Drive has greatly improved booting times and given operating systems faster speeds. Most gamers these days, try to buy a system which has at least one SSD - and they make sure the OS is located on this faster drive.
The MAIN ATTRIBUTES of a great gaming machine are: a high spec processor, dedicated graphics chip and plenty of system memory.
Kaby Lake Intel's 7th and 8th generation of it's processors. The gaming industry is at a crossroads for many of these advanced systems. For example, we now commonly see quad-core CPUs featuring dual graphics cards via SLi with Nvidia and CrossFire with AMD powered systems. Most serious gamers will also look for full HD 1080p (or 4K) displays and usually a Blu-ray Drive. Plus, full 3D is another option on many of the latest gaming rigs.
Here are some Gaming Notebook Computers You might want to consider. Keep in mind, that your ultimate gaming PC is YOUR machine and you will no doubt want to config it your way. Many of these companies or brands allow you to order your PC with your own specs.
Drum roll please!
Top Rated 'Gaming' notebooks
From Alienware: Alienware 17
This Alienware Laptop is pricey yet powerful enough to replace most if not all gaming desktops. Also from Alienware the: .
Please Note - that DEll has now purchased Alienware in 2006. This may disappoint some, but it could mean faster delivery times for your Alienware machine. Plus, all that Dell marketing might and resources will mean a better Alienware deal for you.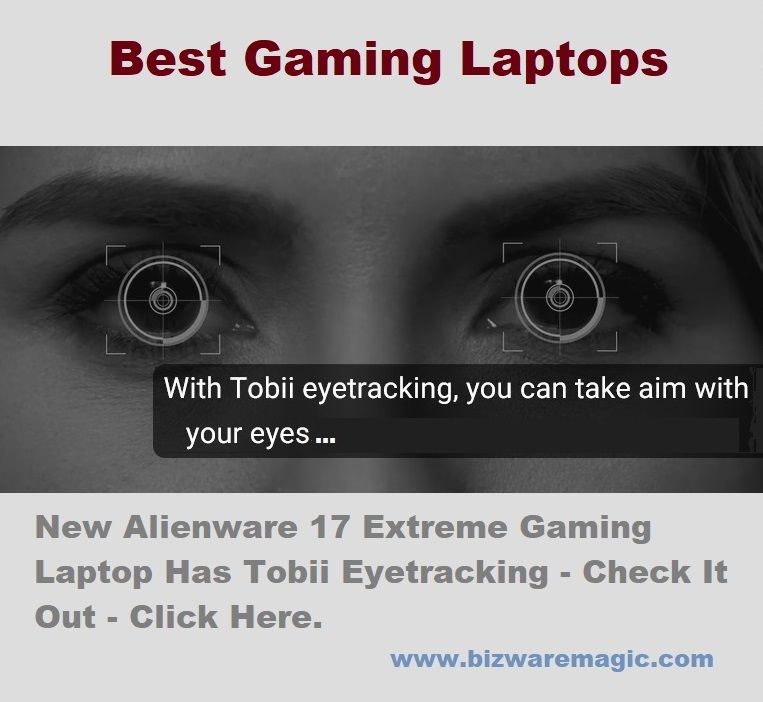 The New Alienware 17 has Tobii Eyetracking which lets the gamer aim with their eyes. This relatively new technology enables gaming devices to understand or know what you're looking/aiming at by using an eyeball tracker. Up your gaming experience by complementing your mouse, keyboard or gamepad with new input method.
Tobii Eyetracking can be found on the latest gaming PCs and laptops such as the Acer V Nitro
, MSI GT72, Predator 21X and the Alienware 17.
Click Here for a Full Page of the latest: Alienware Coupons & Discounts
Gamers will instantly recognize the brand name Alienware from its desktop PCs - but this company also makes some great gaming notebooks - take a close look at Alienware 17 before you buy your gaming laptop.
From Dell: Dell XPS Extreme
Dell is probably not best known for its gaming notebooks but the XPS Notebooks can hold its own against the more stylish brand names. Don't dismiss this one just because its a Dell. Check out the specs and superior graphic system on this machine and you might be pleasantly surprised at the great performance. Not to mention, the couple of grand you will save by going with a Dell XPS machine.
Other major considerations when choosing an affordable, yet capable, gaming rig would be the ASUS "Republic of Gamers" series of laptops such as the ASUS ROG G750JZ-DS71.
And don't ignore the gaming notebooks from MSI such as the powerful MSI GT70 Dominator-895
.
To find out more about ASUS and MSI gaming notebooks just read the following article:
Alienware vs Asus vs MSI! Who Wins Top Gaming Laptop? Top 5 Gaming Rigs According to PCWorld
Or the new kid on the block with strong ties to Alienware:
From HP we have the: HP Envy 17 Review
Along with the new 3D edition, the Envy 17 can't be ruled out and is worth a close look. Also check out the Toshiba Qosmio X305. Will Toshiba Revolutionize Gaming Notebooks?
Judgment Time
In conclusion, it's time to choose your ultimate gaming notebook. Keep in mind the points listed above: Graphics, Ram, and Speed. Check out each one of these points on the gaming machine you intend to buy and see if they meet your requirements. Best rule of thumb, if you can afford it - buy the top of the line product that gives the best Graphics, largest Ram and fastest Processing Speed.
Regardless of what you have just read, most gamers will make a short list of possible systems... if money is not an issue that list will consist of fully maxed notebooks such as the following: Alienware 18 or 17, MSI GT72, ASUS G750, Origin EON17-SLX and probably Razer Blade Pro.
Lastly, there are a few other major considerations when picking a gaming laptop... always check to see if the system you're buying can effectively handle the heat and fan noise. You want a laptop which doesn't overheat and one which runs quietly. Simple check in Google with the model name and keywords like "overheating" "fan noise" will usually bring up any serious issues or problems.
Sounds easy but choosing the right gaming notebook for you will still be somewhat difficult and will take some thought - hope this simple guide has given you some points to consider and pointed you in the right direction.
Happy Gaming. Go Get 'em!
SPECIAL NOTE - Know Your Clevo
Real gamers know their Clevo products. They know Clevo is the large Taiwanese computer company which specializes in laptops. Most people have never heard of the Clevo brand name but are very familiar with re-branded Clevo products sold through Falcon, VoodooPC, Pro-Star, M-TECH, Sager, Rock... Clevo is considered by most gamers to produce the best notebooks with regards to superior quality and build.
So next time you're considering/ordering a gaming laptop, dig a little deeper to find out exactly what you're buying.
Know Your Clevo...
P.S. If you're looking for a least expensive gaming laptop than some of those gaming rigs listed above, there are some good alternatives you may consider.
To Check Out Top-Selling Notebook Computers That Are Updated Daily Top Deals For Today!
To Check Out Top-Selling Notebook Accessories Click This Link: Notebook accessories
The Notebook Guide
Want to thank BWM for this content? Tell a friend about us, add a link to this page - or visit our main page for more free guides & reviews.
Link to this page:
Please bookmark with social media, your votes are noticed and greatly appreciated: