Presenting The Information You Need...
Notebook Computer Guide*
Quick... Reviews... Summary...


MSI GT70 Dominator-895 Compiled Review
Written by
+Titus Hoskins

If you're contemplating buying a gaming laptop in the near future, not considering an MSI notebook should be classified as a major crime. MSI gaming laptops offer great style and great value for your money. That's why we have put the MSI GT70 Dominator-895 on our short list for Bizwaremagic's Laptop Guide subscribers... we picked this one because for just over $1400 you get a gaming system which can play most modern games at the highest or near highest settings smoothly.
The MSI GT70 comes well-equipped to play your games; it has a fast 4th generation Haswell Intel Core i7-4800MQ quad core processor which has 6M Cache, at 2.70GHz which can be boosted to 3.70GHz. The Nvidia GeForce GTX 870M graphics card with 3GB GDDR5 ram... for those gamers who must have the GTX 880M card, look around for other versions such as the GT70 Dominator Pro-889 or the GT72 2PE Dominator Pro.
For the moment, we will stick with the MSI GT70 Dominator-895, which also comes with 16 Gigs of ram (4x4GB) DDR3L 1600MHz and 1TB 7200rpm hard disk drive. Both of which can be upgraded... the ram to 32GB and the hard drive(s) can be larger. We suggest you get at least a small 128GB Solid State Drive to increase loading speeds and boot times by placing your OS on this faster flash memory drive.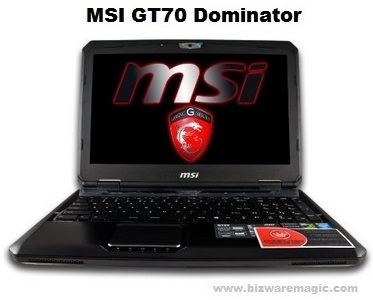 We also recommend you purchase your MSI GT70 thru Computer Upgrade King via Amazon since these upgrades can be done by CUK without voiding the warranty. Obviously, your computer will come with the box open and upgrades done (along with any tweaking) to make your laptop run perfectly. If you do the upgrades yourself, you may void your laptop's warranty. Also remember, you will have to sign for delivery of your laptop but purchasing your system this way gives you Triple avenues to follow if anything should go wrong.
Wireless Issues - Please Note
Before we go any further, many users have reported problems with the wireless system (being disconnected without notice) while playing online games and so on. This has to do with MSI's Killer Network Card which give many users trouble - just do your own research in Google with the keywords "MSI & Killer Network" to discover if this will be a major turn-off or something you can easily fix.
Besides this major or minor (depending on how important it is to you) networking issue, the MSI GT70 Dominator-895 comes highly rated by actual users. Achieving 4.5 out of 5 stars - a large majority of these reviewers giving it 5 stars. In addition, most users commented on how fast the MSI GT70 performed and how much computer/value you get at this price range.
Display Screen
The full HD (1920x1080) non-reflecting 17.3" display is crisp and clear. The system can support up to three monitors/displays, four if you count the laptop itself. (VGA, HDMI and Mini-Display ports) This laptop can also come with a Blu-ray Optical drive - on some models this is an upgrade.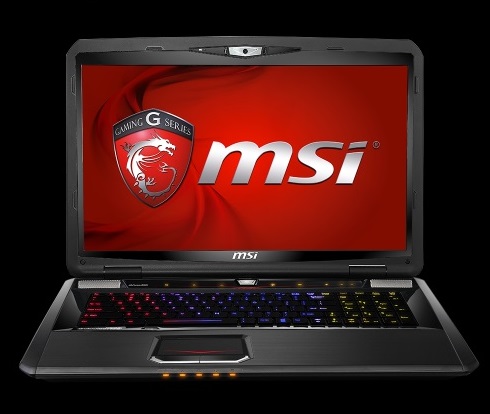 Keyboard
The overall style of the MSI GT70 is solid with a chassis made of brushed aluminum hard plastic. The keyboard is backlit with three separate areas which can be changed with 24 programmable color variations. The SteelSeries gaming keyboard is full-size and responsive. The laptop weighs 8.6lbs and 2.17 inches thick, measuring roughly 16.85 inches by 11.34 inches.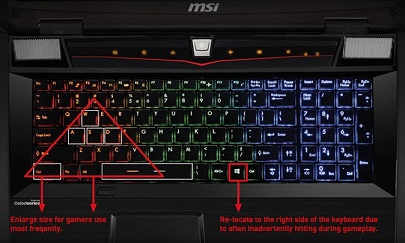 Audio
The audio system in the MSI GT70 comes with two Dynaudio Premium Stereo speakers with subwoofer and is enhanced with an audio boost amplifier and Sound Blaster Cinema. It also has a built-in 720p HD web camera which some reviewers state is not the best but will suffice.
Cooling
Cooling system on the GT70 has been greatly improved, and according to MSI their exclusive Cooler Boost 2 technology "reduces temperatures by 15% while keeping noise at a minimum." It efficiently and intelligently uses a single fan to cool both the CPU and GPU to keep temperatures constant. Users report the laptop runs warm, especially under heavy gameplay, but still manageable. Many suggest using a cooling pad to cut down on any excessive heat and to prolong the life of any sensitive components. Fan noise is also tolerable, and you can manually boost the fan by a button on the laptop.

Ports & Connections
LAN/WLAN Bigfoot Networks Killer Gigabit LAN
Bigfoot Networks Killer 1202 + Bluetooth V4.0 Combo Card Interface
4 x Audio jacks
1 x VGA port/Mini D-sub 15-pin for external monitor
1 x HDMI v1.4
1 x Mini DisplayPort
3 x USB 3.0
2 x USB 2.0
1 x RJ45 LAN - Bigfoot Networks Killer Gigabit

Battery
It has a 9 Cell Lithium Ion Battery, but don't expect great battery life as this is a high-performance system which burns through resources quickly. Light web browsing will obviously give you longer battery life.
Measurements
Height: 2.17 inches
Depth: 11.34 inches
Width: 16.85 inches
Weight: 8.6 pounds.
Warranty
"Labor: 2 Year Limited Manufacturer Warranty (Including 1-Year Global). In addition to the warranty from the manufacturer, Computer Upgrade King provides a 3 year warranty for all upgrades on systems purchased from Computer Upgrade King. Computer Upgrade King also provides three-year diagnostics free of charge on all systems purchased through their store."
Final Verdict

The MSI GT70 is an affordable gaming laptop which delivers the goods: high-end performance and fluent game play. Issues with wireless connections may detract from a perfect record, but it should make every gamer's short list - especially those on a tight budget. Getting a fast i7-4800MQ quad core processor, GeForce GTX 870M graphics and 16GB of ram for around $1400 is worth a consideration. Those with a little more to spend can look around for a GTX 880M model with an SSD and Blu-ray or try the GT72 2PE Dominator Pro.
Where To Buy The MSI GT70 Dominator
Here's one of the latest MSI Dominator Pro G Laptops:
MSI GT72 Dominator Pro G-034 17.3"
.....
For Additional Information on the MSI GT70 Series of laptops try these video reviews:
Interview With MSI Company Representive Discussing The Dominator & Apache Series
Video Review MSI GT72 Dominator Pro Interview
Video Review of the MSI GT72VR Dominator Pro 17.3 Gaming Laptop
Please Bookmark This Page:
As with ALL our compiled reviews we are constantly adding new content as more reviews/issues arise on the MSI GT70 Dominator Series.
The Notebook Guide
Want to thank BWM for this content? Tell a friend about us, add a link to this page - or visit this page for more gaming systems.
Link to this page:
Please bookmark with social media, your votes are noticed and greatly appreciated:
Please bookmark with social media, your votes are noticed and greatly appreciated:
To Check Out Top-Selling Notebook Computers That Are Updated Daily Click This Link: Top Deals For Today!
If money is no object - You might want to Click This Link: the-best-notebook-money-can-buy!
CLICK To View Our TOP HAND-PICKED Quality Laptops: