Presenting The Information You Need...
Notebook Computer Guide*
Quick... Reviews... Summary...


ASUS G750JZ-DS71 Compiled Review
Written by +Titus Hoskins

The Asus ROG (Republic of Gamers) G750JZ-DS71 comes highly rated and if you're considering buying a gaming laptop it must be on your short list of top performance machines. Cut to the chase and to make this quick - the G750JZ sports the GeForce GTX 880M graphics card, which Nvidia say is their fastest GPU on the market and can handle most, if not all, modern video games at the highest levels smoothly. Moreover, all indications point to a quiet and cool running gaming laptop that won't annoy the heck out of you with fan noise or toast your fingers with an overheating meltdown.
As we consistently remind our Bizwaremagic Laptop Guide subscribers, besides being able to play your games fluently, checking for any overheating issues should be one of your main priorities when purchasing a gaming laptop. There is not much point in having top-notch specs and power if the excess heat is not well ventilated and properly controlled.
The G750JZ's improved cooling system seems to handle the jog quite adequately; dual independent fan systems (one for the CPU and one for the GPU) efficiently channels heat and keeps the laptop cool. It also has copper heatsinks that are better than aluminum ones - especially when we are talking about high-performance gaming specs and demands put upon your system. Keep in mind, the Asus G750JZ GPU has overclocking technology that can deliver a 5% performance boost. In addition, the 4th generation Intel Core i7-4700HQ 2.4Ghz processor which can be Turbo Boosted to 3.4 GHz.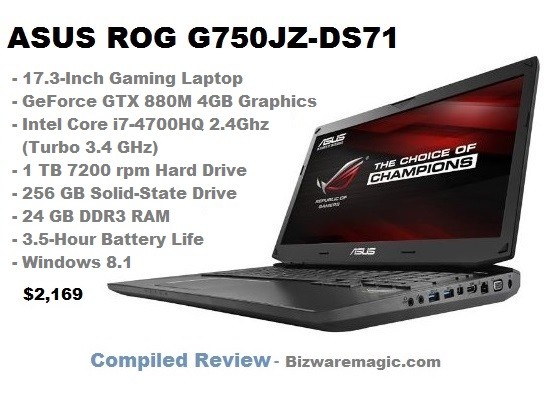 While not as flashy in style as other gaming notebooks such as the Alienware 17, the G750JZ has a black stealth space-like look which does have its appeal. This laptop is made of high-quality plastic and 2 inches thick, this laptop comes in at 9.9 pounds. In theory, this is a portable desktop replacement, but mobility won't be a major selling point. You can also forget the flashing color lights; the keyboard is backlit but only with white light. The keyboard is full-size, but not programmable - which could be a deal breaker for some gamers but not many.
The G750 has a 17.3-inch display (LCD native resolution 1920 x 1080) which is crisp and has fully saturated colors. The display is glare-resistant that makes viewing possible under bright conditions such as in a sunny room. This laptop also supports the "Trinity Display Technology" which lets you have three monitors playing simultaneously.
Depending on the price range, the G750JZ comes with 24GB of RAM, while the higher priced G750JZ-XS72 model has 32GB. Quite frankly, 4 to 8GB of RAM is more than enough for the smooth running of any laptop. Unless you're doing HD photo/video rendering, excessive RAM is simply overkill. You are better off saving your money and using it to upgrading your system with other features that you will actually use on your notebook.
Please Note:
G750JZ-DS71 and G750JZ-XS72 have basically the same specs... except for around $500 more you get 32GB of RAM (instead of 24GB) and the ability to burn/write DVDs on the Bluray drive with the G750JZ-XS72 model.
This G750JZ has dual drives - 1 TB 7200 rpm hard drive and a 256 GB SSD or Solid State Drive. Most current laptops have at least one SSD for faster booting and computing. In this case, Asus has wisely installed the operating system on the high-speed SSD which gives much better response times, and it will load your games faster.
As one would expect, this laptop has the customary slots, ports and connections. There are 4 USB ports, VGA Out port, 802.11bgn Wireless (There is also an 802.11a/b/g/n adapter that can deliver data transfer speeds of up to 300Mbits/s.), SD card reader, DC in Jack, built-in microphone and subwoofer, cable lock slot and a BluRay drive. You should check this drive - on the lower price models this is "read" only, while on higher price models the Bluray can also write or burn discs.
Performance/Benchmarks On performance tests/benchmarks the G750JZ has scored some high marks. In the Computershopper.com 3DMark 11 test for overall graphics - the GTX 880M equipped Asus wasn't as fast as the two 780Ms on the Alienware 18 notebook, but the G750 came in a close second and was over 20% faster than the single 780M Alienware 17 - at least in the extreme mode. In actual game play where it really counts, the G750 pulled off some decent frame rates, according to Laptops.reviewed.com Portal 2 did around 60 FPS, Metro: 2033 did 37.67 FPS and Bioshock Infinite ran at around 82 FPS - all at the high 1080p settings/levels.
Sound & Audio
The G750JZ has an impressive audio system which features stereo speakers, Asus SonicMaster, a subwoofer and a headphone amplifier. Plus, you have the ROG AudioWizard software which lets you adjust the audio settings and choose from 5 preset modes.
Keyboard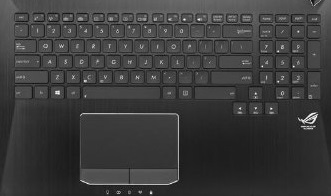 There is a full-size chiclet style keyboard and as mentioned above you can't program the keys, but it is nicely backlit for typing/playing in the dark. The keyboard is comfortable and the directional arrow keys are conveniently located below the numeric keypad.
Display Screen The G750 has a 17.3-inch LCD display with a native resolution of 1920 x 1080. Colors are crisp and fully saturated on this glare-resistant screen.
Touchpad The touchpad on the G750JZ is said to be one of the best on the market - responsive and gives complete control. Although for many gamers this won't be a major consideration since most play games with a mouse and the keyboard.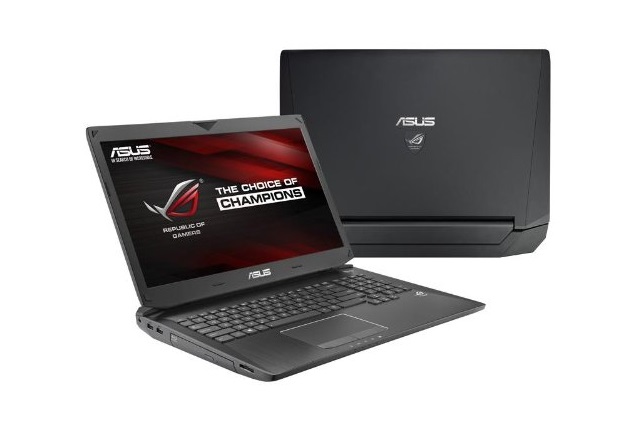 Heating Issues
As mentioned above, because of its improved cooling system, the G750JZ has few heating issues or problems. The dual independent fans easily controls/directs heat away from the CPU and GPU effeciently.
Battery Life
Asus claims a battery life of 3.5 hours and says because of the Optimus Technology one can automatically switch between discrete and integrated graphics to same battery time. Other reviewers have gotten up to 5.5 hours, but battery life will largely depend upon the type of usage... simply web browsing will naturally result in longer battery life.
Measurements
Height: 2 inches
Depth: 12.5 inches
Width: 16.1 inches
Weight: 9.9 pounds.
Price
The G750JZ-DS71 is priced at $2,169 but this price may change or vary somewhat depending on the merchant. As noted above, for around $500 more you can get the G750JZ-XS72 which has 32GB of RAM and the able to burn/write DVDs with the Bluray player.
Final Verdict

The Asus G750JZ-DS71 is a powerful high-performance gaming laptop which doesn't have all the flashy elements one would expect on a high-end rig, but it's a solid machine which will definitely get the job done. Boasting one of the fastest GPUs on the market in Nvidia's GeForce GTX 880M and supported with the 4th generation Haswell Intel Core i7-4700HQ 2.4Ghz processor with Turbo Boost to 3.4 GHz when needed. Great 1080p display, responsive touchpad and full-size keyboard round out this 9.9 pound gaming package. Perhaps not the ultimate gaming notebook, but one that gives great value for your money and should be placed on anyone's short list if they're purchasing a gaming laptop.
Where Can I Buy The Asus G750JZ-DS71
One of the cheapest ways to purchase this laptop is thru Amazon:
For Additional Information on the ASUS ROG G750JZ-DS71 try this video review:
Most Helpful Detailed Reviews:
https://www.computershopper.com/laptops/reviews/asus-republic-of-gamers-g750jz-xs72
https://laptops.reviewed.com/content/asus-rog-g750jz-xs72-gaming-laptop-review
Check out ROG official forum here: https://rog.asus.com/forum/
Please Bookmark This Page:
As with ALL our compiled reviews we are constantly adding new content as more reviews/issues arise on the Asus G750JZ-DS71.
The Notebook Guide
Want to thank BWM for this content? Tell a friend about us, add a link to this page - or visit our main page for more free guides & coupons.
Link to this page:
Please bookmark with social media, your votes are noticed and greatly appreciated:
To Check Out Top-Selling Notebook Computers That Are Updated Daily Click This Link: Top Deals For Today!
If money is no object - You might want to Click This Link: the-best-notebook-money-can-buy!
CLICK To View Our TOP HAND-PICKED Quality Laptops: