Presenting The Information You Need...
Notebook Computer Guide*
Quick... Reviews... Summary...

Best Display Resolutions
Helpful tips on picking/choosing the right resolution for your laptop or notebook...
Which Resolution Is Right For My Laptop?
Some of the most commonly asked questions about purchasing a laptop concerns resolutions and display sizes. What is the best resolution for the display screen I am buying? What is my laptop's native resolution? How can I make sure I am getting the best image possible on my new laptop?
All these questions can be very confusing and complicated to the future laptop buyer, especially when one has to consider we have over 20 different resolutions - from VGA to WQXGA. All of these resolutions are measured in the number of pixels displayed - width × height - so a VGA display means you have 640 pixels by 480 pixels. VGA also has an aspect ratio of 4:3 which tells you the proportions of the image, for example, 4:3 ratio is like the old television format, while the 16:9 aspect ratio is often referred to as the widescreen movie format.
However, before you can even start considering these resolutions, you must have some idea of your laptop's native resolution and how it will affect the viewing quality of your future laptop.
What Is Native Resolution?
Native resolution is the maximum absolute resolution of your display panel or laptop screen. This resolution is important because it will largely determine the quality of your viewing image. Unlike a CRT monitor, your LCD display has a fixed raster (or bitmap) and cannot change the resolution to match the incoming signal, so getting the optimal picture display quality can only be reached when the signal input perfectly matches the native resolution.
How To Find The Native Resolution of Your Laptop?
You can check your native resolution by clicking
start --> control panel --> display
Usually you will be able to adjust your screen's resolution from this location, the maximum resolution is the native resolution.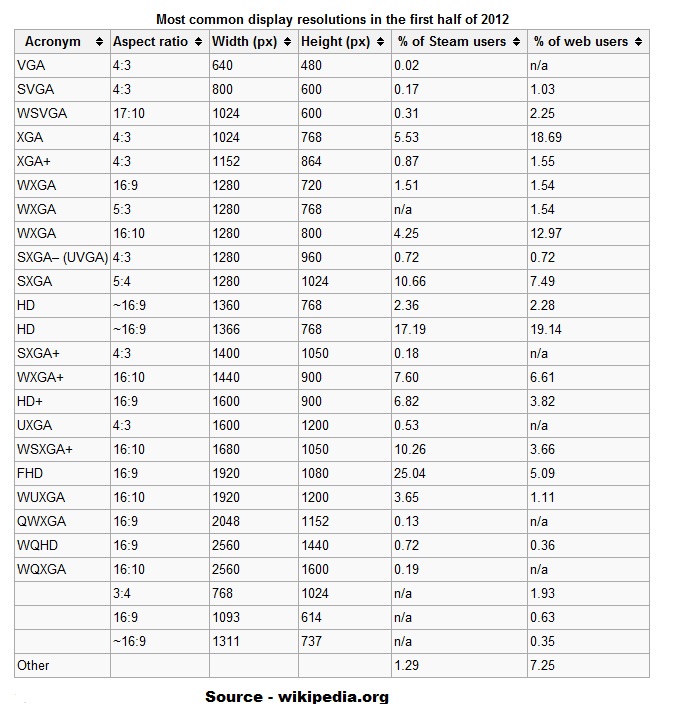 Your laptop's display resolution will greatly affect how you enjoy your device since it will determine how much detail you will get from your screen. This is important especially if you want to use your laptop for viewing movies or playing the latest video games. Keep in mind, having a higher resolution means you will be able to view a "larger amount" of material... good for having two browsers or applications open at once. Only drawback, if the resolution is too high, the images on your laptop screen could be too small to read comfortably for many people.
Therefore, you need to find the right resolution to fit your laptop display size or at least one which you're comfortable with using. Remember, when judging or finding the right resolution for your needs, nothing beats first-handexperience or viewing of the actual laptop or device. Check out the resolution and image quality to see if it meets YOUR standards and expectations. This might not even be the recommended resolution but it is the resolution you want in your device.
To get you started, here's a very general guideline of Display Size to Resolutions:
Smaller laptop with 11 to 13 inch display - 1366x768
Medium laptop with 14 to 15 inch display - 1600x900
Larger laptop with over 15 inch display - 1920x1080
Again, these are just numbers and these resolutions may be too high for what you want in your laptop, especially if you're buying a small netbook or tablet PC. Always remember you do need to check out the picture and image quality of your laptop to see if the display and resolution is something you're comfortable with having and enjoying. For example, my old Toshiba Satellite comes with a 2048 x 1536 native resolution but I find it more enjoyable to have my 17 inch widescreen laptop set at 1440 x 900 pixels.
Here's another helpful tip - many users find having a high resolution will make the image sharper but also smaller and sometimes hard to read. You can always use "DPI Scaling" to increase the font/text size on your screen. By adjusting the DPI (dots per inch) scale you can make the text easier to read or view.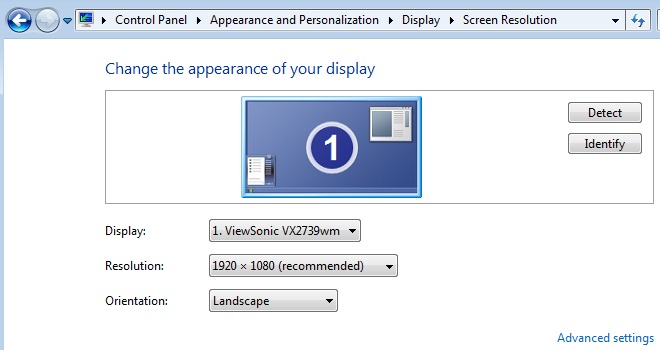 In order to adjust your DPI setting, just right click on your desktop and go to the "Personalize" section. You should now see a link called "Adjust font size or DPI". The default is usually set at 96 DPI and you can move this up to make everything larger and much easier to read.
Now, those who will be doing video editing or playing very demanding video games, should go for the highest resolution possible - assuming of course, they're buying a laptop with a large 17 to 20 inch screen. More than likely, those individuals will want a full HD display, such as 1080p, which is 1920 x 1080, around 2.1 megapixels. Another one that you see in high-end gaming notebooks is WUXGA (1920 x 1200) resolution.
Footnote - With the introduction of Apple's Retina Display on the new Ipad3 with a 2048 x 1536 pixel resolution (264 pixels per inch) on a 9.7-inch display, one would expect laptop displays of the future will have similar standards and even higher resolutions if possible. Some Retina MacBook Pro machines (2880x1800) are already pushing the limit of these higher resolutions with over 5 megapixels. Once computer users experience these high quality images and resolution on these tablet devices, they will also want the same standards on their laptops.
The Notebook Guide
To Check Out Top-Selling Notebook Computers That Are Updated Daily Click This Link: Top Deals For Today!
To Check Out Top-Selling Notebook Accessories Click This Link: Notebook accessories
Want to thank BWM for this content? Tell a friend about us, add a link to this page - or visit this page for more laptop buying tips.
Link to this page:
Please bookmark with social media, your votes are noticed and greatly appreciated:
CLICK To View Our TOP HAND-PICKED Quality Laptops: