Presenting The Information You Need...
Notebook Computer Guide*
Quick... Reviews... Summary...


Alienware 17 Compiled Review
Written by
+Titus Hoskins

This is a compiled review of the 2014 Alienware 17 gaming notebook, a powerful high- performance machine which often appears at the top of many editors' choice as the best gaming laptop on the market. This is a compiled review/summary for our Laptop Guide patrons and subscribers. These subscribers will already know any potential buyer must be aware many laptop and computer reviews (including Alienware 17 reviews) are mostly done with high-end high-spec models of the particular laptop being tested.
While not exactly useless, these reviews can be misleading UNLESS you buy the same specs as the reviewed model. Granted many aspects - such as style, handling, feel, components... may be the same, but there can be a big difference in performance depending on the type of Configuration one is buying. This can be especially true of high-end gaming laptops and desktop computers. The Alienware 17 is no exception.
For your quick inspection, below is a handy graphic of how a basic (starting price) model is configured in comparison with a higher-end and much higher priced version of the same Alienware 17 laptop.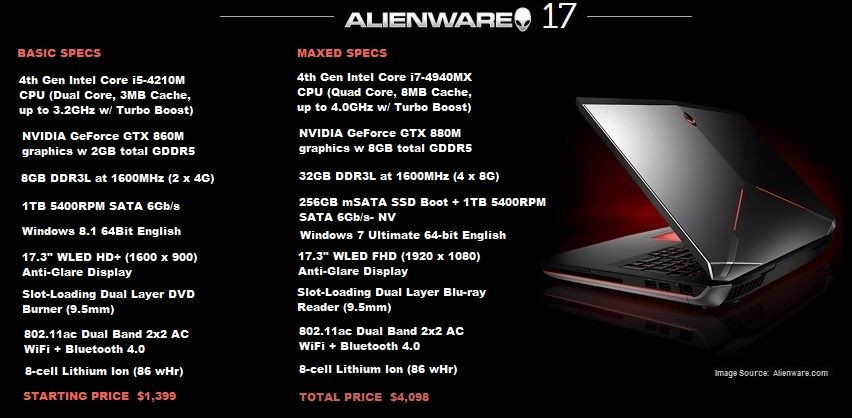 One of the most glaring things which pop out is the lower 1600 x 900 display on the base price model, contrasted with the Full High Definition 1920 x 1080 resolution on the higher end model. If you want top visuals, we strongly suggest you upgrade to the 1080p for just $150 more.
Next, one of the most important components in any gaming laptop is the graphics card or cards. Here, at the lower priced model we have the Nvidia GeForce GTX 860M which is an upper mid-range graphics card (DirectX 11 compatible) based on Nvidia's Maxwell architecture. And according to NotebookCheck.com, the GTX 860M can play many of the latest games, such as Tomb Raider or BioShock Infinite, smoothly in Full HD or at ultra settings. But more demanding games such as Battlefield 4 or Crysis 3 will require lower resolutions/settings to run fluently.
In contrast, the Nvidia GeForce GTX 880M is a very a high-end (DirectX 11 compatible) and one of the fastest notebook graphics cards on the market. The GTX 880M can run fluently the most demanding games at Full HD and Ultra high settings. So if you can afford the extra money, going with a higher end or more powerful graphics card will probably give you the most bang for your buck.
Quite frankly, 8GB of RAM is enough for gaming but if you do or plan to do video editing, the 16GB upgrade might prove helpful. And unless you're using your laptop as a workstation 32GB is simply overkill, assuming you're not future-proofing your machine.
Similarly, while the 4th Generation Intel Haswell i5-4210M processor (Dual Core, 3MB Cache, up to 3.2GHz with Turbo Boost) is a middle-class dual core CPU, one would obviously expect more power from the high-end i7-4940MX CPU which is Quad Core, 8MB Cache, up to 4.0GHz with Turbo Boost. In addition, these extreme CPUs, such as the i7-4940MX, have an unlocked multiplicator which makes overclocking very easy.
As for the hard drive, as long as you have SSD (Solid State Drive) for faster booting, 1TB of storage should be large enough for everyone. Especially when you consider many games are now streamed and storing your games online is an viable option. Many gamers now go for a smaller SSD for booting and the slower 5400RPM drive for storage. The Alienware 17 has support for three hard drives so finding a suitable option shouldn't be a problem.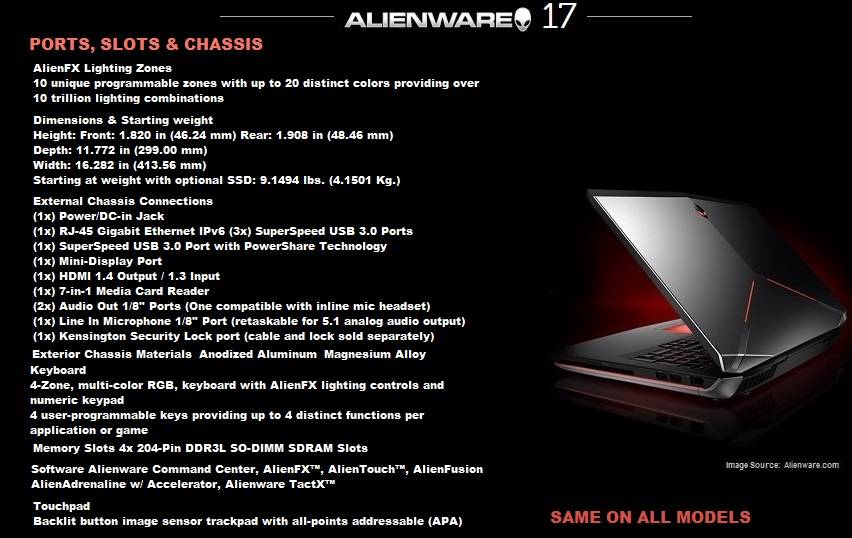 Now the Alienware 17 has been reviewed in/on many different sites and here are some of the MAIN KEYPOINTSkey points worth noting:
Style/Looks
Without a doubt, the Alienware 17 draws high marks for a stylish design which says gaming notebook at every glance. This assessment is backed up with the anodized aluminum and magnesium alloy chassis - with the lid topped off with a black soft-touch finish. Likewise, the interior is coated in a black, soft-touch finish... with the whole design dressed-to-kill with the 10 AlienFX Lighting Zones which can be programmed with up to 20 different colors which provide for over 10 trillion lighting combinations - can someone say overkill!

However, all joking aside, one of the main selling points has to be Alienware's dedication to making their gaming notebooks look great. What's the point of having a Ferrari if it doesn't look like a Ferrari? Gamers want their rigs to not only perform like a Ferrari, but actually look the part too. The Alienware 17 is a Ferrari and then some.
Performance/Benchmarks Great looks are fine, but a gaming laptop has to have something under the hood to get the job done. As mentioned above, performance levels/benchmarks will depend on how your Alienware 17 is configured. At the high end with the quad core 4.0GHz Hawell i7-4940MX processor with 32GB and the Nvidia GTX 880M graphics with 8GB total GDDR5 - this laptop can easily handle anything that's thrown at it.
In their Benchmarks Tests, PCWorld states the new Alienware 17 is the fastest laptop they have ever tested. For example, it was the best performer on WorldBench 9 with a score of 122 - nearly 13% faster than the second-place finisher Asus G750JH Gaming Notebook.
In contrast, Laptopmag.com states gives a PCMark7 score of 5,838 - which came up short when tested against other gaming rigs such as the Asus 2.4-GHz Intel Core i7-4700HQ G750JZ which scored 5,969. The MSI 2.7-GHz Intel Core i7-4800MQ GT60 did 6,054, but the fastest was the 2.8-GHz Intel Core i7-4810MQ Digital Storm Krypton with a score of 6,437. Those rigs/numbers may now be a little outdated... but the Asus G750JZ, MSI GT60, Digital Storm Krypton and their successors should be on your list of possible alternatives to the Alienware 17. Keep all your options open.
Sound & Audio
Another area where the Alienware 17 excels is sound or audio performance. Powerful front-mounted Klipsch speakers have a full-bodied sound which will fill the room. (Hear an example of this sound in the YouTube Video Review below.) In LaptopMag's Audio Test, which measured a continuous tone from a distance of 23 inches - the speakers scored 99 decibels. This was much better than other laptops such as Digital Storm's Krypton and MSI's GT60 - it was also above the 89-dB average.
Keyboard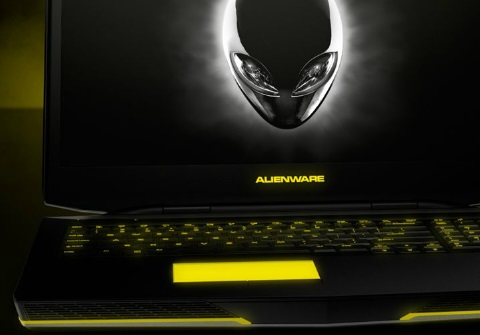 This laptop has the full-size backlit keyboard, including a separate numeric keypad. According to Notebookreview.com, this is a traditional keyboard with a great feel. Key-action is quiet, and the keys have a rubberized surface which should hide fingerprints. In contrast, PCWorld reports, this keyboard is comfortable but found the keys to being a little bit slippery and offered "weak tactile feedback."
Display Screen
Alienware 17 sports a 17.3-inch widescreen display with an anti-glare surface. Keep in mine, this is a TN (Twisted Nematic) display which can have poorer viewing angles than an IPS (In Plane Switching) panel display. However, TN panels have a 2ms response vs 5ms for the IPS displays; and most most reviewers say the 17's looks good - with great color reproduction and contrast, especially on the 1080p model. There is also a 3D 120Hz option and there is an integrated HD webcam.
Touchpad
This programmable 4 x 2.25-inch Synaptics touchpad offers multitouch gestures such as two-finger scroll, pinh-to-zoom and three finger press & flick. This Alienware touchpad was said to be responsive but there are probably better ones on the market. Some reviewers stated that they had to press down harder for better tracking. Although overall, this touchpad is more than adequate.
Software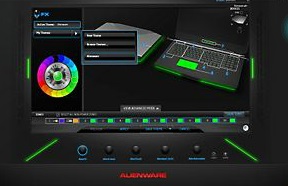 Some of the software installed on the Alienware 17 includes: Alienware Command Center, AlienFX, AlienTouch, AlienFusion, AlienAdrenaline w/ Accelerator, Alienware TactX and other optional software. It should be noted the Dolby's Home Theater v4 software is a great addition to the Klipsch speakers.
Heating Issues
Overheating is one of the most common problems/issues dealing with a gaming laptop. A simple search in Google didn't show a large number of heating issues with the new Alienware 17, but there has been some discussion on overheating problems with the GTX-880m graphics card in a few forums.
However, Laptopmag did do some "heat testing" and found the touchpad was a cool 81 degrees after 15 minutes of streaming a Hulu video. Playing video games raised this temperature to 88 degrees - which is acceptable but the laptop' undercarriage hit 96 degrees with the vent blowing 100 degrees - ouch!
Alienware 17's cooling system is separated into two parts - the CPU heat is vented on the left, and the graphics card heat is vented on the right - out the back of the laptop. Many agree keeping these two components separate is a great idea and keeps this high performance notebook cool.
Battery Life
For most gamers, poor battery times is generally a non-issue, since most gaming laptops use up so much power/resources battery life is usually well below average. The Alienware 17 is no exception - averaging around two hours if you're lucky, but it did score five hours, 21 minutes on a new Powermark "Productivity" benchmark measured by NotebookReview.
Measurements
Height: Front: 1.820 inches (46.24 mm) Rear: 1.908 inches (48.46 mm)
Depth: 11.772 inches (299.00 mm)
Width: 16.282 inches (413.56 mm)
Starting at weight with optional SSD:
9.1494 lbs
.
Price
While Alienware prices have dropped slightly in recent years, compared to other gaming systems/brands, Alienware is overpriced. With a starting price of $1,399 the Alienware 17 is affordable, but to get maximum performance/power/pleasure one has to upgrade to the $2500 - $4000 price range. Double Ouch!
Final Verdict

The new Alienware 17 is a powerful high-performance gaming notebook and desktop replacement which doesn't skimp on style. At a little over 9 pounds this is not a portable rig, but it has a great design and the lighting effects can't be beat. The keyboard and touchpad, while not the best on the market, is quite adequate and won't disappoint. While a bit pricey, especially for a fully maxed system, the starting price is around $1400, but if you do decide to go with the lower end model, we strongly recommend you upgrade to the 1080p display.
Where Can I Buy The Alienware 17
To find the latest sales, promotions & discounts from Alienware - click this link:
Featured Promotions for Alienware Gaming Computers!
Or try here: Alienware Coupons & Discounts
.....
Additional Information on the Alienware 17 Gaming Notebook:
Most Helpful Detailed Reviews:
https://www.notebookreview.com/notebookreview/alienware-17-review/
https://www.laptopmag.com/reviews/laptops/alienware-17-2014
https://www.pcworld.com/article/2359690/alienware-17-review-beauty-and-beast-in-one-gorgeous-gaming-notebook.html
Please Bookmark This Page:
As with ALL our compiled reviews we are constantly adding new content as more reviews/issues arise on the Alienware 17.
The Notebook Guide
Want to thank BWM for this content? Tell a friend about us, add a link to this page - or visit this page for more gaming laptops.
Link to this page:
Please bookmark with social media, your votes are noticed and greatly appreciated:
To Check Out Top-Selling Notebook Computers That Are Updated Daily Click This Link: Top Deals For Today!
If money is no object - You might want to Click This Link: the-best-notebook-money-can-buy!
CLICK To View Our TOP HAND-PICKED Quality Laptops: