Presenting The Information You Need...
Notebook Computer Guide*
Quick... Reviews... Summary...

Become An Educated Buyer & Save
*Fujitsu LifeBook N6010
Desktop Replacement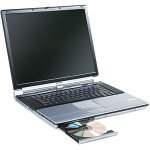 Overall Assessment/Reviews ...Good to Very Good
In the LifeBook N6010, Fujitsu has produced a very strong entry into the 'Desktop Replacement' marketplace. It's a very powerful system, you can upgrade to a 100 GB hard drive and 2 GB of dual channel DDR memory.
Coupled with a 3.2-GHz Intel desktop Pentium 4 processor and 128MB ATI Mobility Radeon 9700 graphics --- it even makes an acceptable gaming machine with a PCMark04 score of 4339. Thanks to a brillant 17-inch widescreen display and integrated stereo speakers (featuring a 2-inch subwoofer) that pumps out good sound.
The only drawback of this Fujitsu notebook computer , some have noted noisy fans that substracts from the experience - check out this issue for yourself before you buy! What may be a minor problem for some - might not bother you at all.
Connections in the LifeBook N6010, like most desktop replacements, is not a problem. It features: Gigabit Ethernet adapter, a tri-mode 802.11a/b/g wireless, a Secure Digital/Memory Stick reader, a FireWire port, and four USB 2.0 ports.
Battery Life: 95 minutes
Size: 15.9" (W) x 11.6 " (H) x 1.7/2.08 " (D) @ 10.12 lbs
Cons: Heavy weight, some have noted noisy fans.
Pros: 128MB of Video RAM, built-in TV tuner large bright display, built-in subwoofer and great sound.
Conclusion: Great multimedia features at a very good price, offering a very competent and powerful computer with some appeal to gamers.
*Seclective Quality Reviews:
Fujitsu LifeBook N6010
Use these handy Quality Review Links for more detailed information and reviews here:
Online Comparison Shopping For:
Fujitsu LifeBook N6010
...Listed are some online Stores to buy the Fujitsu LifeBook N6010. Most of these have Daily Updated Prices so it's best to visit these sites and shop around. Watch out for Special Shopping Cart Deals! But don't go for the cheapest price - also check out the customer service and support.

Basic specs for Fujitsu LifeBook N6010-
Basic specs for Fujitsu LifeBook N6010
Intel Pentium 4 538 (3.2GHz, 1MB Cache)
512MB PC2700 DDR Memory (2GB Maximum)
60GB 5,400rpm Hard Drive
24x CD-RW Combo Optical Drive
17" WXGA+ (1440x900) LCD
ATI Mobility Radeon 9700 with 128MB Memory
56Kbps Modem
Gigabit Ethernet
802.11a+b/g Wireless
Four USB2
One FireWire
One Type II PC Card Slot
15.9" x 11.6" x 2.1" @ 10.2 lbs.
MS Works, Quicken, Norton Anti-Virus
STANDARD WARRANTY : 3 Years Collect&Return
ALWAYS DOUBLE CHECK THE EXACT SPECS -with dealer- Before you BUY!

Further Information:
https://www.fmworld.net/globalpc/products/lifebook.html

*Product or Company RSS Feed: Unknown or Unavailable
PC Mag RSS Feed RSS Feed
What is RSS? RSS stands for Really Simple Syndication. Companies and Websites use it to syndicate their information. To access these Feeds you can use Aggregators or Readers like NewsGator. Other options, you can use the New Firefox Browser or use online sites like MyYahoo or Bloglines.
Hopefully, this simple condensed Notebook Buying Guide will help you in the purchase of your notebook or laptop computer. At the very least, it will have pointed you in the right direction.
The Notebook Guide
Please bookmark with social media, your votes are noticed and greatly appreciated:
CLICK To View Our TOP HAND-PICKED Quality Laptops: