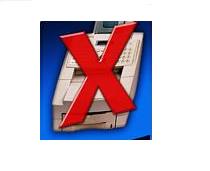 Internet Fax Service Guide
Why Your Old Fax Machine Is History?
Discover why the old traadition fax machine may just be going the way of the DoDo bird!
Why Your Old Fax Machine Might Just Be History? Titus Hoskins Copyright © 2009
Well, not exactly, but its days may just be numbered as more and more businesses and individuals switch their faxing services over to Internet fax. If you're not familiar with this kind of fax service, just remember, Internet faxing is simply using your email system and the Internet to send and receive your faxes. It marries your faxing with your computer and the web.
This new way of faxing is gaining in popularity and is gradually replacing the old traditional fax machine. In tough economic times such as these, this new cheaper way of faxing is gaining even more ground as everyone struggles to cut-down their business operating costs. And online faxing does offer some significant savings, especially over the long term.
First, with Internet faxing there's no need for an extra phone line and no need for a fax machine. These two points alone can offer great savings, especially when first starting up a business. Plus, there are no paper, ink and toner costs with email faxing since everything is paperless.
Moreover, Internet fax service plans come in many different packages, each with different page limits and monthly fees so can choose the plan and service that perfectly matches your faxing requirements. This way you're only paying for the service that you need. If your faxing requirements are very minimum, you can get an annual service for as low as $20. If your faxing needs are more robust, you can a higher priced service. The average price is around $10 a month. Extra minutes can cost from 3 cents to 10 cents per minute, International faxes may cost more in certain cases.
Most online fax services are completely scalable for business so any company can quickly scale up to meet any increased demand or faxing requirements. This can be very cost-effective if you want a flexible faxing service that can meet all your company's needs.
Perhaps, the greatest benefit of using an online fax service is its accessibility - you can access your faxes wherever and whenever you like. You and your employers are no longer tied down to the office or even office hours because your faxes will be available 24/7, 365 days of the year. Email faxing is available wherever you have the Internet and these days that's just about everywhere.
In order to use Internet fax you need to sign up for an online fax service from one the many fax companies. Some of the better known ones are: eFax®, MyFax, RingCentral, RapidFax, TrustFax, Send2Fax, MetroFax and Faxage. Each service will have slightly different plans and prices so it pays to shop around and compare before you buy. Remember, this is usually a long-term service so it can mean significant savings over the long haul.
You're given a Local or Toll-free fax number which you can use. You're also given an online interface (website) where you can send and receive your faxes. Your faxes can also be stored online here in your account. Your faxes are sent via email attachments, usually in PDF or TIFF format. Keep in mind, you can still use the old traditional fax machine to send and receive your faxes - your online fax service acts as an intermediary on your behalf.
So the old machine might not yet be gone the way of the DoDo bird, but there are several more reasons why its days might just be numbered. Mainly because Internet faxing is paperless it is often seen as a "greener" way to do all your faxing. And as everyone knows, anything green is definitely "in" at the moment.
However, there are several more important reasons Internet fax may prove to be the victor when it comes to faxing. Online faxing is simple and very easy to do, there are no more paper jams, no more missed faxes because of busy signals and no messy inks and toners to deal with in the office. Your faxing can be done anywhere, any time.
Perhaps, the biggest advantage of using Internet fax has to do with competitiveness. In extreme economic times, companies have to stay competitive in order to survive. If your business or company depends heavily upon faxes for acquiring new clients, making sales or communicating with your sales people... then using Internet fax is one way to keep your business competitive and in the game. Every little advantage counts when it comes to operating a business so can you really afford not to have Internet fax?
It's your call?
...
For more information on Internet Fax Services use this handy online Comparison Guide to get your own: Internet Fax Services. Titus Hoskins Copyright © 2009.
..........
Please Note In gathering information and facts about the different Internet Fax Services, some online sites proved very beneficial. Mainly sites that rated the different Fax Services - nothing beats an opinion poll of actual users.
Internet Fax Service Guide
www.bizwaremagic.com
Please bookmark with social media, your votes are noticed and greatly appreciated: