BizwareMagic's The Dragonfly's Laugh Challenge eBook Download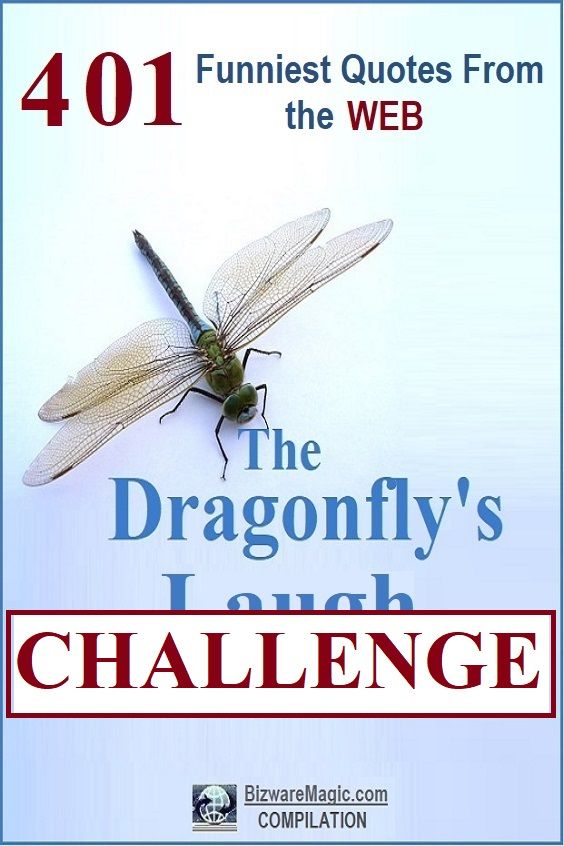 Compiled & Designed by Titus Hoskins Copyright 2019
Do You Have A Funny Bone? Find Out By Taking The Dragonfly Laugh Challenge.
Put A Little Torture In Your Day!

The Dragonfly's Laugh is a Compilation of some 401 Funny Quotes that will test your sense of humor. These funny quotes, puns, one-liners, put-downs... are the best performing or most popular quotes from BizwareMagic's Pinterest Profile. These funny/witty quotes get millions of viewers each month.
Laughter is always the best medicine for whatever ails you... just ask the Dragonfly. It has lived on this miserable planet for over 300 million years and is still going strong. So take our Dragonfly Laugh Challenge and have a little fun.
The test is simple. Just view online or download the Free eBook and see how many funny quotes you can read without laughing? Giggles, grins and muffled groans don't count.
But if you laugh you have to invite at least one friend, family member or colleague to take the challenge.
ENJOY!

You can view online or download the Dragonfly Laugh Challenge below:
or
Download "The Dragonfly's Laugh Challenge PDF" to your computer
(If you have trouble downloading with your browser - Just Right Click & Save As PDF File To Your Desktop.)
You Might Want To Try These Other BizwareMagic Quotes:
Want to thank BWMagic for this content?
Tell a friend about us
, add a link to this page - or visit
our main page for more free guides & content
.
Link to this page:
Please bookmark with social media, your votes are noticed and greatly appreciated. Thank You.