Presenting The Information You Need...
Notebook Computer Guide*
Quick... Reviews... Summary...

Become An Educated Buyer & Save
*HP Compaq Business Notebook nc6000
Thin and Light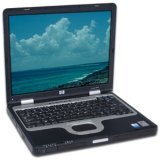 Overall Assessment/Reviews ...Good to Very Good
HP Compaq nc6000 is a bit on the bulky side at 5.8-pound for a thin and light but this is one powerhorse notebook. It's main selling point is the battery life of over 6 hours - excellent for it's size and functions.
Equipped with an Intel Centrino 1.6-GHz Pentium M processor and 512MB of RAM - the Nc6000 is nicely fitted to handle most business applications: there's a combination DVD-ROM and CD-RW drive, a gigabit Ethernet port, dual pointing devices, an SD slot and options for both internal Bluetooth and 802.11a/g wireless.
With only 32MB of dedicated Video RAM, this notebook is not for the dedicated gamer but it can handle some games and multimedia applications.
Some special features of this HP notebook computer are three shortcut buttons:
-one that toggles Wi-Fi and Bluetooth on and off
-another that launches a presentation program with your preferred power and display settings.
-shortcut "quick lock" button that disables the keyboard and clears the display

Another extra feature is the purchase of $50 SmartCard reader that prevents unauthorized access.
Battery Life: 6 hours
Size: 12.5" Width X 10.25" Height X 1.5" Depth
Cons: Only 256 MB RAM, a bit bulky.
Pros: Good screen and keyboard, great battery life, inexpensive, great performance.
Conclusion: Buying the HP Compaq nc6000 is a good inexpensive choice for anyone wanting both performance and portablility in their notebook. Not to mention the great battery life.
*Seclective Quality Reviews:
HP Compaq Business Notebook nc6000
Online Comparison Shopping For:

HP Compaq Business Notebook nc6000
...Listed are some online Stores to buy the HP Compaq nc6000. Most of these have Daily Updated Prices so it's best to visit these sites and shop around. Watch out for Special Shopping Cart Deals! But don't go for the cheapest price - also check out the customer service and support.
HP Compaq Business Notebook nc6000 Batteries

Basic specs for HP Compaq Business Notebook nc6000
Intel Centrino 1.6-GHz Pentium M
512MB of RAM
60GB hard drive
CD-RW/DVD-ROM
ATi Mobility Radeon 9600; SD slot
Gigabit Ethernet
802.11a/b/g
5.8-pounds
Size: 12.5" Width X 10.25" Height X 1.5" Depth
8-cell lithium-ion battery
Three-year-accidental damage warranty
ALWAYS DOUBLE CHECK THE EXACT SPECS -with dealer- Before you BUY!


*Product or Company RSS Feed: Unknown or Unavailable

PC Mag RSS Feed RSS Feed
What is RSS? RSS stands for Really Simple Syndication. Companies and Websites use it to syndicate their information. To access these Feeds you can use Aggregators or Readers like NewsGator. Other options, you can use the New Firefox Browser or use online sites like MyYahoo or Bloglines.
Hopefully, this simple condensed Notebook Buying Guide will help you in the purchase of your notebook or laptop computer. At the very least, it will have pointed you in the right direction.
The Notebook Guide
Please bookmark with social media, your votes are noticed and greatly appreciated:
CLICK To View Our TOP HAND-PICKED Quality Laptops: