Presenting The Information You Need...
Notebook Computer Guide*
Quick... Reviews... Summary...

Alienware Area-51 Geek Show Me Heaven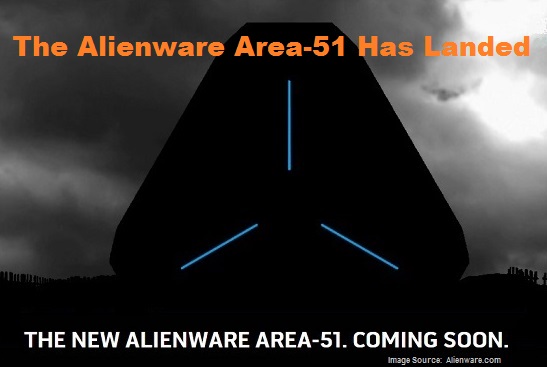 Dell Alienware Area-51 Compiled Review
Written by +Titus Hoskins

Alienware's newly reimagined/designed gaming desktop Area-51 is turning heads and catching a lot of buzz in the gaming world. This is an all out high-performance gaming system which should come with the disclaimer: Geek Show Me Heaven.
Show me... are the operative words here since the Area-51 sports some of the latest computer technology - including Intel's new Haswell-E i7 Extreme 6-core or 8-core Processors which are factory overclocked. Intel's new Intel X99 Express chipset with the latest 2133Mhz DDR4 Memory - up to 32GB. Plus, this is Ultra high definition 4K gaming with 11520x2160 resolution that can be gloriously displayed on three monitors.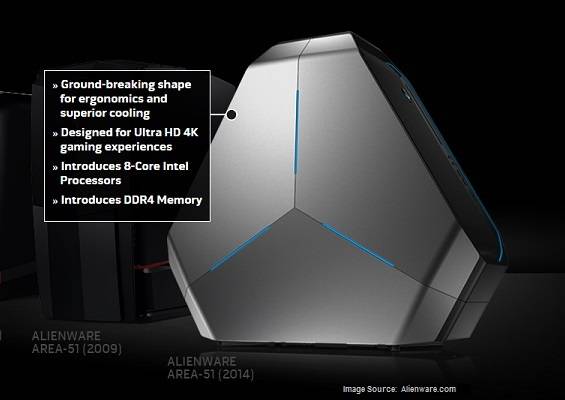 The new Triad design has some swooning at the "Cool" style while others are calling the new look a "retro space-age trash can" and perhaps the most used words being "downright ugly." Guess gaming systems, like beauty, is definitely in the eye of the beholder. Regardless of whether you view the Area-51 as "Cool" or "Ugly", you have to hand it to Alienware - this is one of their most "Alien" looking devices they have ever created. The triangle shape with the glowing lights just looks foreign in any setting, especially since we are talking about a high-performance gaming computer which has a 1,500 watt power supply.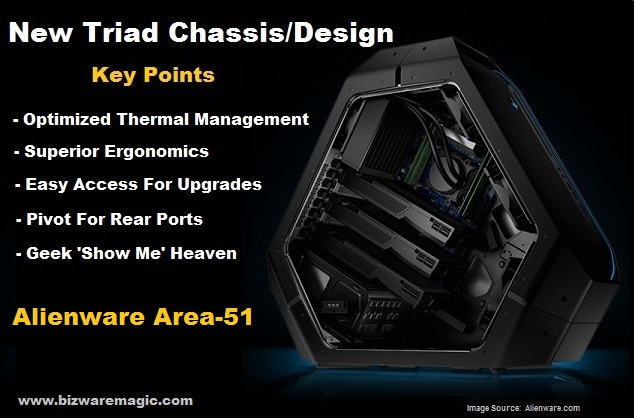 The triad chassis and ergonomics makes this system a joy to behold - not only with the eye, but also in a practical sense as there are easy entryways for accessing the "guts" of this beast. Upgrading will be much easier with this access, but a desktop of this quality may not have to be upgraded for some years to come. Plus, there is also the pivot design which gives you easy access to rear ports - on regular old rectangular desktops reaching those ports/connections can be a major pain which any computer owner will attest to if prompted.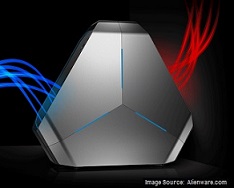 However, the new triad design makes for Optimized Thermal Management - drawing fresh/cold air in from the front and ejecting warm air out the rear. And due to its triangular shape, the Area-51 can be placed up against a wall and still vent out adequately. Liquid cooling is also standard on all models.
Show Me The Power
As mentioned above the Area-51 has the option of having 6-core or 8-core Haswell-E i7 Extreme Processors that are factory overclocked. This is the first 8-core CPU from Intel and should easily supply the needed power, especially when this system is coupled with the Intel X99 Express chipset with support for up to 32 GB of 2133 DDR4 memory. Throw in the space for three high-end full length double wide graphics cards (Nvidia or AMD) and this rig should be able to handle the most demanding video games and/or video editing.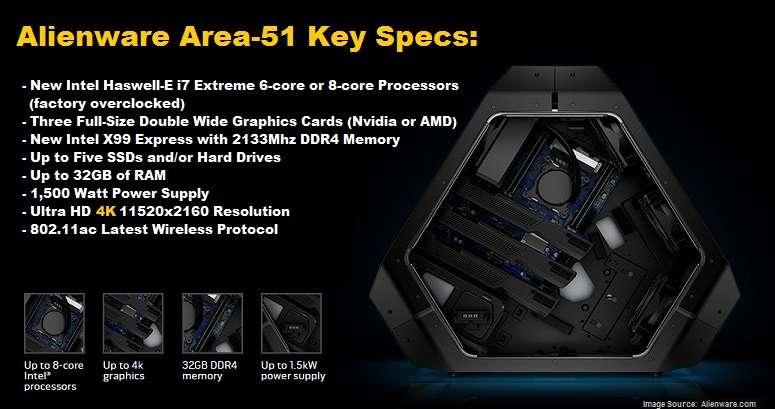 There will also be ample storage with up to five SSDs and/or hard drives in the Area-51. Solid State Drives are also important for faster boot times and are becoming the norm (at least a hybrid combination) in computers, despite the more expensive prices.
Connections and Ports
As one would expect, connections on this system are more than adequate. Some noteworthy ones include Bluetooth 4.0 and the latest 802.11ac wireless - this protocol prioritizes streaming video and gaming, which reduces lag times. As mentioned earlier, the triad design will be easy to pivot to access all your ports and connections. In addition, it should be noted that you can grip two of the handle-like sections of the triangle to move or lift the system, which will weigh around 45 pounds.
Control
Not to be outdone, the Area-51 will feature the Alienware Command Center 4.0 with nine programmable lighting areas/zones on the rig with 20 colors & 512 trillion lighting combinations possible with AlienFX. Lordie - This trash can has some serious bling! More importantly, the Command Center will let gamers automatically overclock the system and adjust voltages, CPU clocks, memory timings and so on. With Alien Adrenaline software users can also monitor hardware performance and other good stuff only gamers know or care about.
<
img class="pull-left" src="Area-51-graphics-cards.jpg" alt="Alienware Area-51 Graphics Cards" class="img-responsive" style="width:100%; height:auto;margin:8px;" />
The Area-51 can support up to three Graphics Cards
Keep in mind, Alienware has a long history of producing some of the top gaming systems in the world. Acquired by Dell in 2006, Alienware has still kept its own brand and products. Many die-hard Alienware fans and gamers were turned off by this take-over by Dell, and they argue the "support" is just not good enough, especially when one considers Alienware's premium prices.

Regardless, Alienware is still winning rave reviews and top rankings with many critics and gamers. They keep introducing new products such as the featured Area-51 and the new Alpha game console. The company seems to have invested a lot of man-hours in creating the Area-51 and are extremely proud of their new flag-ship.
"We're excited to reveal the reimagined Alienware Area-51, a system that is the result of 18 years of innovation fueled by our love of gaming," said Frank Azor, General Manager of Alienware in a prepared statement. "We questioned everything and then began working on a system based on how we actually use our full-tower desktops rather than based on what was quick, easy or comfortable for us to design."
Introducing 4K Video Gaming
This system is designed to deliver Ultra High-Definition 4K video gaming with 11520x2160 resolution that can be featured on up to three monitors for full surround gaming. Full immersion gaming might not be a bad thing if your eyeballs can handle the stunning visuals and 4K is the next big thing everyone will probably end up owning, later rather than sooner.
The Area-51 gaming desktop computer will be available later this year - October is the month being mentioned in some circles. It should be here well before the holiday season, but whenever it arrives, gamers will no doubt have to shell out a truck-load of money for the fully maxed system. Now, where the heck did I put those bitcoins!
Order Link
To Get $400 Off - BUY Area-51 Desktop PC from Alienware
Click This Link: Alienware Area-51
Or check out the New Alienware 13 with Graphics Amplifier
Please Bookmark This Page:
As with ALL our compiled reviews we are constantly adding new content as more reviews/issues arise. We will be adding Benchmarks & Performance Levels once they become available to the public. If you still...
Need more information on Area-51 try these links:
To find the latest sales, promotions & discounts from Alienware - click this link:
Featured Promotions for Alienware Gaming Computers!
Or try here: Alienware Coupons & Discounts
.....
The Notebook Guide
Want to thank BWM for this content? Tell a friend about us, add a link to this page - or visit this page for more gaming systems
Link to this page:
Please bookmark with social media, your votes are noticed and greatly appreciated:
To Check Out Top-Selling Notebook Computers That Are Updated Daily Click This Link: Top Deals For Today!
If money is no object - You might want to Click This Link: the-best-notebook-money-can-buy!
CLICK To View Our TOP HAND-PICKED Quality Laptops: