Presenting The Information You Need...
Notebook Computer Guide*
Quick... Reviews... Summary...

Alienware Alpha Gaming Console
& How to Pre-Order Alpha
Written by
+Titus Hoskins
To
Pre-Order
the New Alienware Alpha Game Console from
Alienware.com
just the banner above or this link:
Introducing the new Alienware Alpha console, powered by Steam Big-Picture!
Alpha gives gamers access to 3000+ games on Steam. Learn more and reserve
yours today & have it delivered by November 21st!

Key points to know about Alienware's new Alpha Gaming Console

* Alienware Alpha is a 100% turn-key gaming console.
* Alpha is designed around & powered by Valve's Steam Big-Picture gaming system.
* Alpha will ship with an Xbox 360 controller with special custom Alienware software interface which can be seamlessly navigated without a mouse or keyboard.
* Alpha will give gamers quick & easy access to over 3000 games on Steam - all your existing games within your account can be played on Alpha.
* Alpha will ship as Steam OS & Steam gamepad "Ready" so users will be able to load the OS easily themselves if they wish. It will have Windows.
* Alpha will ship with some bonus gaming content such as PAYDAY 2, Magicka and Gauntlet Helm.
PRE-ORDER Alienware Alpha:
Gamers can Pre-Order Alpha through Dell.com, Alienware.com, Walmart.com and Amazon.com - orders will begin shipping by November 21, 2014. Orders will be processed in the order in which they were received. Limited quantities available so order soon if you want Alpha for the Holidays.
Yes - You can purchase Alpha with Bitcoins!
Click this link to Order your Alpha Console from Alienware.com:
Limited time offer! $50 off the Alienware Alpha Gaming Console with Intel Core i3 processor,
4GB memory, 500GB hard drive, NVIDIA GTX 2GB & Windows 8.1 for just $499.99! Free shipping!
From 21-Jan-2015 to 2-May-2015
Before you order Alienware Alpha - here is some further information you should know.
There are Four different price ranges and specs:
The starting price of $549 will give a 4th Generation Intel® Core™ i3-4130T Dual-Core processor (3M Cache, 2.9GHz), 4GB Memory, Windows 8.1, 500GB SATA 6Gb/s and the Custom-built NVIDIA® GeForce® 2GB GDDR5 GPU which is in all models.
The $699 Alpha has Intel® Core™ i3-4130T Dual-Core processor (3M Cache, 2.9GHz), 8GB Dual Channel DDR3L 1600MHz,, Windows 8.1, 1TB SATA 6Gb/s and the NVIDIA GPU.
The $799 Alpha has Intel® Core™ i5-4590T Quad-Core processor (6M Cache, up to 3.0GHz), 8GB Dual Channel DDR3L 1600MHz, Windows 8.1, 1TB SATA 6Gb/s and the NVIDIA GPU.
T
he $899 Alpha has Intel® Core™ i7-4765T Quad-Core processor (8M Cache, up to 3.0 GHz), 8GB Dual Channel DDR3L 1600MHz, Windows 8.1, 2TB SATA 6Gb/s and the NVIDIA GPU.
The Alienware Alpha is a strange PC-Console Hybrid which has some serious limitations.
Currently the Alpha comes pre-loaded with Windows 8.1 and you can not play games outside of Steam while in the console mode.
However, you will be able to upgrade to the Linux OS-based Steam Machine - once the OS and gamepad are released.
The system does come with a PC-compatible Xbox 360 controller but this isn't a wireless receiver so you will have to stay plugged into the console.
It can't play Uplay or Origin games in console mode and it can't play other popular games such as League of Legends, Minecraft... except in desktop mode.
Can't run the desktop mode without using a mouse but this issue is being looked at by Alienware.
Can't
upgrade the Nvidia "Maxwell" GTX GPU since it is fully integrated in all models and is here to stay.
On the Plus Side:
The Alpha can play suitable games at 1080p and comes with an HDMI connection for your TV.
Almost all of the Alpha console can be upgraded - including RAM and CPU.
In desktop mode and running Windows 8.1 this can be an everday computer, but you will have to use an external CD/DVD/Blu-ray disk drive.
While the lower priced models will not run many modern games smoothly as a PC, but this console was mainly designed to run Big Picture Steam games - all 3000 and counting.
Final Verdict:
No matter how you phrase it - the Alienware Alpha Console is a Work-in-Process which may prove to be a great addition to your living room and let you play Steam games in the Big-Picture mode. Once the Steam OS is added, and even with Windows 8.1, this is a combination Personal Computer and Game Console. In this light, despite some limitations, the Alpha can be seen as a bargain, even at the higher price range, which for Alienware is something worth noting.
Still need more information on Alpha try these links:
Alienware Alpha video comparison with other popular gaming consoles:
To find the latest sales, promotions & discounts from Alienware - click this link:
Featured Promotions for Alienware Gaming Computers!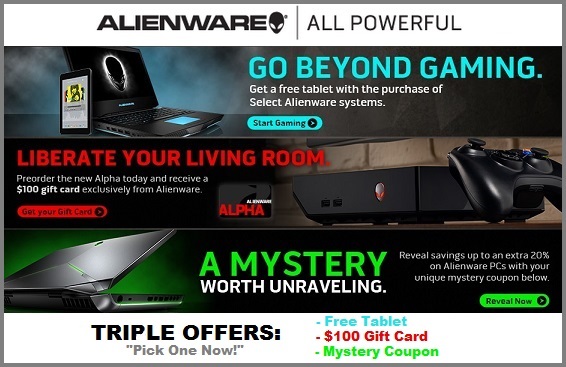 Or try here: Alienware Coupons & Discounts
The Notebook Guide
Want to thank BWM for this content? Tell a friend about us, add a link to this page - or visit this page for more gaming notebooks.
Link to this page:
Please bookmark with social media, your votes are noticed and greatly appreciated:
To Check Out Top-Selling Notebook Computers That Are Updated Daily Click This Link: Top Deals For Today!
If money is no object - You might want to Click This Link: the-best-notebook-money-can-buy!
CLICK To View Our TOP HAND-PICKED Quality Laptops: