Presenting The Information You Need...
Notebook Computer Guide*
Quick... Reviews... Summary...

Become An Educated Buyer & Save
MSI Releases GT780DXR and GT683DXR
Compiled and Written by +Titus Hoskins
MSI (Micro-Star International) - one of the leading makers of gaming rigs - has introduced (unleashed) two new gaming powerhouses with NVIDIA GeForce GTX 570M graphics and optional Blu-ray. Fully empowered with the latest Intel Sandy Bridge i7 processor and up to a ridiculous 16 Gigs of DDR3 RAM, these machines are a part of MSI's famous "G" series of gaming rigs. You also have a 1TB hard drive with Raid 0 or no redundancy, which means you get better performance, but also run the risk of greater data loss.
In a recent press release, Andy Tung, vice president of sales for MSI US stated:
"As the market leaders in gaming notebooks, MSI prides itself in delivering performance machines that meets and exceeds the expectations of even the most advanced gamers... the latest additions to MSI's G series, especially by incorporating NVIDIA's top of the line graphic cards, reinforces our commitment to the genre."
The MSI GT683DXR
MSI GT683DXR-427US 15.6-Inch Gaming Laptop - Black
That's all fine and dandy, but to those serious gamers who have gone over to the dark side and use a laptop for gaming, what will probably interest them the most is the new GTX 570M GPUs. These offer the latest gaming technologies, such as NVIDIA's PhysX and DirectX 11. Plus, MSI's Exclusive Turbo Drive Engine (TDE) Technology, which gives a slight boost to your graphics processing and decoding - around 3 to 5%.
Both the GT780DXR and GT683DXR come in a brushed aluminum chassis with Full HD displays and the SteelSeries programmable backlit keyboards. You also have Dynaudio Speakers via the THX Surround Sound and some models will also sport the SteelSeries Kinzu gaming mouse. Both models also features MSI's Cooler Boost Technology, which instantly increases the amount of airflow to cool down the engine to give better performance.
MSI has also released the Specs for the two laptops which can be view in the handy chart below: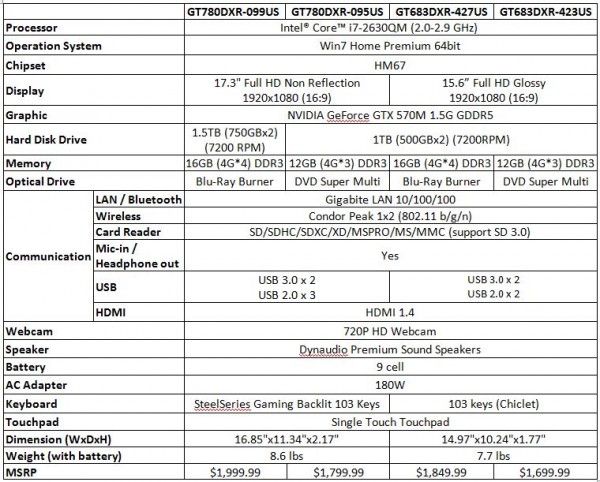 These are some impressive specs but as every gamer knows, specs are one thing, performance is something entirely different. Can these machines play the latest video games smoothly at full max or close to it? That is the question!
So here's a YouTube video featuring gameplay on the MSI GT780DXR Gaming Laptop:
You might want to also check out our Best Gaming Rigs of 2011 - Top 5 Considerations
Happy Gaming!


The Notebook Guide
Want to thank BWM for this content? Tell a friend about us, add a link to this page - or visit this page for more gaming systems.
Link to this page:
Please bookmark with social media, your votes are noticed and greatly appreciated:
To Check Out Top-Selling Notebook Computers That Are Updated Daily Click This Link: Top Deals For Today!
If money is no object - You might want to Click This Link: the-best-notebook-money-can-buy!
CLICK To View Our TOP HAND-PICKED Quality Laptops: