Presenting The Information You Need...
Notebook Computer Guide*
Quick...Reviews...Summary...


Become An Educated Buyer & Save
Best Gaming Notebooks For 2011 - Top 5 Considerations


(Compiled and Written by Titus Hoskins)
New gaming rigs are constantly hitting the marketplace and it is some times difficult, even for die-hard gamers, to keep up with all the latest offerings. These newest laptops come with better improved graphics like the Nvidia GeForce GTX 570M and AMD Radeon HD 6990M, and with better overall processors or platforms, such as the new Intel Sandy Bridge architecture. Many are also featuring full 3D technology capabilities if you should want or desire them. Toshiba and Asus have even debuted 3D gaming devices which don't need glasses.
You should keep several things in mind when viewing the list below. Many hard-core gamers, if they have to use a laptop for gaming, will usually go with some version of a Clevo-Based laptop modified by Boutique Makers such as Sager, Origin, Falcon Northwest, Rockdirect... same chassis or model but with slightly different configurations and paint jobs. These custom built gaming rigs usually come with very hefty price markups, but if money is of no concern, you should definitely check out their offerings if you want the absolute maxed out high performance systems.
While many of these high-end performance monsters are called laptops, most are really desktop replacements masquerading around as a laptop. Most are too bulky to fit on your lap or too heavy to carry around on a regular basis; besides low battery life makes these rigs impractical as portable devices. However, despite these limitations and the somewhat hefty price tags, these issues haven't stopped gamers from purchasing these powerful machines.
So here's a quick list of some new gaming systems you might want to consider:
Dell Alienware M18x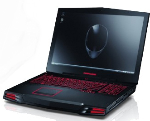 This latest gaming powerhouse from Alienware, one of the most recognized names in computer gaming, is living up to that name. The Alienware M18x is a highly rated gaming powerhouse which will easily leave most other systems in the dust. Prices are still high, but if you want a gaming laptop that will blow away the competition (in both performance and style) you should seriously consider this one.
Intel Core i7 2920XM Overclocked Turbo Boost to 4.0GHz (8MB cache) and starting at 4GB of Dual Channel DDR3 at 1333MHz up to a mind-blowing 32GB Dual Channel DDR3 at 1333MHz. The basic model comes with the 1.5GB GDDR5 Nvidia GeForce GTX 460M but if you have the bucks to spare, you can upgrade to Dual GTX 460M cards for $200. And if you really have money to burn, you can upgrade to dual 2GB GDDR5 AMD Radeon HD 6990M via CrossFire or you can have dual 2GB GDDR5 NVIDIA GeForce GTX 580M via SLI.
When it comes to the Hard Drive you have a lot of options, from the standard 320GB 7200RPM SATA 3Gb/s to the 1 TB 7200RPM Solid State Hybrid. Plus, there are other options, if that's not enough storage for your needs. There's a dual layer Blu-ray Reader and the M18x has just been further empowered by Bigfoot Killer Wireless Adapters which will make the M18x even more attractive to gamers. Starting price is $1,999.00, but expect to pay much more depending on the upgrades you choose. Other serious considerations if you want to go with an Alienware laptop would be the Alienware M17X R3 and if you want a portable gaming system go with the Dell Alienware M11x.
Toshiba Qosmio X775-3DV78
Yes - Toshiba. They make some excellent gaming systems, especially in the Qosmio series. One of their latest - the Toshiba Qosmio X775-3DV78 is as ugly as sin, but it can plow thru any game you can throw at it. While the 3D feature will slow down your "fps" rates, but while many gamers are embracing true 3D, you have to remember this powerhouse can be played without this feature.
You have the new GeForce GTX 560M with 1.5GB GDDR5 and the Intel Quad Core i7-2630QM processor. You have 1.25 Terabytes of storage combined with two drives and you have 8 Gigs of DDR3 RAM. The Qosmio X775 is really a "desktop replacement" coming in at around 7.5 pounds, not including the 2 pound AC adapter. As you can expect, the battery life is horrible, around 1 and half hours if you're lucky. But most of these massive powerful gaming rigs fall in the same boat and most gamers will be using this monster plugged in the next available wall socket.
Now for the positives and there are many in the Qosmio X775. You have a full HD 17.3-inch 1920 x 1080 display which produces brilliant color and sharp images - which only Toshiba can re-create. Some report the screen as too glossy for outdoor use, but on the whole you won't be disappointed by this backlit LED TFT display. Coupled with a Blu-ray burner, dual webcam and an IR emitter - you can expect very high visuals, including watching 3D Blu-ray movies. Lastly, the Harman-Kardon stereo speakers, with bottom loaded subwoofer and Dolby Advanced Audio & Waves Maxxaudio 3 - produces great crisp sound for a laptop.
Overall, the Qosmio X775 is very powerful, well built with the latest graphics and processors - this gaming laptop is worth your consideration, despite the somewhat ugly appearance and low battery life. Prices start at around $1,900 - but expect to pay more for added features.
ASUS G73SW-3DE Republic of Gamers 17.3-Inch 3D Gaming Laptop (Black)
Asus, with their ROG (Republic of Gamers) series of laptops have produced some outstanding gaming rigs, and the Asus G73SW-3DE is no exception. Actually, it checks all the boxes for a current gaming laptop: Quad Core Sandy Bridge processor, (the Intel Core i7-2630QM 2.0GHz with Turbo Boost up to 2.9GHz), 8 Gigs of DDR3 1333MHz and fast powerful dedicated Graphics (the Nvidia GTX 460M Graphics with 1.5GB GDDR5) and huge storage witn 1TB (500G 7200RPM + 4G SSD x2) HDD.
Then the Asus G73SW-3DE has all the extras: full HD (1920x1080) LED 17.3-Inch Display which can handle 3D at 120HZ, Blu-ray Burner, Illuminated Keyboard, 2.0M Webcam and even USB 3.0 for fast transfer. All packaged in a cool stylish gaming laptop.
The G73SW-3DE with this combination of processor and graphics can play just about anything you can throw at it. More importantly, Asus as designed two large rear exhausts which can throw any excess heat out of the back of the machine, keeping it quiet and cool. Prices start at around $1,999.
MSI GT780DXR-099US 17.3-Inch Gaming Laptop - Black
MSI (Micro-Star International) has been around for 25 years and was started in 1986 by Joseph Hsu in Taiwan. MSI has a long history of producing products with innovation and style. Their gaming notebooks have especially been noticed by gamers, especially the GT780 series of laptops. The MSI GT780DXR is one of these powerful rigs sporting the NVIDIA GeForce GTX 570M discrete graphics with 1.5GB DDR5 VRAM.
This powerful GPU gives DirectX 11 support and achieved a record 12,475 points in a 3DMark Vantage performance test. Couple these graphics with the quad core Sandy Bridge Intel i7-2630QM (2 GHZ) Processor and 16 GB of RAM - you have the components for a high-end gaming laptop.
Rounding out these features you also have an crisp 17.3" Full HD (16:9; 1920 x 1080) Anti-reflective display, programmable backlit keyboard, MSI cooler boost technology, premium dynaudio sound speakers and a keyboard especially designed for gamers. You also have "One-Touch Overclocking" and "MSI Turbo Drive Engine (TDE) Technology", said to be one of the best in the industry. Priced around $1,999.
HP ENVY 17 3D Laptop
HP for the moment, is still producing some impressive laptops, especially in their Envy series and the HP Envy 17 3D is a prime example. Even if 3D is not your thing, this laptop will still impress you in 2D. You have full HD 1080p (1,920 by 1,080 resolution) with the Beats Audio system and with ATI's EyeFinity multiple monitor support, you have VGA, DisplayPort, and HDMI outputs. You also have a Blu-ray disc drive which lets you take full advantage of the 17.3-inch Ultra BrightView Display.
Sporting the Intel Core i7-720QM (1.6 GHz) processor, 6 GB of RAM and the powerful ATI Mobility Radeon HD 5850 graphics card - the HP Envy 17 can run through most games without a problem. You also have a 7,200rpm 640GB hard drive and the speedy USB 3.0 port, as well as other connections. Battery life is low at around 1 hour 45 minutes but this is relatively good compared to other gaming rigs. Overall, the HP Envy 17 3D is a superior multi-media laptop which gives you the option of 3D or 2D gaming. Price starting at $1,599.
T
here you have it. Five top gaming rigs you should consider if you're in the market. Of course, there are countless other gaming rigs and systems you could choose from, but these will give you a good starting point. Reminder, when looking for a superior gaming laptop you will want a system with
1 - a powerful discrete or dedicated graphics card or cards with its own video memory
2 - a fast high performance processor(s)
3 - plenty of RAM and a full HD 1080p display
Most gamers also look for a Blu-ray Drive and a large hard drive to store all their games & movies. Solid State Drives are becoming more popular and so too is True 3D gaming. However, at the moment, these are options you might or might not want in your gaming laptop.
Happy Gaming!
.....................................
Feature Article: How To Do Your Own Computer or Laptop Memory Upgrade
The Notebook Guide
Please bookmark with social media, your votes are noticed and greatly appreciated:
To Check Out Top-Selling Notebook Computers That Are Updated Daily Click This Link: Top Deals For Today!
If money is no object - You might want to Click This Link: the-best-notebook-money-can-buy!
CLICK To View Our TOP HAND-PICKED Quality Laptops: