Presenting The Information You Need...
Notebook Computer Guide*
Quick... Reviews... Summary...

Become An Educated Buyer & Save
*HP Compaq - Tablet PC TC 1100
Tablet PC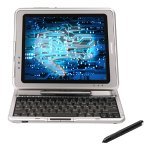 Overall Assessment/Reviews ...Good to Very Good
The HP Compaq Tablet PC TC 1100 is a very versatile little machine. It's not really a true slate or a convertible - for it has a detachable keyboard. This is a big plus, if you want a convenient handy 3 pound slate to carry around for note taking, etc.
Even with the keyboard it's only 4 pounds and very portable. It should be noted that when using the keyboard on your lap, it has a tendency to fall over! Check for yourself! Works perfectly as a slate, with a chunky comfortable pen.
Good wide viewing angles on a 10.4 inch screen, using the 32MB nVidia GeForce4 Go 420, at 4X AGP solution. The 1100 can automatically shift from landscape to portrait mode. It also incorporates both Bluetooth and 802.11g wireless networking.
This HP notebook computer is powered with a 1GHz Pentium M processor coupled with included 512MB of memory. Adequate for most applications.
You might consider HP's docking options and take advantage of the optical drive, monitor, and keyboard for desktop use.
Pros: Light weight, removable slate,
Cons: Not a laptop, some have reported it was slow to respond to taps.
Conclusion: HP TC1100 is a great slate pc for working professionals, students and feild workers where quick, convenient note taking is required. Fully functional and versatile mobile PC.
Seclective Quality Reviews For:
HP Compaq - Tablet PC TC 1100
Use these handy Quality Review Links for more detailed information and reviews here:
*Shop Online Here For:
HP Compaq - Tablet PC TC 1100
...Listed are some online Stores to buy the Compaq Tablet PC TC 1100. Most of these have Daily Updated Prices so it's best to visit these sites and shop around. Watch out for Special Shopping Cart Deals! But don't go for the cheapest price - also check out customer service and support.
Compaq Tablet PC TC 1100 Batteries

Basic Specs - HP Compaq - Tablet PC TC 1100 -
Intel Pentium M 1.1 GHz
Hard drive 40 GB IDE (Parallel ATA Hard Drive)
RAM installed 512 MB DDR SDRAM
Display 10.4 in TFT active matrix
Weight 4 lbs
Battery installed 1 Lithium ion
Battery life 3.2 hours
Dimensions 12.8" x 10.7" x 1.4"
WAN, LAN, and WiFi wireless connectivity
Input device Keyboard, Touchpad, Digitizer, 4-way scroll button
PC Card slot
CompactFlash memory card slot
Modem 56 Kbps Fax / modem
ALWAYS DOUBLE CHECK THE EXACT SPECS -with dealer- Before you BUY!

Further Information: HP Home Website

*Product or Company RSS Feed: Unknown or Unavailable
PC Mag RSS Feed RSS Feed
What is RSS? RSS stands for Really Simple Syndication. Companies and Websites use it to syndicate their information. To access these Feeds you can use Aggregators or Readers like NewsGator. Other options, you can use the New Firefox Browser or use online sites like MyYahoo or Bloglines.
Hopefully, this simple condensed Notebook Buying Guide will help you in the purchase of your notebook or laptop computer. At the very least, it will have pointed you in the right direction.
The Notebook Guide
Please bookmark with social media, your votes are noticed and greatly appreciated:
CLICK To View Our TOP HAND-PICKED Quality Laptops: