Presenting The Information You Need...
Notebook Computer Guide*
Quick... Reviews... Summary...

Review Of 15 Inch MacBook Pro With
Retina Display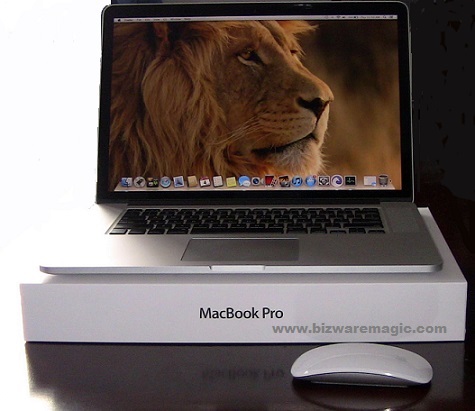 Check Out the New MacBook Pro Here:


Apple 15.4" MacBook Pro with Touch Bar, Quad-Core Intel Core i7 2.7GHz, 16GB RAM, 512GB PCIe SSD, Radeon Pro 455 with 2GB, Silver (MLW82LL/A). Now only $2,749 with Free Shipping
Personal Review by +Titus Hoskins

The 15 Inch MacBook Pro with Retina Display is a revolutionary device which has forever changed the boundaries of what a laptop can do - especially when it comes to viewing images and graphics. Sporting some of the latest technologies and innovations, this MacBook Pro delivers the goods on so many levels, but it is not a perfect creature by any means. However, these minor flaws don't subtract from this notebook's main achievement - delivering a breath-taking, awe-inspiring brilliant display which can't be matched.
Pros - Great Retina Display, good performance, almost instant start-up and shut down, sleek design, long battery life, lightweight and thin, no Windows.
Cons - Very pricey, poor image in sunlight, no optical drive, no Windows.
This is a personal review of my 15 inch MacBook Pro with Retina Display. I have had my MacBook for several months now - I waited until I had some serious hands-on experience with this notebook before I wrote my review. Usually I don't wait this long, but since this is my first Apple Notebook, the OS X (Mountain Lion) operating system is fairly new for me. Just didn't want this factor overly influencing how I judged this laptop.
I believe, in most cases, it's extremely beneficial to know as much about the reviewer as the product reviewed. Some background on me... I am a former art teacher who has operated several sites on the web for the last 12 years. One of these sites contains an online laptop guide where I present helpful information on different laptops, tablets and netbooks. I also run a Laptop Youtube Channel, and while this guide and channel cover countless laptop brands and models, one of my main focus areas has been high-end gaming laptops.
Please Note - I have never been a massive fan of Apple and Apple products. The closed-shop (iTunes or NoTunes) attitude had turned me off for years until I bought an iPad Touch and was taken aback so much by the basic design I quickly upgraded to an iPad - the first generation. Since then, my days are now centered around my iPod Shuffle, iPad and MacBook - guess I must be a fan of Apple.
I mention all this because I am rather demanding and opinionated when it comes to choosing or reviewing any laptop. Needless to say, the main reason I choose the MacBook was the Retina Display. I am a visual artist and web designer, so graphics is paramount to me. Having the best image display on the market was the goal and I saw nothing better out there - this was before the latest CES and 4K systems.
Retina Display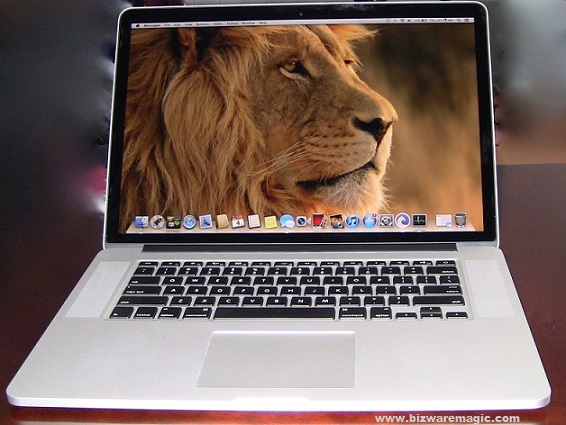 Quite frankly, the Retina Display on the MacBook doesn't disappoint in any shape or form. It is an absolute feast for the eyes. I am constantly amazed at how great the display actually is, and I have been examining different screens for the last 12 years. The display resolution is 2880 x 1800 - this is like looking at a 5 Megapixel image - some 221 pixels per inch. All viewing angles are superb. However, in bright sunlight (even with the automatic adjust brightness button checked) the display is a faded and somewhat hard to read but still possible.
While this is supposed to be revolutionary, my 4 or 5 year old Toshiba Satellite has a native resolution of 2045 x 1536 and while not as sharp as the MacBook, it does offer a depth and richness all its own. However, nothing I have experienced pops like this MacBook pro screen and you can adjust/scale the viewing specs to suit your own requirements.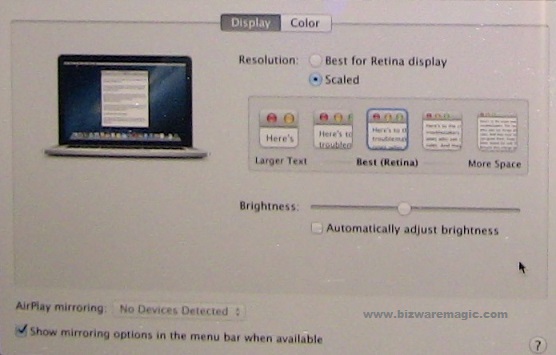 As you can see from the image - your MacBook can be scaled to 5 different resolutions - Larger Text, Best(Retina) More Space. Apple scales the image so everything is sharp and clear, regardless of the resolution or how much screen real estate your information takes up.
Overall, the Retina Display is reason enough to buy this MacBook Pro if perfect graphics and visuals are vital to your needs. For me, it is the worth the extra bucks, but you have to make up your own mind.
Specs of Reviewed Apple MacBook Pro
My 15 Inch MacBook Pro with Retina Display came with the 3rd generation (Ivy Bridge) 2.3 GHz Intel Core i7 Processor and 8 GB of 1600 MHz DDR3 memory. It has dual graphics - Intel HD Graphics 4000 512 MB and NVIDIA GeForce GT 650M. Of course, it had the Apple OS X 10.8 operating system. The i7 processor has 4 cores with L2 Cache 256 KB per Core and the 6 MB L3 Cache. As for storage, this model has a 250 GB Macintosh Hard Drive and a 251 GB Flash Storage.
My Apple MacBook Pro with Retina Display had the following specifications:
Display: 15.4-inch 2880x1800 glossy display
Operating system: Mac OS X 10.8 "Mountain Lion"
Processor: Intel i7-3615QM quad-core processor (2.3GHz up to 3.3GHz Turbo Boost, 6MB cache)
Graphics: Integrated Intel HD 4000 + NVIDIA GeForce GT 650M switchable graphics
Storage: 250 GB Macintosh Hard Drive and a 251 GB Flash Storage
Memory: 8GB DDR3L SDRAM
Webcam: Integrated HD webcam + Microphone
Networking: Gigabit Ethernet - via Thunderbolt
Wireless networking: 802.11a/b/g/n, Bluetooth v4.0
Warranty: 1-year limited warranty
Battery: 95WHr Lithium-polymer - roughly 7 hours
Weight: 4.46 lbs
Dimensions: 14.13 x 9.73 x 0.71 inches
Starting price: $2,200
Apple Style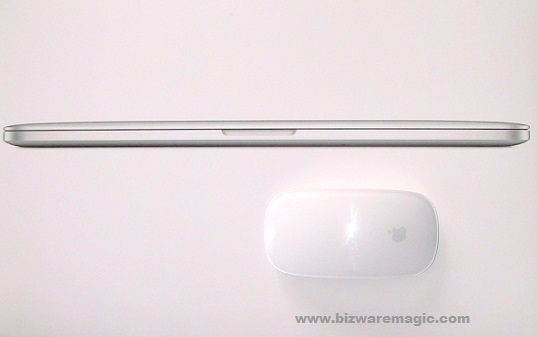 Going from an iPod to iPad to MacBook Pro... there is an overall uniformed aluminum design to all these Apple products with the emphasis on silver and black. As far as I can judge, essentially they're the same design - just at different sizes. The MacBook Pro is one of stylish laptop I have even had the pleasure of holding - it weights 4.46 pounds and less than 0.71 inches. This laptop feels solid and shouts quality, which only Apple can supply on a consistent manner.
If I had to pick one word to describe the over style it would be Professional, this notebook doesn't disappoint in the style department and would fit in nicely at any business meeting or dorm room. While most people would buy a laptop for its performance, it would be foolish to dismiss the fact that many buyers simply want a status symbol or to show they're one with the "cool" factor. In any regard, where style or more importantly, performance is involved, the MBP comes highly recommended.
Ports & Features

The MacBook Pro has two Thunderbolt ports which combines PCI Express and DisplayPort. This system was created by Intel and Apple and lets the user connect up to seven external peripherals to your laptop. Two USB 3.0 ports - one on each side. An HDMI port, two mini-DisplayPorts, plus a headphone jack and SD card reader. I also like the way the AC connector magnetically snaps into place on the MacBook - never get tired of hearing that clicking sound and this feature also comes in handy in the dark.
It is handy to have the faster USB 3.0 ports, especially if you deal with large files and videos. Transfer of your data will be quicker and I just found it convenient to have one on each side of the notebook. The HDMI port is also great for watching HD photos and videos on bigger screen.

Operating System
As mentioned before, the Apple operating system is new to me, but I have found it truly intuitive and easy to use. That said, I must admit I still like Windows better than this Apple Operating System. Don't get me wrong, the Mountain Lion version of OS X operating system is fast, and all the features are neatly laid out on the desktop so for the loyal Mac users this system won't disappoint.
However, for the first time Mac user there is a large learning curve to find what you want and how to get things done. Not having the "right click" feature kept driving me batty - now there is a way of setting this feature up on your Mac and TouchPad, but I haven't gotten around to this yet. Perhaps, what it boils down to, if you're a long-term Windows user (I still have Windows XP on one of my systems!) adjusting to your visually brilliant new MacBook Pro will take some time.
Yes - Windows Can Be Installed On This MacBook Pro
I know you can install Windows on this laptop via the Boot Camp, but there's no Optical Drive, so you're going to have to work around this with an external drive hooked up to your laptop. Then once Windows is stalled you simply choose which operating system you want when booting up.
Here's what Apple says about installing Windows at native speeds...
"Have a Windows application you need to use once in a while? No problem. Every new Mac lets you install and run Windows at native speeds, using a built-in utility called Boot Camp. Setup is simple and safe for your Mac files. After you've completed the installation, you can boot up your Mac using either OS X or Windows." https://support.apple.com/kb/HT1461
Part 2 - Performance Levels And Conclusion
Latest MacMall Apple Deals:
The new MacBook Pro w/ Retina Display now starts at $1,449.98
while the new 13" & 15" MacBook Pro starts at $1,129.98.
The Notebook Guide
Want to thank BWM for this content? Tell a friend about us, add a link to this page - or visit our main page for more free guides & coupons.
Link to this page:
Please bookmark with social media, your votes are noticed and greatly appreciated:
To Check Out Top-Selling Notebook Computers That Are Updated Daily Click This Link: Top Deals For Today!
CLICK To View Our TOP HAND-PICKED Quality Laptops: