Presenting The Information You Need...
Notebook Computer Guide*
Quick... Reviews... Summary...

MacBook Pro w Retina Display Review
- Part 2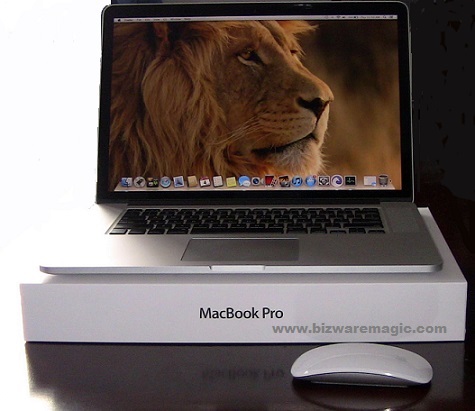 Personal Review by +Titus Hoskins (Part 1 is here)
Performance Levels & Conclusion
As one would expect, the performance level of this laptop is first class since you have the current Ivy Bridge (3rd Generation) Quad-Core 2.3 GHz Intel Core i7 Processor with 8GB of DDR3L SDRAM. Once you combine those specs with dual graphics - NVIDIA GeForce GT 650M CPU and Intel HD Graphics 4000 512 MB - you have a high-end performance level laptop which doesn't disappoint or freeze-up under heavy work loads.
No Fan Noise & Runs Cool
This laptop runs exceptionally cool and can be used on your lap for long periods of time. I also couldn't hear any irritating fan noise, especially if you're running other computers or a TV in the same room. One of the quietest laptops/computers I have used and this factor is a great selling point - especially for student and business environments.
The MacBook Pro is extremely fast - starting up and shutting down almost instantly. Actually, this is the fastest loading computer I have ever experienced, and the 251 GB SSD (Solid State Drive) is probably the main reason for this handy time-saver. Working with graphics on this laptop is a pure joy - you have both iPhoto and iMovie programs. There is also an HD webcam if you do podcasts and cam shows.
The speakers and sound playback are good but not spectacular in my opinion. Again, personal preference plays a part here, I almost always use headphones for surfing the web and watching movies/videos... the sound via headphones is excellent and I haven't had any issues enjoying the brilliant visuals with superior sound.
While I didn't buy this system for gaming, the NotebookReview site reports gaming is possible on this MacBook Pro, given the high-end NVIDIA GeForce GT 650M CPU this is understandable. Such games as Diablo III and World of Warcraft can be played at or near the native resolution.
Benchmark Tests
In Benchmark Tests carried out by the same NotebookReview site, the MacBook Pro preformed remarkably well on the Geekbench scale - showing a 11023 score. Plus, scoring 5223 on PCMark 7 and scoring 2427 on 3DMark 11. The wPrime processor test was a respectable 8.197 seconds.
Touchpad
The MacBook Touchpad is large and highly responsive. I honestly had no issues with the Touchpad, although my judgement of the touchpad is somewhat limited since I have always used a wireless mouse for all the laptops/computers I have owned or used. This MacBook is no exception. I even bought the Apple wireless mouse, which is one of the coolest objects I have ever held in my hands - did see a Faberge egg once, but it was behind glass.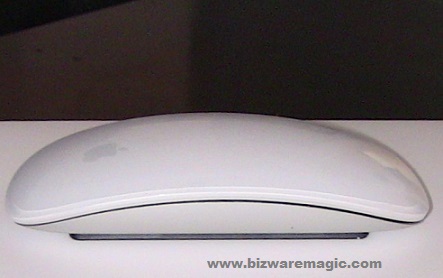 This wireless mouse is an object of pure design - although I have heard some complaints that it's too small and doesn't fit your hand so long hours of use could get tiring - I have not experienced that problem and simply enjoy the mouse much more than the touchpad.
Keyboard Performance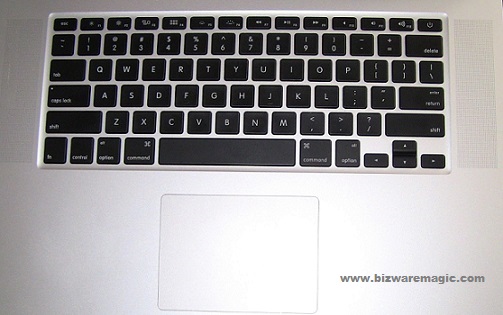 I bought this MacBook Pro to be my main work laptop, so the keyboard layout and design had to be comfortable for long hours of typing. This time, Apple got the design right and I find the keyboard excellent for typing and editing. However, there is no number pad, but I don't deal with numbers so this issue doesn't actually affect me. However, if you were an accountant, it would be something to consider.
Now there are many critics who say this MacBook Keyboard is a weak point. That there is no flex or feedback when you're typing - I can see their view, the keyboard has a smooth feel to it and not like a regular desktop keyboard, but I quickly adjusted to the feel of the keyboard and certainly don't see or have any problems using it, even for typing long articles.
I also like the volume up/down keys at the top of the keyboard. Again, Apple seems to get it right when it comes to the main design features which make using the MacBook Pro an absolute pleasure.
W
hile Apple may believe the Optical Drive has gone the way of the dinosaurs, I am not so sure laptop and computer users have had their fill of the disc drive. Sure you can download your music and movies from the web (read iTunes), but popping in a DVD of your favorite movie is so much more convenient. Not to mention any gamers who like to play their PC games the old fashion way by simply popping in a disc... and/or for burning off a favorite movie or game.
For me the lack of an Optical Drive is a minor flaw, it simply would have been gratifying to have had a built-in Blu-ray Player to take full advantage of that marvellous Retina Display. Just saying.
Conclusion
The MacBook Pro with Retina Display is a high performance laptop which delivers a spectacular screen that doesn't disappoint. This fast stylish notebook runs quiet and cool. It is an excellent laptop for the student or business person because it is also lightweight and thin, while offering up superior performance. Besides, something has to be said about Apple's professional look and design - an absolute stand-out in any crowd.
This is a full-featured laptop with most of the bells and whistles you would expect. Powerful 3rd Generation (Ivy Bridge) 2.3 GHz Intel Core i7 Processor with 8 GB of 1600 MHz DDR3 memory. You have dual switchable graphics with the Intel HD Graphics 4000 512 MB and NVIDIA GeForce GT 650M. The storage is sufficient when you consider both the 250 GB Macintosh Hard Drive and the 251 GB Flash Storage. There is also an HD webcam for those social media fanatics and YouTube Vbloggers.
There are some minor drawbacks or flaws - the keyboard has no number pad, there's no optical drive and the MacBook Pro is expensive when compared to other laptop features and prices. There are probably better deals out there, but the main selling point/feature of this laptop is the brilliant Retina Display. If you're looking for a superior display with sharp breath-taking graphics, this MacBook is for you.
....
Pros - Excellent crisp Retina Display screen, responsive touchpad, fast processor with quick start and shut down times, long battery life, good keyboard and sleek overall design.
Cons - No Optical Drive, no number pad and very expensive.
Overall Assessment/Review
...Very Good to Raving!
Latest MacMall Apple Deals:
The new MacBook Pro w/ Retina Display now starts at $1,449.98
while the new 13" & 15" MacBook Pro starts at $1,129.98.
The Notebook Guide
Want to thank BWM for this content? Tell a friend about us, add a link to this page - or visit our main page for more free guides & coupons.
Link to this page:
Please bookmark with social media, your votes are noticed and greatly appreciated:
To Check Out Top-Selling Notebook Computers That Are Updated Daily Click This Link: Top Deals For Today!
If money is no object - You might want to Click This Link: the-best-notebook-money-can-buy!
CLICK To View Our TOP HAND-PICKED Quality Laptops: