Presenting The Information You Need...
Notebook Computer Guide*
Quick... Reviews... Summary...

Become An Educated Buyer & Save
*Alienware Area-51m 7700
Gaming Notebook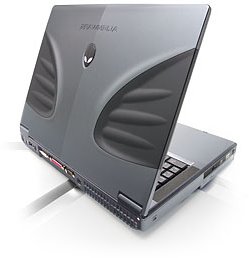 Overall Assessment/Reviews ... Very Good
The Gaming PC is spouting a new hybrid of computer - it is not exactly portable in the sense of a traditional notebook and it's not exactly a desktop computer or even a desktop replacement. It's more of a 'moveable or mobile desktop'!
It might seem at first to be just a matter of semantics, but there really is a new style or type of notebook computer that's being designed for the gaming market that has to be put in a class of its own. It deserves separate billing!
These machines are not meant to be portable (as in frequent traveling) but simply a moveable desktop that can be transported very quickly over short distances. Unlike traditional notebooks, battery life and weight are not as important in the 'moveable desktop' - what really counts is performance. Big Emphasis on performance.
These computers are maxed to the limit in regards to technical performance - the faster the better. Graphics, visuals, and audio are given center stage and tweaked to perfection. The entertainment value rules the day.
The trick is get a 'Top of the line' desktop capabilities or specs in a movable package that can be transported with relative ease. An escort to your next LAN party that will 'wow' them over.
Style is also paramount in a 'Mobile Desktop' - second to performance. Designed for eye-popping effects, it has to look 'cool' or it's dead in the water.
But it's not style over substance. Some examples of this new 'Mobile desktop' would be the Alienware Area-51m 7700 from Alienware.com
Compared to the traditional notebooks, the Area-51m 7700 is very heavy, 12 pounds with two pounds more for the power supply. It sports an Intel Pentium 4 530 (3.0GHz) desktop processor instead of a mobile processor. Powering the graphics is the new NVIDIA GeForce 6800 Go coupled with 256MB of memory and the PCI Express interface.
Display is a is large 17" WXGA screen that can nicely handle high resolution graphics.
The 5,400rpm hard drive is relatively small at 40GB. It has a large range of ports and a 7-in-1 media reader.
The NEW hardware magazine, GigaHz, in their February 2005 issue gave the new Alienware Area-51m 7700 5 out of 5 in its rating system. Mainly for incorporating the NVIDIA GeForce 6800Go graphics with Intel's PCI-Express bus architecture to give the maximum performance.
If you order or config an Alienware Area-51m 7700 make sure you get the new PCI-Express and the latest graphics card - most gamers already know this but it needs mentioning - especially if you want a gaming machine that does not disappoint.
In any case Alienware Area-51m 7700 should make any gamer's list of top picks! Check out this machine before you buy a 'gaming pc'.
Battery Life: 60 minutes
Size: 15.6" Width X 11.7" Height X 2.1" Depth
Cons: Short battery life, small hard drive.
Pros: High End gaming 'mobile desktop', stylish design and presentation, powerful performance.
Conclusion: The Area-51m 7700 has all the features of a good Gaming Machine. Is it the ultimate 'Gamer'? -- - it may come close but the jury is still out.
*Seclective Quality Reviews: Alienware Area-51m 7700
Use these handy Quality Review Links for more detailed information and reviews here:
*Shop Online Here For: Alienware Area-51m 7700
...Listed are some online Stores to buy the Alienware Area-51m 7700. Most of these have Daily Updated Prices so it's best to visit these sites and shop around. Watch out for Special Shopping Cart Deals! But don't go for the cheapest price - also check out the customer service and support.

Basic specs for Alienware Area-51m 7700
Basic specs for Alienware Area-51m 7700
Intel Pentium 4 530 (3.0GHz 1MB Cache) Processor
512MB PC2-4200 DDR2 DRAM (2GB Maximum)
40GB 5,400rpm Hard Drive
24x CD-RW Combo Optical Drive
17" WXGA+ (1440x900) LCD
GeForce 6800 Go Graphics with 256MB Memory
Intel HD Audio
15.6" x 11.7" x 2.1" @ 12.5 lbs
v.92 56Kbps Modem
Gigabit Ethernet
Four USB2
Two FireWire
One Type II PC Card Slot
7-in-1 Media Reader
ALWAYS DOUBLE CHECK with your dealer THE EXACT SPECS - Before you BUY!

*Product or Company RSS Feed: Unknown or Unavailable


PC Mag RSS Feed


Cnet RSS Feed
What is RSS? RSS stands for Really Simple Syndication. Companies and Websites use it to syndicate their information. To access these Feeds you can use Aggregators or Readers like NewsGator. Other options, you can use the New Firefox Browser or use online sites like MyYahoo or Bloglines.
Hopefully, this simple condensed Notebook Buying Guide will help you in the purchase of your notebook or laptop computer. At the very least, it will have pointed you in the right direction.
The Notebook Guide
Please bookmark with social media, your votes are noticed and greatly appreciated:
CLICK To View Our TOP HAND-PICKED Quality Laptops: