Presenting The Information You Need...
Notebook Computer Guide*
Quick... Reviews... Summary...

Become An Educated Buyer & Save
NVIDIA Optimus - Is Switchable Graphics
The Solution To Low Battery Life?
Compiled and Written by Titus Hoskins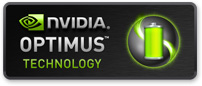 Short battery life is the Achilles heel of laptops, especially gaming rigs. Now new technology from NVIDIA called Optimus may just be the solution to this common problem. Basically, in non-technical terms, this new technology seamlessly switches the graphics components on your laptop in order for you to get the best performance at the lowest power level. It automatically manages your laptop's battery life and performance to give you the best of both worlds.
The key words here are automatic and seamless - any laptop with NVIDIA Optimus installed, can now switch from discrete graphics to integrated graphics without the end-user being any the wiser. Which is an important point since, as reported by AnandTech's Lengthy Report on Optimus, only about 1% of people would do the switching manually.
The great part of this new Technology it can be used in any type of laptop device - from the small netbooks to the high end-gaming machines. We already see it in the new Asus laptops such as the ASUS UL50Vf.
The second great selling point for Optimus is the very low cost which can be easily absorbed into the price of the GPU - so there's no reason why ALL future laptops can't have switchable graphics. There are still some issues with drivers and software tweaking, but for most part these concerns will be minor - especially if, as NVIDIA claims, using Optimus can double your laptop battery life.
If this one single benefit alone is realized, NVIDIA Optimus will have a very bright future. Perhaps, the main testing ground for this new technology will be in high-end gaming devices, where any extra battery life is desperately needed, as these gaming monsters are by nature, power hungry creatures. Switching graphics in these devices could prolong the battery life and make them more desirable for buyers.
Overall, this new Optimus technology may just prove revolutionary, but only time will tell if it will deliver the goods. For now, expect to see many more future laptops debuting with NVIDIA Optimus.
For more on NVIDIA Optimus go here:
Is Nvidia Optimus The Future Of Gaming Notebooks?
........
The Notebook Guide
Please bookmark with social media, your votes are noticed and greatly appreciated:
CLICK To View Our TOP HAND-PICKED Quality Laptops: