Google Marketing - Search Engine Tactics That Hit The "G" Spot
Copyright © Titus Hoskins
If you're marketing online in any shape, size or form; Google will probably be number one on your radar. Its dominant role in online search puts it there. Latest Hitwise results show Google controls about 72% of the all-important U.S. search market and Google's share in other parts of the world is even higher.
Therefore, for most Internet marketers and webmasters, marketing online can more or less be classified as "Google Marketing." There are some exceptions such as Yahoo! and MSN, which shouldn't be ignored in your marketing. Nor should you ignore the role, large amounts of web traffic outside the search engines from FaceBook, MySpace, Twitter... may play in your online marketing.
However, Google marketing will play a significant role in your online marketing, regardless of whether you're selling your own products, promoting your site or selling other people's stuff through affiliate marketing.
I fall into the last category, I am a full-time online affiliate marketer promoting and selling other people's products & services. Truth be told, I don't actually sell anything on the web, I just find buyers and clients for the companies I promote.
In accomplishing this task, I deploy a whole spectrum of marketing tactics and techniques that get the job done. I also monitor and analyze all my marketing with a necessary passion and devotion that would put any religious zealot to shame. When it's all said and done, Google is in the forefront of my online marketing, accounting for around 80% of my business.
Needless to say, anything and everything relating to Google interests me, mainly because my livelihood depends upon me keeping track of what's happening in Google and especially in regards to Google search. I keep a constant eye on all my major keywords and how they're ranking.
After seven or eight years of marketing within Google, you pick up a few things, even if you're not exactly the brightest lightbulb in the box, you keep track of what works and what doesn't. After awhile you learn how to become a professional Google Marketer - might sound a bit pretentious, but basically that's what you become, a professional online marketer making your living through Google.
Hey, someone has to do it!
So with this backdrop in mind. Here are some of my Google marketing tactics, tips and techniques. They might prove helpful to anyone who's trying to market on the web.
1. Keyword Dominance
As you probably already know, the key to earning traffic and revenue from Google is getting top placements for your targeted keyword phrases in their all-important SERPs or search engine result pages. You want the top spot if possible, but anywhere on the first page will give you good quality traffic - I personally aim for at least a top 5 position.
It has only been my success at achieving those top 5 positions in Google which has given me my online living. Therefore, I devote the majority of my marketing to getting and keeping those top positions. I have been fighting some keyword battles for over five or six years - they are that important to me.
However, you must not ignore the immediate benefits of long-tail keyword marketing... this is where you use less competitive longer keyword phrases which usually have better conversion rates than more competitive popular keywords. I can usually put some keywords into the Google index within a matter of hours, but it usually takes a few days.
For me, the most effective way to keep your keywords in the top 5 positions is to be persistent. Most people and marketers on the web want immediate results, once they don't get them, they give up and try another tactic. This is wrong - dead wrong. To win any kind of keyword battle in Google you must be persistent, months, even years before you reach the first page of very competitive keywords.
Try a long-term keyword strategy by building your keyword content up over years (not months) and you will see your results in Google. I have even created whole sites around certain keywords just to get to that first page. I have even written different keyworded articles for years in order to get top rankings. I have also kept up blogs on certain keywords for years. Persistence pays off.
Google also rewards quality, make sure you're offering quality content that your viewers will want and recommend to their friends. Don't underestimate the whole notion of online democracy of people voting with their links to your site. Sure, there is a lot of abuse, but fundamentally this online democracy still works within Google.
In any keyword battle, you have to go on the offensive, become pro-active and actually fight for your keyword. Examine your competition, examine their links and then go out and get the same links. Mirror their marketing strategies and then offer superior content to your visitors and to Google.
2. Multiple Listings For Keywords
I believe a common mistake many online marketers make is that they create one site and market it. Then you only have one listing (or possible two, if Google sub-links your site) for your keyword. This strategy is OK but it doesn't get the majority of the search traffic for your keyword on any given day.
Instead, what I do and what you should do, is try to get multiple listings for your keyword on the first page in Google's results. You can easily do this for less competitive words by placing your articles in the major online article directories.
My favorite one for this is Ezinearticles which Google likes and favors because it's such an authority site on the web. For your targeted keyword in Google you can have a listing for your keyword content from your site, then you can have two or three more listings of your articles in Ezinearticles for the same keyword. Granted, visitors will have to go thru Ezinearticles first but the final visitor that arrives at your site is "pre-sold" on your site and becomes a super targeted visitor.
Another tactic is to build a slightly different but keyword related site so you have another listing in Google's results. If you can get several sites in the top five spots - you will receive a larger amount of the available traffic for your keyword. So too is starting an affiliate program and then having your affiliates' sites/listings taking up all of the first page in Google.
If nothing else, you should be trying for the double listing within Google for your keyword phrase. You can do this by building outside links not just to your homepage but to build links to the interior page you want featured in Google along with your main page. I find these double-listings bring in the most traffic and you should be actively trying to get these double listings within Google for your chosen keywords.
3. Keywords In The Domain
Among SEO experts there is some dispute about whether having your keywords in the domain gives you an advantage in your keyword rankings. I don't know why they're arguing - in my opinion and from my experience - having your keywords in your domain is a definite plus.
I would even go so far to say, as the web evolves, you will ONLY see keyword domains in the listings in places like Google. Keywords tells the search engines what your page is about, if you have it in your domain, it must be a very important part of your site. Your domain name is how people find you, what better way to tell them and the search engines, what your site is really about. Common sense will rule in this issue.
Let's take an example, at one time I had a very top ranking for "list building" in Google. It is one of my targeted keywords and at the time of writing this article, my main site was still in the top 5. However, what has jumped to the top of the pack is a site with "listbuilding" in the domain name. The second spot also has the same keyword in the domain name. Most of the first page listings have "list building" or "list" in the domain or URL. My listing only uses "opt-in.htm" in the URL, with no mention of "list building."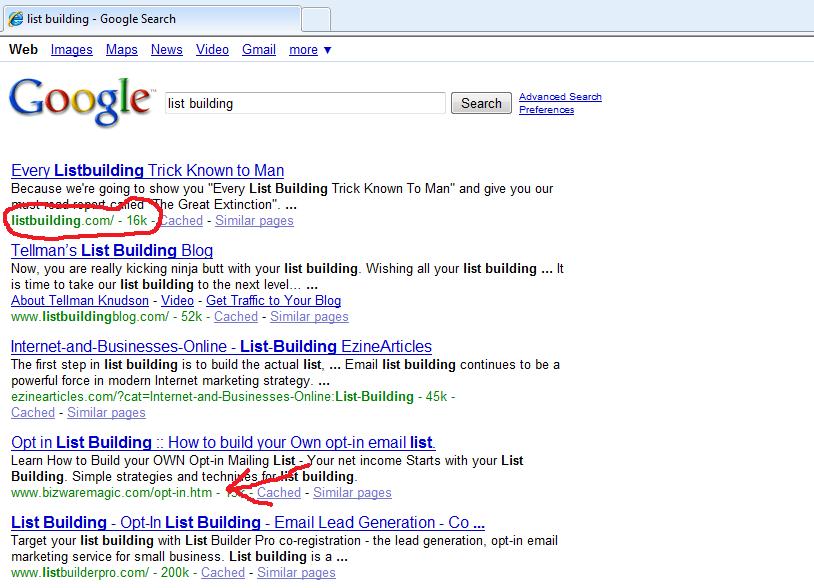 Why is all this important, if you want the top spot in Google, your chances are higher if you have your keywords in the domain and/or URL. I have seen this issue played out in many other keyword battles and it has been my main reason for building new sites with my targeted keywords in the domain name.
This is the real goldrush that's now happening on the web. Getting those keyworded domains into your greedy hands and building upon them with quality content will position yourself favorably within Google for years to come. A sweet spot indeed.
4. Social Media Keywords
The web is constantly changing and you must keep up with it if you want your keywords to dominant in Google. Don't dismiss or underestimate the important of the social media/bookmarking sites such as FaceBook, MySpace, Digg, Wiki, Del.icio.us, Reddit... they do play a role in how Google ranks your keywords.
You must embrace these new ways of voting for your content. Getting a bookmark in any of these sites do count for more than getting traffic back to your sites. Despite what Google may officially say, these bookmarks do count.
If your content gets listed in one of these popular bookmark sites - it will give your content a boost in the search engines. I can remember getting a front page listing in Digg for a rather "throw-away" piece on some interesting facts about the Internet. Couple years later that keyword "Internet Facts" will still show my page in the top spot. Granted this is a useless keyword and not one I have targeted but it just shows the ranking power of these popular media sites can't be denied.
Getting your content and sites listed in all these bookmarking sites should be one of your strategies if you want higher rankings within Google. I have found adding the simple Addthis.com button will get your content into these sites. These are just small side-battles in your ongoing keyword wars.
5. Google Is A Multi-Headed Beast
Many online marketers make the mistake that Google is ONLY about the popular search engine we all use each day. But Google has many different facets to its search system - you should be aware of them and even target them in your keyword marketing strategy.
For instance, Google Images is an entirely different area of Google search which you should not ignore. Top listings in Google Image Search can bring in a lot of traffic to your keywords. Are you using it?
Then there is Google Product Search (used to be called Froogle) which is listed before the organic search results and can bring in tremendous numbers of targeted buyers. This is not to be ignored by any means.
Also, you have Google News, which can also bring in targeted traffic to your sites. Doing press releases is very effective for this reason - they usually end up there. I also like using American Chronicle because your content there is passed along to Google News.

Other areas of Google such as Knols, Docs... shouldn't be forgotten because getting your material in these places does help to establish your online presence and promote your content.
Plus, many savvy marketers use Google Adsense and Google Adwords to both supplement and complement their organic search results in Google - creating a very complex marketing matrix.
In conclusion, Google Marketing takes in many aspects and strategies, which you should be using if you want your content to get top rankings within Google's all-important index. Achieving such a goal for your chosen profitable keywords will no doubt spell success for your online marketing efforts. And you will be well on your way to becoming a full-time online marketer - there's no life like it.
..................
Everyone is Profiting from Google, are you? Find out how here:
Google Cash File
Please bookmark with social media, your votes are noticed and greatly appreciated: