Presenting The Information You Need...
Notebook Computer Guide*
Quick... Reviews... Summary...

Become An Educated Buyer & Save
*Sony VAIO VGN-A190
Desktop Replacement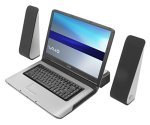 Overall Assessment/Reviews ...Good to Very Good
Sony does 'Big' with this full-featured entertainment package. It's a TV, a stereo, and a computer all rolled into an 8.7 pound powerhouse. With the AC adapter, travel weight jumps to a little over 10 pounds. Not too unreasonable for what it supplies but this is not a portable notebook.
Powered with an 1.7GHz Pentium M processor, 512MB of 333MHz memory coupled with 64MB of video memory - this Sony VAIO is very competent but its 4,200rpm hard drive speed is slower than others in its class ( i.e. the 5,400rpm and 7,200rpm drives that come in the HP Pavilion zd7000, Dell Inspiron 9100 and the Toshiba Satellite P25).
This Sony notebook computer's major strong points are the excellent keyboard and the brilliant TFT active matrix display and a remarkably well-integrated port replicatorport replicator.
The large 17-inch screen has a 1,920x1,200 native resolution and is one of the best displays featured in a desktop replacement notebook. Although some have noted it picks up reflections and the system only comes with 64MB of video memory which limits some graphic displays.
Regardless, if watching DVD's is the main activity of your pc - always consider a Sony!
Battery Life: 3.5 hours
Size: 15.9 Width X 11 Height X 1.7 Depth
Cons: Heavy weight, careful reading of directions and instructions may be needed to fully enjoy all the features of this multi-packed notebook, slower hard drive than others in its class.
Pros: Excellent keyboards and 17-inch display, powerful all-in-one media center.
Conclusion: Big multi-featured notebook with a brillant 17-inch display will appeal to many who want Sony Quality that they can take from room to room in their home or cabin.
*Seclective Quality Reviews: Sony VAIO VGN-A190
*Shop Online Here For: Sony VAIO VGN-A190
...Listed are some online Stores to buy the Sony VAIO VGN-A190. Most of these have Daily Updated Prices so it's best to visit these sites and shop around. Watch out for Special Shopping Cart Deals! But don't go for the cheapest price - also check out the customer service and support.
Sony VAIO VGN-A190 Batteries

Basic specs for Sony VAIO VGN-A190-
Basic specs for Sony VAIO VGN-A190
Processor Intel Pentium M (1.7 GHz)
Hard drive 80 GB IDE Internal S.M.A.R.T.
RAM installed 512 MB DDR SDRAM
CD/DVD type DVD±RW
Input device Keyboard, Touchpad
Dimensions 16 in x 11 in x 1.8 in
Display 17 in TFT active matrix
Max resolution 1920 x 1200
Video RAM installed 64 MB
Graphics card
Internal PCI Sound card
Network adapter
56 Kbps Fax/modem Internal PCI
Integrated 802.11b/g wireless adapter
Weight 8.6 lbs
Battery installed-- 1 Lithium ion
Mfr estimated battery life-- 3.5 hour(s)
1 year warranty
ALWAYS DOUBLE CHECK THE EXACT SPECS -with dealer- Before you BUY!

Further Information:
Sony Home Website

Hopefully, this simple condensed Notebook Buying Guide will help you in the purchase of your notebook or laptop computer. At the very least, it will have pointed you in the right direction.
The Notebook Guide
Please bookmark with social media, your votes are noticed and greatly appreciated:
CLICK To View Our TOP HAND-PICKED Quality Laptops: