Presenting The Information You Need...
Notebook Computer Guide*
Quick... Reviews... Summary...

Become An Educated Buyer & Save
*IBM ThinkPad X40
Ultra-portable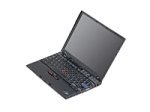 Overall Assessment/Reviews ...Very Good to Raving
The Ultra thin and sleek IBM ThinkPad X40 - despite minor drawbacks such as lack of a touchpad, full set of business applications, or all the latest connections - is the business notebook of choice for many professionals.
IBM's Overall style and performance wins the day. It's major selling point and best feature is the great (almost perfect) keyboard. Full body feel and solid typing will win many over.
Coming in at just 3.2 pounds and 1.3 inches tall with a 40GB hard drive, 256MB of RAM built in. It has only a 12.1 inch screen but it's bright and crisp.
It covers the basics with a couple of USB ports, basic audio, a monitor connection, an SD Card slot, and network and modem jacks. It is 802.11b Wi-Fi ready (with Bluetooth also an option). Optional X4 UltraBase Dock will give you an optical drive, parallel port, third USB 2.0 port but still no TV-out or FireWire.
Another feature is the Thinklight which lets you type in the dark. Great for certain traveling situations such as automobiles, planes...
Size: 19.60" Width x 8.30" Depth x 1.10" Height @ 3.2 pounds
Cons: Lack of touchpad, sparse connections.
Pros: Great keyboard, sleek style and IBM quality, light and ultra-portable.
Conclusion: Despite a few drawbacks, IBM quality and a great keyboard makes the X40 the Ultra-portable of choice for most business professionals.
#Note - Click Here for IBM ThinkPad T43!
*Seclective Quality Reviews: IBM ThinkPad X40
Online Comparison Shopping For: IBM ThinkPad X40
...Listed above are some online Stores to buy the IBM ThinkPad X40. Most of these have Daily Updated Prices so it's best to visit these sites and shop around. Watch out for Special Shopping Cart Deals! But don't go for the cheapest price - also check out customer service and support.
IBM ThinkPad X40 Batteries

Basic specs for IBM ThinkPad X40 -
Basic specs for IBM ThinkPad X40
Processor Intel Pentium M (1.30 GHz)
RAM installed 256 MB DDR SDRAM
Hard drive 40 GB IDE
CD / DVD type None
Input device TrackPoint
Weight 3.20 lbs
Dimensions 19.60 in. width x 8.30 in. depth x 1.10 in. height
Display 12.1 TFT active matrix Display
Max resolution 1024 x 768
Modem 56 Kbps Fax / modem CDC
Battery installed 1 Lithium ion Battery
Battery life 5 hours (8-cell battery)
OS provided Windows XP Professional
Service & support type 3 years warranty
ALWAYS DOUBLE CHECK THE EXACT SPECS -with dealer- Before you BUY!
Hopefully, this simple condensed Notebook Buying Guide will help you in the purchase of your notebook or laptop computer. At the very least, it will have pointed you in the right direction.
The Notebook Guide
Please bookmark with social media, your votes are noticed and greatly appreciated:
CLICK To View Our TOP HAND-PICKED Quality Laptops: