Presenting The Information You Need...
Notebook Computer Guide*
Quick... Reviews... Summary...

Become An Educated Buyer & Save
*HP Compaq NC4010
Ultra-portable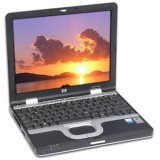 Overall Assessment/Reviews ...Good to Very Good
At just a fraction over an inch thick and at 3.5-pounds, the HP Compaq NC4010 is light-weight and very portable. With an Intel Pentium M 1.6 GHz it is also a very fast utra-portable notebook. Storage is adequate with a 40GB 5,400 rpm hard drive.
The Compaq NC4010 also has 512MB of DDR SDRAM and 32MB of Video RAM but for the serious gamer it has little appeal. Although it boasts a good bright 12.1" screen and an ATI Mobility graphics processor.
Mainly appealing to the business customer, this HP notebook computer has all the major connection ports, including 802.11b/g wireless networking, Bluetooth and IrDA. It also has Windows XP Professional.
Battery life is around 3 hours.
Size: 11" Width X 9.2" Height X 1.1" Depth @ 3.5-pounds
Cons: Relatively poor battery life, sound quality.
Pros: Inexpensive, great display, very fast and light-weight, great performance for the price.
Conclusion: Good inexpensive notebook that's light-weight and gives very fast performance for the money. Major pluses are the great display and graphics, solid construction and a good keyboard.
*Seclective Quality Reviews:
HP Compaq NC4010
Online Comparison Shopping For:

HP Compaq NC4010
...Listed are some online Stores to buy the HP Compaq NC4010. Most of these have Daily Updated Prices so it's best to visit these sites and shop around. Watch out for Special Shopping Cart Deals! But don't go for the cheapest price - also check out the customer service and support.
HP Compaq NC4010 Batteries

Basic specs for HP Compaq NC4010
Processor- Intel Pentium M (1.6 GHz)
RAM installed-- 256 MB SDRAM
Hard drive- 40MB
Dimensions- 9.2 in x 1.1 in x 11 in
Weight- 3.5 lbs
Display- 12.1 in TFT active matrix Display
Max resolution- 1024 x 768
Video RAM - 32 MB
Networking type-- Network adapter
Modem- 56 Kbps Fax / modem Internal PCI
Battery installed-- 1 Lithium ion Battery
Battery life- 3 hours
Microsoft Windows XP Professional
Three-year warranty
ALWAYS DOUBLE CHECK THE EXACT SPECS -with dealer- Before you BUY!

Hopefully, this simple condensed Notebook Buying Guide will help you in the purchase of your notebook or laptop computer. At the very least, it will have pointed you in the right direction.
The Notebook Guide
Please bookmark with social media, your votes are noticed and greatly appreciated:
CLICK To View Our TOP HAND-PICKED Quality Laptops: