Presenting The Information You Need...
Notebook Computer Guide*
Quick... Reviews... Summary...


Become An Educated Buyer & Save
Notebook Computer Terms


... D-SUB
D-SUB or DB15 cable. The connector on your notebook or PC that carries the analogue signals to your monitor. Has 15 pins and gets it's name from the D-shaped raised shield.
These days most laptops have the superior DVI/HDMI digital connections which is like going from VSH to DVD. There really is no comparison, always go with the DVI connection. Actually, most current video cards don't even carry these analogue signals anymore.
In most cases, when setting up monitors or displays, go with the digital DVI or HDMI cables/signals if they're present on your device. The superior images and sound will be worth it.
Here's a helpful YouTube video explaining or comparing using DVI vs VGA or digital vs analogue signals/connections.
The Notebook Guide
Please bookmark with social media, your votes are noticed and greatly appreciated. Thank You.
To Check Out Top-Selling Notebook Computers That Are Updated Daily Click This Link: Top Deals For Today!
CLICK To View Our TOP HAND-PICKED Quality Laptops:













Copyright - All Rights Reserved.
Your Free
Notebook Guide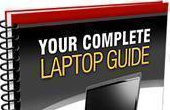 To access our Notebook Guide just click the link below OR you can DOWNLOAD this handy PDF file by right clicking the link. Free Notebook Guide


Notebook Guide
Information Overload
The Internet has too much Stuff!
We Sort and Compile all this information for you and present a brief Synopsis or quick Summary of product reviews.
Break through the Clutter.
Use this Easy Guide to point you in the right direction and save your most valuable asset.
Time
.....................
Quick TimeSavers

Yes, as per FTC rules and full disclosure - this is an affiliate site and may receive small compensation for links clicked on this page.