Presenting The Information You Need...
Notebook Computer Guide*
Quick... Reviews... Summary...

Become An Educated Buyer & Save
*Averatec AV3250H1
Budget Notebooks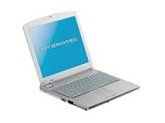 Overall Assessment/Reviews ...Good
Averatec's AV3250H1 model is a budget notebook that has some nice features despite being a low-end product. It's has a generous amount of storage space on a 60GB hard drive. Paired with an AMD Athlon XP-M 2200+ Mobile processor with 512MB of PC2100 DDR memory - it can handle most applications without problems.
At a mere 4.5 pounds, its fairly light-weight and very portable, although the battery life is around 3 hours depending on your computer tasks.
The XGA TFT display is rather smallish at 12.1-inches and has a maximum resolution of 1024 by 768. The S3 Unichrome graphics has 32 MB of shared Video memory.
This Averatec notebook computer has a standard Optical 24x CD-RW Combo drive.
Size and large hard drive should make this a consideration for those on a tight budget.
Battery Life: three-plus hours
Size: 10.9 by 9.6 by 1 inches @ 4.5 lbs
Cons: Short battery life, limited options, small screen.
Pros: Good storage, excellent price for what you get, very portable.
Conclusion: Those on a tight budget should consider the Averatec's AV3250H1 for a good small portable notebook with limited battery life.
*Seclective Quality Reviews:
Averatec AV3250H1
Use these handy Quality Review Links for more detailed information and reviews here:
Online Comparison Shopping For:
Averatec AV3250H1
...Listed are some online Stores to buy the Averatec AV3250H1. Most of these have Daily Updated Prices so it's best to visit these sites and shop around. Watch out for Special Shopping Cart Deals! But don't go for the cheapest price - also check out the customer service and support.
Averatec AV3250H1 Batteries

Basic specs for Averatec AV3250H1-
AMD Athlon XP-M 2200+ (1.67 GHz) Processor
Microsoft Windows XP Home Edition
12.1 inch 1024 x 768 XGA LCD Display
512 MB PC2700 (333 MHz) DDR RAM
80 GB 4200 RPM 9.5mm Hitachi Travelstar hard drive
QSI SDW-042 dual format 4x/2x DVD RW drive
Size 10.9 inches wide x 9.6 inches deep x 1.0 inch thick @ 4.4 pounds
3x USB 2.0 ports
Integrated 802.11g WiFi
10/100 ethernet
56k modem
ALWAYS DOUBLE CHECK THE EXACT SPECS -with dealer- Before you BUY!

Further Information: https://www.averatec.com/

*Product or Company RSS Feed: Unknown or Unavailable

PC Mag RSS Feed RSS Feed
What is RSS? RSS stands for Really Simple Syndication. Companies and Websites use it to syndicate their information. To access these Feeds you can use Aggregators or Readers like NewsGator. Other options, you can use the New Firefox Browser or use online sites like MyYahoo or Bloglines.
Hopefully, this simple condensed Notebook Buying Guide will help you in the purchase of your notebook or laptop computer. At the very least, it will have pointed you in the right direction.
The Notebook Guide
Please bookmark with social media, your votes are noticed and greatly appreciated:
CLICK To View Our TOP HAND-PICKED Quality Laptops: