Presenting The Information You Need...
Notebook Computer Guide*
Quick... Reviews... Summary...


Become An Educated Buyer & Save
BFG Technologies Introduces the 18.4-inch Deimos X-10
Gaming Laptop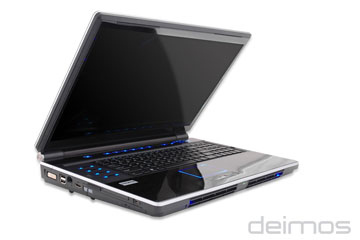 BFG Technologies, has announced the introduction of largest gaming laptop - the 18.4-inch Deimos X-10 (which is probably a rebranded Clevo M980NU). This desktop replacement and gaming laptop is one of largest on the market currently, sporting Intel Core 2 Duo with Quad and Extreme CPU options at a higher price, twin 1GB NVIDIA GeForce GTX 280M GPUs, up to 8GB of DDR3 RAM, 3 Hard Drives for up to 1.5TB of storage, a 1,920 x 1,080 resolution display and a Blu-ray optical drive. If that wasn't enough you also get a built-in subwoofer, HDMI/DVI ports, 4 USB 2.0 sockets, a 2 megapixel webcam WiFi, Bluetooth 2.1+EDR, 7-in-1 card reader and a bundled backpack in order to lug that gaming monster around in.
Now, from BFG's site this ulti-media powerhousem is starting at or has listed price of $2299 but if you order before October 30th, you get 10% off. So this gaming rig can be yours for a little under 2 grand.
However, hardcore gamers know if you want to max out this system with the highest specs the starting price listed on BFG's is $4499. With that price you get:
Dual NVIDIA® GeForce® 280M 1GB (SLI)
Intel® Core™ 2 Extreme QX9300 2.53GHz
8GB PC3 8500 (1066MHz) DDR3
Two 320GB HDD in RAID 0 (640GB)
Free Case Logic® Backpack
All that laptop portability comes with a hefty price, but many people and probably one or two gamers are willing to pay that price instead of going with a cheaper desktop PC option.
Top Links:
.....................................
Feature Article: How To Do Your Own Computer or Laptop Memory Upgrade
The Notebook Guide
Please bookmark with social media, your votes are noticed and greatly appreciated:
To Check Out Top-Selling Notebook Computers That Are Updated Daily Click This Link: Top Deals For Today!
If money is no object - You might want to Click This Link: the-best-notebook-money-can-buy!
CLICK To View Our TOP HAND-PICKED Quality Laptops: