Presenting The Information You Need...
Notebook Computer Guide*
Quick... Reviews... Summary...


Become An Educated Buyer & Save
Alienware Releases New Sandy Bridge Laptops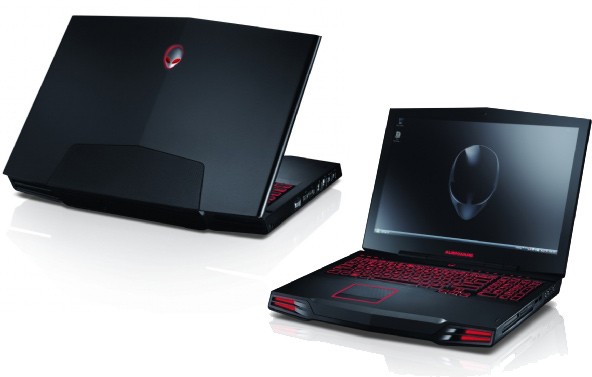 Once Intel introduced its new 2nd generation Sandy Bridge processors, everyone knew it wouldn't be long before the major laptop makers would be incorporating these powerful CPUs in their latest products. Alienware is no exception, they have just released three new devices equipped with these Intel Core i5 and i7 processors.
These latest Alienware gaming rigs include the new M14x and the beefed-up refreshed M11x which are already available for ordering from Dell, and the massive M18x which will be available soon.
These new Sandy Bridge chipsets are based on the 32nm process technology and according to Intel: "Sandy Bridge unifies processor cores, memory controller, last-level cache (LLC), and graphics and media processing. Such tight integration enables a host of performance and efficiency improvements."
These improvements include: faster graphics processing, faster overall processing because there are fewer buses which your data has to travel, better system performance since you have more memory bandwidth for the different cores and you have better graphics/media processing because you have dynamic control which can switch more power to where and when it's needed.
Of course, all these improvements achieved via these new processors are extremely important for video gaming. Since you have more processing power and management with Turbo Boost 2.0, coupled with faster and more intelligent graphics, means you have the ideal system for increased gaming performance.
The M14x is a new model and size for Alienware and is a great addition for those who want a more portable system with a little more screen real estate than the M11x which has been around for a few years now.
The M14x will come with a few options - the display standard is an 14-inch (720p) WLED HD (1366×768) which can be upgraded to (900p)WLED HD+ (1600×900). It will sport the NVIDIA GeForce GT 555M which can have up to 3GB of VRAM and up to 16GB of 1333MHz high-performance memory. Battery life will be enhanced with the NVIDIA Optimus technology - using switchable graphics. Now Starting at $1,199.
Check out the Alienware M14x:
The Alienware M11x is an improved version of the old M11x and will also sport the 2nd overclackable Intel Sandy Bridge processors with Turbo Boost. It will have an 11.6-inch (WXGA 1366×768) WLED HD (720p) display and NVIDIA GeForce GT 540M graphics with up to 16GB of 1333MHz high-performance memory. Both the M11x and M14x will have HDMI 1.4 for connecting to HDTVs, Klipsch speakers and optional Intel WiMAX technology. Starting price is listed at $999.
Check out the Alienware M11x:
But for hardcore gamers, at least for those who have deserted over the dark side and actually use a laptop for gaming instead of the more feasible and cheaper desktop PC, the real prize in this bunch will be the M18x. Currently, it checks all the boxes for a powerful gaming laptop:
- Intel's Core i7 Extreme Quad Core CPU option factory over-clocked to 4GHz
- Dual Graphics with either AMD (Crossfire X)or NVIDIA (SLI) with the fastest memory (GDDR5)
- Large 18.4-inch Full HD WLED 1080p display
- Up to 32GB 1333MHz memory
- HDMI/Display Out and In
- Wireless HD & 3D output options
- SuperSpeed USB 3.0 ports 10x faster than USB 2.0
All packaged in Alienware's stylish gaming designs which are known to turn a few heads. The price hasn't been released yet but gamers will know in order to get a fully maxed out system you will still have to depart with a small fortune. However, this is something many Alienware buyers will gladly do in return for the ultimate gaming laptop in the Universe. Or so the story goes...
<
b>Related Links:
Other Links:
Click Here for Whole page full of Alienware Coupons & Discounts
3D Gaming Laptop In The Works From HP And Dell
.....................................
The Notebook Guide
Please bookmark with social media, your votes are noticed and greatly appreciated:
To Check Out Top-Selling Notebook Computers That Are Updated Daily Click This Link: Top Deals For Today!
If money is no object - You might want to Click This Link: the-best-notebook-money-can-buy!
CLICK To View Our TOP HAND-PICKED Quality Laptops: