RingCentral Office Review
This virtual web-based PBX and IP phone system is very cost-effective and simple to use, but is it the right solution for your company or office?



RingCentral Office Review - Is This Virtual PBX System In Your Office's Future?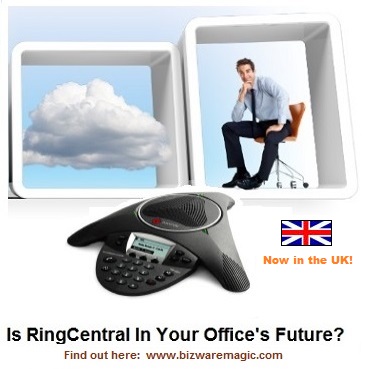 Take Me To The Cloud!
Written by Titus Hoskins+
If you read the company's literature or ad copy, RingCentral Office is being toated as Phone Systems Reimagined. While this may be true, a much more basic and accurate explanation would be - a cloud-based phone and fax system which takes full advantage of the Internet and VOIP (voice over IP) technology.
Instinctively, many company owners and office managers are thinking, voice over Internet or IP based system - doesn't that sound a little risky? Do I really want to trust my company's vital phone operations to a web-based system?
While there will still be many traditionalists relying on their wired hardware based office PBX systems, the new van guard will be looking to the future for a more modern way to do business. Actually, truth be told the modern workplace has dramatically changed within the last decade.
This is the era of smart phones, tablets, apps... and a gradual move towards cloud or remote web-based services. These are completely location free services, which are mobile and available anywhere, at any time.
RingCentral Office fits seamlessly into this brave new cloud-based world.
Trust barriers are also falling by the wayside as more and more companies move to these more convenient and cheaper web-based services, such as RingCentral Office. In these trying economic times, any cost savings must be examined and considered if you want your company to remain competitive.
Besides the cheaper costs, perhaps the main selling point for these kinds of services have to be the simple convenience. No wires or hardware to install, set-up takes only minutes instead of weeks and your workers and clients are reachable 24/7. Plus, these services are completely scalable, you can add or delete users within seconds.
Phone Systems For Small Business
Now, lets look in more detail, at the actual benefits of using a service like RingCentral Office. This is a virtual PBX system with no hardware to install, a system which offers location independence, full-featured, access via touch devices, pre-configured phones (if you decide to order them) which are plug and ring ready, completely scalable services and all this comes with one low all-inclusive monthly cost or price.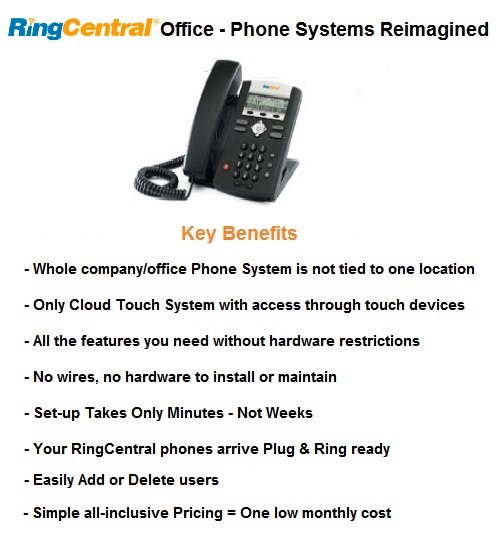 What is an IP Phone?
As mentioned above, RingCentral Office is a web-based system which uses full-featured IP phones to get your business done. This can be over a public IP network such as the Internet or over a more private IP network such as with your company's PBX system.
But how does all this work?
What confuses some potential customers, RingCentral Office can work in many ways... you can use your current smart phones and gadgets by simply downloading an app - there are RingCentral apps for iPhone, Android and Blackberry. Or you can order pre-configured business phones which will arrive in 5 or 7 days. These are fully functioning business phones like you would see in any office or company.

Once you sign up for an account your phone number is immediately activated and ready for use. You can also PORT your current business numbers into this system, but this may take up to two weeks. And yes, you can get Toll-free and vanity numbers.
Obviously, for your whole IP network to work, you must have a high speed Internet connection and a router. Once you get your "Plug & Ring Ready" business phones you just plug them into your router and you're in business. RingCentral does require a minimum of 64kbps of bandwidth per call.
Keep in mind, you can set everything up through the web with your browser. Actually, RingCentral is one of the few companies which has touch access, so you can even control everything on the touch device or gadget of your choice.
Your RingCentral phone system will have countless features, which you would expect on full-featured company phone system. Call recording, auto-receptionist, conferencing, voice mail, unlimited extensions... even unlimited Internet fax.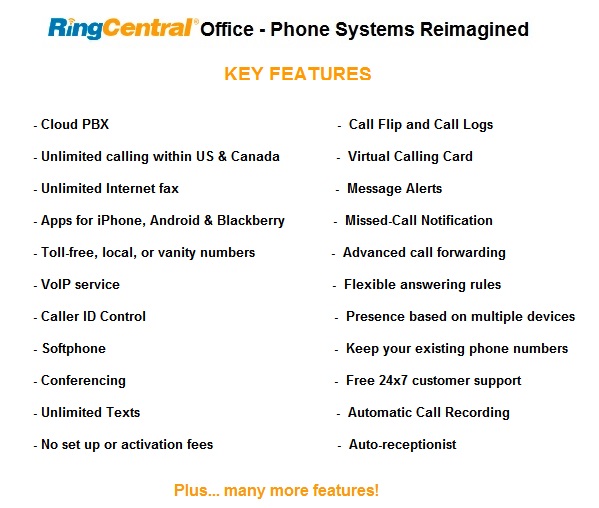 Puts the total control in your hands.
Perhaps, besides the IP web-based calling, what is different about RingCentral is the fact that you're in charge/control of your phone network. No costly hardware to install, no expensive technicians to hire... you can simply add or delete users through your online account.
Even your workers/users can create profiles with numerous options, such as assigning extensions and creating direct dial numbers. You can have different departments with their own messages or greetings.
You also have a free softphone, an interactive desktop tool which gives you "real-time control" of all your incoming calls/faxes - with total access to your entire phone system. This is great for screening calls, making adjustments and managing your whole system.
RingCentral Office is a very flexible system, which can be quickly adjusted as your company expands or contracts. This flexibly will save your company money, especially over the long term.
What happens if you lose your Internet connection or Power?
Will RingCental still work if your connection to the Internet is lost or disrupted by a power outage? Yes, since this service is cloud-based, it is not totally dependent on your company's web connection or your power - so you will continue to receive your calls and faxes. RingCentral suggests you use one of your mobile phones as one of your forwarding numbers so you can still access all calls and faxes during any outages.
What are the costs associated with RingCentral Office?
One of the biggest concerns for any company will be the costs associated with running such an IP phone network. First, there are no "Set-Up or activation fees" with RingCentral Office. However, if you buy their line of business phones configured to your number/account, this will cost extra.
There is unlimited calling (minutes) within Canada and the US - this also includes Alaska and Hawaii. International calls will cost extra, usually from 20 to 50 cents a minute - depending on the country. If international calls are a vital part of your business, you can view RingCentral's International Rates here
Monthly pricing with RingCentral Office is done via the number of users - usually for 2-19 users, the cost will be around $30 per user, for 20-99 users, it will be around $22 per user and for those systems with over 100+ users, the cost will be around $20 per user.
Companies and potential customers will have to examine their current hardware-based PBX systems to see if RingCentral is cheaper and can be more cost-effective, especially if you factor in the flexibility factor and scalability of this wireless IP phone system. New companies just starting up will definitely have to consider going with a cloud-based system such as RingCentral Office.
What is RingCentral Professional and how is it different from the Office System?
Another slightly confusing issue is the difference between RingCentral Professional and RingCentral Office. The company explains the difference in their FAQs section... basically, their Professional virtual phone and fax service was designed for those businesses/companies/individuals who want to use their existing phone service and phones as their primary devices, which could include mobile smartphones.
USA RingCentral Office - Your complete all-inclusive phone system. Try RingCentral free for 30 days.
Whereas RingCentral Office is much more complete - you get a whole business and fax system with its own phone service and lines which have a dial tone. Office also offers pre-configured business style IP phones which the customer can order if they so choose. This system can be perfect for companies that have several or more office locations, branches or salespersons within their organization.
What about Fax Services?
Keep in mind, both services include online or Internet fax, which is often considered a vital part of any company's sales and communications. Virtual fax is similar to traditional faxing, but instead of the conventional fax machine, you use the Internet and your email system to receive your faxes. With RingCentral Office, if you should need a "hard copy" of your faxes you simply connect up a printer and print out your messages. If you want to find out more about Online Fax, simply check out our Internet Fax Services Guide here.
What about support hours and the quality of RingCentral Office?
This is the final and most important factor to consider when buying any type of long-term service, especially one as crucial as your company's phone system. Obviously, with most companies, your phone and fax communications are vital to the whole success of your business - you must be absolutely sure you have a reliable service which won't let your company down.
RingCentral offers 24/7 free customer support and has earned a very good reputation, from both its customers and noted organizations, for offering a reliable service. But you must take into account any review of RingCentral will obviously be limited to that company's experience with the service and quality of support.
However, when everything is considered, RingCentral Office is a flexible virtual phone and fax system, which offers a totally mobile platform with inexpensive rates or costs. More importantly, it puts any company completely in charge of the management of their office communications and networking. In this age of the Internet, apps, portable wireless devices and smartphones - can any business or company really afford not to be connected at all times?
Besides, RingCentral does put its reputation on the line by offering a free 30 day trial - customers can test the quality of services for themselves to see if it meets their standards. In the end, the only review that counts will be yours... but like all these business decisions, it's your call?
....
Page UPDATE - Since writing this initial review, RingCentral Office has come out with some more added features which are covered below.
*New RingCentral Product Features Have Been Added
RingCentral has just updated some extra phone features which will definitely enhance your company's communications. These new features make sure your business doesn't miss any important calls, and they will help to keep all your calls and workforce on the same page.
New RingCentral Product Updates:
*Call Park
This new feature park calls in the cloud which can then be retrieved from any phone in your business.
Key Benefits:
Flexible Call Management - you can park up to 50 (inbound/outbound) calls simultaneously, if the call recipient is busy, you can have any worker pick up the call at their desk phone.
Convenience - you can simply press the Call Park soft key and pass along the call, plus any unanswered calls ring back after five minutes, making sure all your callers are well attended.
Access Parked Calls Anywhere - you can receive your parked calls from remote locations, if you're out of the office you won't miss any important calls. This feature is enabled through your Call Routing/Forwarding rules, so you're covered while travelling.
*Intercom
This new feature lets you announce calls and ping colleagues for quick conversations.
Key Benefits:
You can make announcements to workers/colleagues in any location from your desk phone. You can also customize the settings to determine who can contact you and use your Softphone to initiate Intercom to any RingCentral desk phone.
*Business SMS
You can send professional text messages to colleagues, clients, and departments from your business number.
Key Benefits:
Send unlimited texts - you can use one business number for voice, fax and text messages. Lets you send/receive 160 character messages to/from any RingCentral extension or 10-digit local numbers. Recipients can reply via Business SMS or their native SMS.
Business SMS works on all your mobile devices since there is a RingCentral app for iPhones, iPads and even works on Android smartphones versions 2.3 and higher.
Business SMS lets you seamlessly text messages across many devices such as tablets, smartphones and PCs. You can remove unwanted calls with number blocking and/or creating a spam blacklist. You can also receive/push email notifications of incoming messages.
*RingCentral App for Salesforce
You can have seamless integration between your RingCentral phone system and Salesforce CRM.
Key Benefits:
Increase Call Efficiency - save time by eliminating misdials and with simple click-to-dial from within Salesforce; you will spend more time selling or servicing customers and less time dialing.
Drive Organizational Collaborations - you can easily collaborate within your Salesforce by using call records & RingCentral Softphone call management, you can even have/work multiple call records in separate browser tabs.
Enhance Customer Interaction - you can greatly increase your efficiency by instantly matching incoming callers to existing contact records which are automatically displayed. You can even take notes while on a call, these notes are saved automatically.
Newest Additional Feature for RingCentral Office:
RingCentral Meetings | Video Conferencing
This new feature is a multi-point HD video conferencing/web sharing technology which is built for smartphones, tablets and computers.
Key Benefits:
Let's you hold Hold face-to-face meetings in high definition video and share your desktop or documents with anyone, anytime, anywhere.
Hold in-depth training with up to 25 people at a time.
Share files, sales presentations/demonstrations with your employees or workers.
RingCentral Office now integrates with Microsoft Office 365. This new integration feature will create a powerful cloud-based communications hub - letting users/companies to become even more productive.
Key Benefits:
Through this new Microsoft Office 365 app users can participate in calls/meetings with the Office 365 interface; they can also use the contact and calendar features of Office 365.
....
To find out more about RingCentral Office click the links below or try the free personalized demo...
For those looking for RingCentral Phone Service in the UK click here:

Latest Offer from RingCentral:
Start your Office All-in-One Plan starting at $34.99. Free Trial Now
Want to thank BWM for this content? Tell a friend about us, add a link to this page - or visit our main page for more free guides & content.
Link to this page:
Please bookmark with social media, your votes are noticed and greatly appreciated: