Free Industrial Magazine Subscriptions
Free online magazine subscriptions Magazines targeted to your job and industry.
Do you often avoid "free" offers because they're just not worth the hassle? If you believe it's always true that "you get what you
pay for," then think again.
Some 'Free Offers' are worth their weight in gold!
TradePub.com is a well respected Business-to-Business website which offers a large number of magazines, white papers and
electronic downloads to you online for FREE. You don't need a credit card and there's no future cancellation which you have to worry
about or remember.
Actually, all you need to give is some information about yourself (this is not anything really personal) and if you qualify, you can
receive quality free print subscriptions and/or electronic downloads of valuable industry information.
How is this Possible?
You're probably wondering - how can these subscriptions be free? Nothing is really free in this world. The simple answer has
everything to do with advertising.
As a new subscriber, you will be asked to fill out a short questionnaire in order to qualify (you are required to work in some aspect
of the industry the magazine discusses).
"Publishers use these demographics to charge a higher premium for their ads," explains David Fortino, Director of Business
Development at TradePub.com, a division of NetLine Corporation. "That, in a nutshell, is the process that allows these magazines
to stay "free" and it's why you will never pay a dime to receive them."
As mentioned above, TradePub.com is one of the largest free trade magazine sites on the Web, offering over 250 titles in 27
different industries. Subjects include the following: Engineering, Finance, Construction, Manufacturing, Marketing, Retail,
Sales, Human Resources, Information Technology, Operations, Multimedia and many, many more.
Use these magazines to keep informed and up-to-date with your particular business or industry. Quite simply, these free industry magazine subscriptions will keep you in the big picture.
White Papers & eBooks for Industrial Companies
Or Just browse the industry categories on the site and pick the magazine or magazines which fit your trade and then answer a few deomgraphic questions. It's that simple!
"Remember, you can be rejected if your responses prove that you're not compatible with the publisher's guidelines for readership,"
says Fortino. "For example, scientists are eligible for Today's Chemist at Work, but if an accountant were to apply for a subscription to Technology & Learning, they would not qualify," he explains. Click the logo below to begin looking for magazines of interest to you: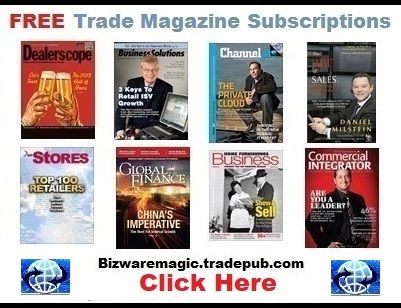 Want to thank BWMagic for this content?
Tell a friend about us
, add a link to this page
- or visit
our main page for more free guides & marketing content
.
Link to this page:
Please bookmark with social media, your votes are noticed and greatly appreciated: