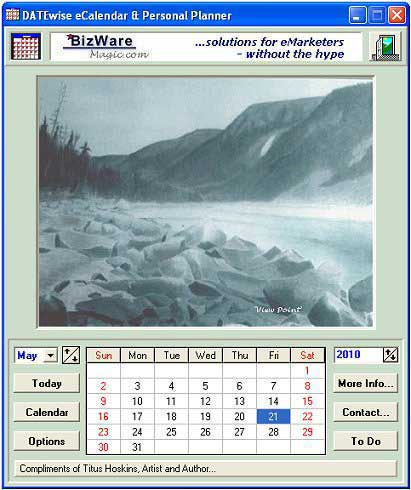 The
BizWareMagic.com
eCalendar shows a different image every month, just as a conventional paper wall calendar does, but it offers you far more than that: a full desktop view; daily, weekly, monthly and annual plan-ahead organizers; daily " To Do" reminders; and repeating event notifiers which eliminate forgotten birthdays, anniversaries and other important regular functions.
This free Desktop Calendar is perpetual - it does not have to be replaced every year - and neither do your notes, reminders or repeating events, so it becomes more valuable the longer it's used. Versions have been in daily use around the world since 1997 - imagine how much data they contain!
The DATEwise desktop eCalendar opens automatically with Windows so that it is the first program viewed. This means that your eCalendar is at your fingertips at the start of every day.
Below you'll see the "Information..." page;
you'll also find the program download link.
The BizWareMagic.com "Information" Page...

This view shows the BizWareMagic.com Information page open. Within this page, the title, as well as selected images, graphics, and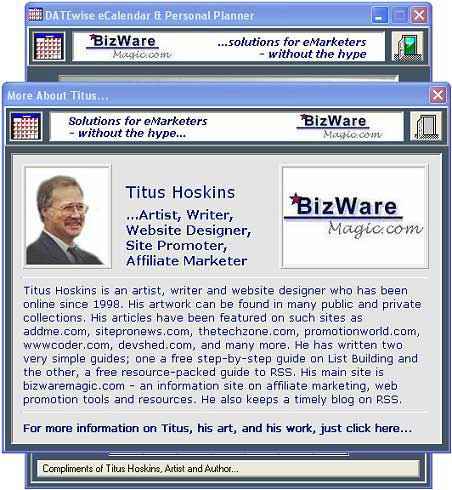 text are actually Internet and email hotlinks. So, to find some information at our web site - that's after you've checked your calendar to make sure you haven't missed any important appointments - open this page and click wherever the pointer turns into a little hand - that's a hotlink directly to a specific location on the BizWareMagic.com website.
The BizWare Magic.com active desktop Calendar can be downloaded directly to your computer's hard drive in just a few seconds. It could then be copied easily to a diskette or CD. Please feel free to pass a copy of the program along to family, friends and colleagues - it's even small enough to send as an email attachment!
It's perfectly safe and quick download - about 1.1 meg in size - that's a couple of minutes on a dial-up connection, a few seconds on high speed.
Read the following instructions then
click here
to download the full working program. When the download window appears choose "
Open
" or "
Run
" depending on your version of Windows the program will download automatically. To install it, you'll click "
Next
" four times, then "
Finish
" - that's it! You'll find a new icon on your computer screen from which your
Free BizWare Magic.com Desktop Calendar
can be started.
Free Desktop Calendar Download
I hope you'll find DATEwise handy - and it makes it really easy for you to stay in touch with all the latest in web marketing developments. If you want to discover how DATEwise can be a great viral marketing system click this link: Promotional Calendar.
Please let me know what you think of this great little program. If you like it, spread the word - pass copies along to friends and family, or just send them over to this web page where they can download their own copy of DATEwise!

+Titus Hoskins

Please bookmark with social media, your votes are noticed and greatly appreciated.


Want to thank BWMagic for this content? Tell a friend about us,
add a link to this page


- or visit our main page for more free guides & marketing content.

Link to this page:




Disclaimer: Use this eCalendar at your own risk. This site and its owners take no liability or responsiblity for any problems arising from the use of the DATEwise eCalendar. To avoid disappointment, it is always a good practice to back-up any important information stored on your computer, this includes all information stored in your eCalendar.
We respect your privacy. the DATEwise eCalendar contains no "spyware" whatsoever;
no information is transmitted to or from the program, nor is a "cookie" placed on your system.
A note from DTES Inc., producers of the DATEwise eCalendar & Personal Planner:
Downloading material from our site is perfectly safe.
We have been delivering our products by this method since 1996.