Presenting The Information You Need...
Notebook Computer Guide*
Quick... Reviews... Summary...


Become An Educated Buyer & Save
Asus Introducing Two 3D Gaming Notebooks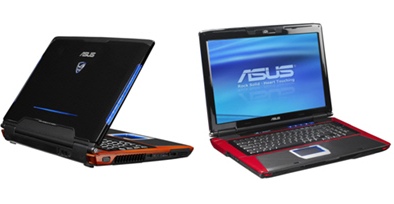 Asus, one of the world's leading laptop makers, are introducing two new gaming notebooks with Core i7 processors and utilizing NVIDIA's 3D Vision technology. This will give Acer some much needed competition and according to Reg Hardware, Asus' rigs will offer much better 3D performance.
Both gaming system will incorporate Active Shutter glasses which uses new technology related to the Hz rate of television. To watch the content or games you need electronic shutter glasses to alternately sync right and left eye views - all to create the illusion of a three dimensional image.
The G51J3D is scheduled to be released next month sporting NVIDIA's GeForce GTX160M graphics card with 1GB of dedicated DDR 3 memory with a 15.6" display.
The G72GX is scheduled for the Q2 of 2010 and will sport a bigger 17.3" screen and 4GB of RAM.
With Dell and HP already announcing they have 3D gaming rigs in the works, this may just be the future of gaming. Actually, it is probably a wise move since gamers are always willing to be on the cutting edge when it comes to the ultimate in performance and viewing experience.
Other Links:
3D Gaming Laptop In The Works From HP And Dell
Feature Article: How To Do Your Own Computer or Laptop Memory Upgrade
.....................................
The Notebook Guide
Please bookmark with social media, your votes are noticed and greatly appreciated:
To Check Out Top-Selling Notebook Computers That Are Updated Daily Click This Link: Top Deals For Today!
If money is no object - You might want to Click This Link: the-best-notebook-money-can-buy!
CLICK To View Our TOP HAND-PICKED Quality Laptops: