Presenting The Information You Need...
Notebook Computer Guide*
Quick... Reviews... Summary...

Become An Educated Buyer & Save
Dell Introduces Alienware M11x Gaming Netbook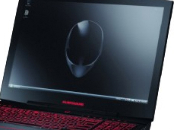 At this year's CES or Consumer Electronics Show in Las Vegas, Dell presented the world's first gaming netbook - the Alienware M11x. Now totally addicted hardcore gamers can take computer gaming along with them, no matter where they go. The Alienware M11x is a very powerful, yet small gaming netbook with an 11 inch high definition display and a GT335M GPU from NVIDIA.
Coming in at around 4 pounds and selling for under a $1000, this compact gaming system is capable of playing such popular games as Call of Duty (Modern Warfare 2) at 30 frames-per-second with 1336 x 768 max resolution. Battery life (as claimed by Alienware) stands at 3 or 4 hours for gaming, and up to 6 or 7 hours for general use.
The M11x sports some impressive specs for such a small machine: built-in Wi-Fi and webcam, multiple USB ports, HDMI-output, an SD card reader and a built-in SIM card reader which will allow users to utilize their cellphone SIM card and have access to Internet services. Also, the M11x has both the NVIDIA GPU and an integrated chipset - you can switch to the less demanding graphics chipset when not gaming to save on battery life.
Of course, the M11x has all the styling and features you would expect from an Alienware gaming laptop - such as the powerful M17x or M15x. With jet-black looks and multi-zone LED illumination on the keyboard, alien logo, speakers and so on... the M11x will definitely standout when comparing netbooks. Looks do count but what's under the hood is what will interest most gamers who want a small portable device for their gaming. The M11x nicely delivers.
The Alienware M11x is scheduled to be shipped this March 1st.
Get the award winning Alienware M11x starting at only $799!
Other Links:
Gaming Notebooks Goes Mini-Me (Dell Intros Alienware M11x - The World's First Gaming Netbook)
.....................................
Feature Article: How To Do Your Own Computer or Laptop Memory Upgrade
The Notebook Guide
Please bookmark with social media, your votes are noticed and greatly appreciated:
To Check Out Top-Selling Notebook Computers That Are Updated Daily Click This Link: Top Deals For Today!
If money is no object - You might want to Click This Link: the-best-notebook-money-can-buy!
CLICK To View Our TOP HAND-PICKED Quality Laptops: