In Search Of The $100 Click or How I Found A Full-Time Online Income And Came To Love The Internet
Copyright © Titus Hoskins
For years I was struggling to make a decent income online - I tried everything from silly network marketing schemes to free traffic programs to following the latest marketing guru's product.
Been there, done that.
You name any online marketing technique or marketing product within the last four or five years and I probably have tried it. List building, viral ebooks, safelists, blogging...
Nothing worked.
Actually, a lot of things worked, but they didn't supply the amount of money that even a modest hermit could call a full time income.
Around four years ago, I took all the marketers' advice and staked my little piece of the Internet by creating my own domain and website. However, going against all their advice I started a website on Internet Marketing. All the gurus advise against creating a site on Internet marketing or marketing info products - the competition is just too stiff. Plus, all your competition are top-notch marketers who have been in the game for years and know exactly what they're doing.
Boy - were they ever right.
But I have always been a stubborn person. As a kid I was stubborn. As a teenager I was extra stubborn. As a young adult I was still stubborn. And now as I settle into middle age - I am more stubborn than ever!
However, this is one time when being stubborn has paid big dividends. You see by creating and building my first site on Internet Marketing I had to learn how the whole thing worked. How websites worked, how the search engines worked, how online marketing worked, how the big marketing gurus worked the Internet, but more importantly I started studying how ordinary people from all walks of life were making a full time online living from the comfort of their homes.
And I had one ace up my sleeve, coming from a background in education, I knew exactly how to learn. I dove in head first, barely coming up for air. Visiting online marketing forums, trying the latest marketing info products, reading how-to-manuals, doing web seminars... hands on training that only a creature like the Internet could cough up. Before long, marketing tools and marketing techniques became my second skin.
As I gained more and more experience in the online marketing arena and started having MORE successes than failures. I wanted to tell someone about my experiences so I started writing simple articles. Then what happened next shocked me.
The whole thing exploded!
It just seemed to happen overnight, I started submitting my articles with the attached resource box with links back to my site. To my complete surprise, other sites started displaying my articles. I experienced even greater surprise when large ezines like Addme and Sitepronews featured my articles in their newsletters.
My traffic jumped, my online sales jumped and more importantly my subscription rate to my own ezine and opt-in lists jumped. In one incident, I received over 500 subscribers in one day.
Then because I was getting all these one-way links back to my site from major high PR sites - my Google Page Rank jumped to a 5 and my traffic doubled, then tripled within the space of a couple of months. I was now getting a whole month's worth of traffic in one day.
Around this time, I received an email from Chris Knight who runs ezinearticles.com - he mentioned a way to target less competitive keywords and keyword phrases with your articles with a technique called Long Tail Marketing. Kind of silly name but a very effective online marketing technique. Instead of targeting very competitive and unreachable keywords, you target longer, less competitive keyword phrases with your marketing.
To my surprise again, I now had a marketing system where I could place any low to mid-range keyword phrase into the number one spot on Google - within a week or so! Because there is usually little competition, the keyword phrase stays at that number one spot - bringing in continuous traffic and sales.
Because I was mainly keyword marketing, I knew I needed some powerful keyword research software to help me find all those profitable keyword phrases. I bought one of the very few pieces of marketing software I use - Keyword Elite by Brad Callen.
Information means money when you're marketing online. You need good information or it's game over. Keyword Elite supplied me with all the vital marketing information I needed.
However, there was one more hurdle left to well, hurdle.
After you have been marketing online for a little while, you will soon realize each click on your site has a certain value. Each represents a real live human being and more importantly a potential customer. Not to be too blunt, but hey, this is Internet Marketing.
If you monetize your site or sites, each click will have a value. Now if you use textual ads like Google Adsense, those clicks could be worth anywhere from a few pennies to a few dollars, sometimes more. If you're promoting affiliate links like those supplied by ClickBank, the value of those clicks can jump to around $20, $30 or even up to $70 or more. Much better than Adsense, but you will probably find the competition for ClickBank products to be very stiff and you won't get many clicks.
Now, you still need to increase the value of those clicks. I stumbled upon or rather I actually went looking for programs that gave me a higher return for my clicks... that's when the CPA networks entered my marketing and that's when my online marketing really hit high gear.
CPA stands for Cost-Per-Action, basically, advertisers pay for leads, purchases or customer acquisition. I joined very reliable and professional CPA programs such as ValueClick's Commission Junction and Rakuten's LinkShare and even Amazon.
By promoting high ticket items I could now get up to a hundred or more per click. By working the Long Tail Keyword Marketing system I could place these targeted and search for keywords into the number one spot on Google. This is no great feat, anyone can do this with low competitive keyword phrases.
You only need one or two clicks like this each day to make a decent living online. It still cheers me up when I first check my stats in the morning to find I have made one or more of those clicks while sleeping.
But why stop at $100 per click? I didn't. There is a simple way to get more than a hundred per click - much more. And no, I am not talking about selling high ticket info big box products like John Reese's Traffic Secrets.
Very savvy online marketers aggressively promote products or services that have a residual element added to them. Usually these are affiliate programs for different ongoing services such as web hosting programs or fees to a membership site... one click can earn you hundreds or even thousands over the years. You get paid a residual commission each month for having referred that client to a service or membership. Like Ken Evoy's SiteBuildIt.
For me there was one other key to making a bigger income online. You see, despite the large value of each click, there is one flaw in all the methods described above - you have to use a middleman or affiliate program to earn the money. Plus, you're still only promoting and selling someone else's product. It is much more effective to produce your own product and sell it yourself. Thus cutting out the middleman.
There is also another way for you to cut out the middleman. And it doesn't have to do with creating or marketing your own product. I didn't know anything about this until it started happening to me.
Once you have designed your own content-rich authoritative website and cornered the online search market for key search words in your particular niche, you will probably get an email or phone call from the affiliate manager or CEO of the dominant company in your niche market. Asking...
"Can we do a private deal with your site..."
Whether you realize it or not, once you build an authoritative online presence in any niche market - you have truly staked out your own valuable piece of the Internet. Your domain, your content rich site, plus all those number one targeted keywords phrases and targeted traffic is a valuable business asset. It also makes one heck of a bargaining chip for when that phone rings...
Your real Internet business starts from this point, at least that's where my real Internet income started. It is also the exact spot where I fill in love with the Internet.
Titus Hoskins
www.bizwaremagic.com
Business Tips, Tools & Savings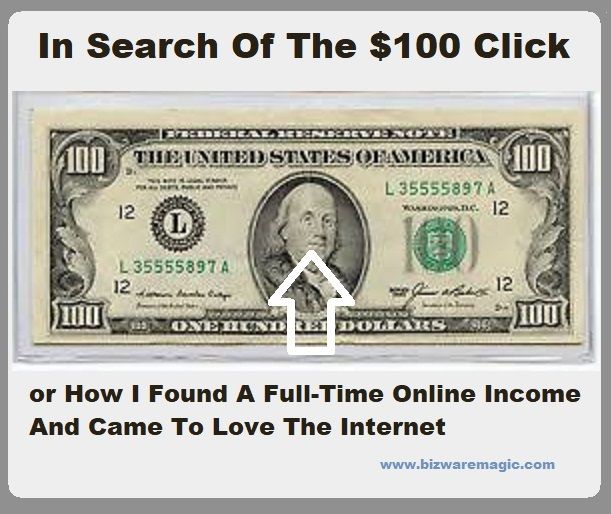 Please bookmark with social media, your votes are noticed and greatly appreciated: