Presenting The Information You Need...
Notebook Computer Guide*
Quick... Reviews... Summary...

Become An Educated Buyer & Save
New Gaming Notebooks Hitting The Battlegrounds
- Should Alienware Be Worried?
New Gaming Laptop Articles Released by BizwareMagic.com
Compiled and Written by Titus Hoskins
New laptops such the Razor Blade and Samsung's Series 7 Gamer are entering the gaming market - should Alienware be concerned?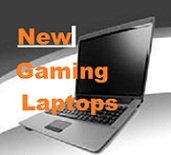 Many of us, who have been following laptops for over 10 years or more, can remember a time when you had a few boutique notebook makers which dominated the field. Pre-Dell Alienware is one that readily comes to mind, so too does the Pre-HP Voodoo gaming rigs and the Pre-Stone Rockdirect machines in the UK. As well as some other big brands such as Falcon Northwest, Malibal and the more recent Origin, which was founded by the same guys who gave us Alienware.
Seems like everyone is making laptops these days. One can get high performance rigs outfitted by ASUS, MSI, Dell, Toshiba... gamers have their own preferences and will championed one or the other in the countless gaming/tech forums around the web. Now these gamers are further tempted with some new brands sporting the latest specs and improvements.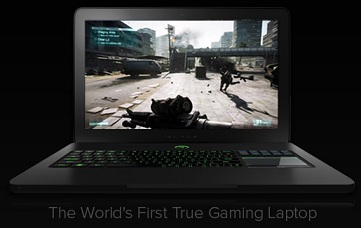 Razer Blade
Seems like all the buzz in the gaming laptop world is focusing on one word: Razer. Better make that two words: Razer Blade. This new laptop sold out quickly when its first batch finally went on sale. Considering the nearly three grand price tag - that is an accomplishment of some sort. Perhaps, what's more important is all that marketing hype is converting into sales.
Razer is a company based in California and was founded in 1998. It is better known for its computer accessories such as mouses and keyboards, mainly designed for gamers. They are now venturing into the laptop gaming market with their first product: the Razer Blade. The major over-riding selling point seems to be the Blade's sleek thin lightweight full aluminum chassis design. It's less than an inch thick, 6.4 pounds and sports a true 17.3 inch 1080p HD display.
The Razer Blade is classifying itself as the first real mobile gaming laptop, one that offers excellent gaming, extended battery life and true portability. Although Alienware's M11x might have something to say about those bragging rights. Regardless, the Blade does break some barriers, especially when it comes to the ultra-slim design and appearance.
For the most part, gamers do take looks into consideration, but their main concern is game play and performance. The Blade is a capable gaming laptop with a fast 2.2GHz (Base) - 3.2GHz (Turbo) Core i7-3632QM processor with 8 Gigs of DDR3 RAM, and features the NVIDIA GeForce GTX 660M 2GB GDDR5 dedicated graphics with Optimus technology. The Anandtech site has a very thorouh review of the Razer here.
As mentioned before, where the Blade does differ is in the small size. It weighs in at just over 6 pounds, while the Alienware M17x is around 10 pounds. However, the Blade does not have an optical drive which some gamers might not like, although many now use digital services like Steam for their games. Another negative is small hard drive space with the 256GB SATA III SSD.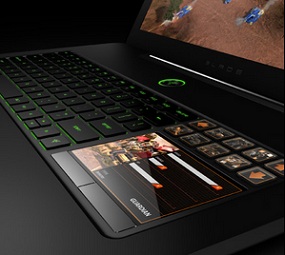 a new 35W quad clocked at 2.2GHz with a max turbo of 3.2GHz.
One main unique feature is the Razer's interface, it has switched out a numeric keypad for its own "10 Dynamic Tactile Adaptive Keys" for hot-key commands. Under these keys is a LCD touchpad which will show game information if you're using an external mouse.
Does the Razer Blade offer something different from Alienware?
The answer would have to be yes. The Razer's thin design and unique interface will appeal to a certain gaming niche market that want all their electronic devices to be as small and as sleek as possible. However, the Razer's performance will not be as great as you will find on many of Alienware's gaming powerhouses.
RazerStore - Official Online Store Click Here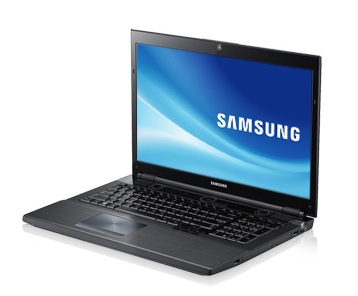 Samsung Series 7 Gamer
In the coming months and years, Alienware's true competition may just come from Samsung. This electronic giant is moving into the gaming laptop market with its "Series 7 Gamer" which has been available in some countries for around 6 months, but according to this year's CES announcement, the US version will offer some improvements.
In design and performance specs, these new gaming systems from Samsung may just give Dell and Alienware some cause for concern. Not only is Samsung a household name, but its new Series 7 Gamer will sport Intel's 3rd generation Ivy Bridge processors which will be more energy efficient and faster than the present Sandy Bridge platform. Plus, the new laptops will feature high-end graphics such as the NVIDIA GeForce GTX 675 or the Radeon HD 6970M. It will also sport the powerful JBL audio system and a 1920×1080 17-inch glossy widescreen display. In addition, these new machines will have a large 2TB hard drive, Blu-ray player, and a port which will let you output "3D over HDMI" to an external device.
The Samsung 5900 mAh battery should be able to keep this powerhouse going for at least a couple of hours - that's in full gaming mode. What's really unique about the Series 7 Gamer is the dial on the side of this laptop, which will allow the user to switch between 4 different modes: Green for really low energy usage, Library for silent (Wi-Fi and sound turned off) mode, Balanced for everyday usage, and of course, Gaming for full-throttle performance. All these different modes will let users get better battery life from the laptop.
Lastly, all these high performance specs and features will come at a very competitive price. The US price for the base configuration is set at $1799, which is a great bargain, considering everything Samsung has packed into its Series 7 Gamer. Alienware will have to offer similar features and pricing on their newer models, if they want to stay competitive in this increasingly crowded gaming market.
Conclusion:
New gaming notebooks from Razer and Samsung will give gamers other options when considering a purchase of a gaming notebook. Alienware is still one of the top brands in this field, but their competition has just increased. The Razer Blade will appeal to those gamers who want a truly portable gaming rig, a need which is not satisfied with the smaller M11x and M14x. Plus, the Samsung Series 7 Gamer will appeal to gamers who want to replace their desktop gaming PC with something that's just a little more mobile and not Alienware. The Samsung brand is winning over converts in the home TV and the mobile phone/device markets - can this brand loyalty be extended to include gaming notebooks? The answer to that question could give Alienware some cause to worry.
Related links:
........
The Notebook Guide
Please bookmark with social media, your votes are noticed and greatly appreciated:
CLICK To View Our TOP HAND-PICKED Quality Laptops: