Presenting The Information You Need...
Notebook Computer Guide*
Quick... Reviews... Summary...

The future of PCs - the $159 HP Chromebox?
Hewlett-Packard recently launched their new Google Chromebox, which the well-known computer/printer company is boasting as the "next generation" desktop. But is this compact 5 inch 1.4 pound Chromebox, which can easily fit in your hand, really the future of desktop computer or simply another cheap way of promoting Google and Google products?
This is a small computing device which will easily let you transform any monitor or TV so that you can safely access the web and all your Google Chrome apps within seconds. For someone who wants to surf the web, read their social media feeds or stream their TV programs via the web - this might be a cheap option - the HP Google Chromebox is priced at $179.99 but if you shop around you can get for $159.
For that price you get a compact gadget with a 1.4 GHz processor, 2GB of 1600 MHz DDR3, 16GB of SSD storage, Intel HD graphics and everything can be connected to your monitor/TV via your HDMI or DisplayPort.
And since this is basically a connection device - the HP Chromebox does come with a lot of other ways to connect all your different media sources. There are up to four USB 3.0 ports, dual Internet connection options Ethernet cable or WLAN Wi-Fi.2, an SD media card reader, Bluetooth and the Audio Realtek ALC283 Codec Combo Mic/Headphone Jack.

Here's a handy list of the full HP Chromebox Specs:
Processor - Intel® Celeron® 2955U with Intel HD Graphics (1.4 GHz, 2 MB cache, 2 cores)
Memory - 2 GB 1600 MHz DDR3 (1 x 2 GB)
Hard Drive - 16 GB SATA Solid State Drive
Graphics - Intel HD Graphics
Operating System - Chrome OS
Wireless Connections - 802.11a/b/g/n (2x2); Bluetooth 4.0, Integrated 10/100/1000 Gigabit Ethernet LAN
Ports - 4 USB 3.0; 1 RJ-45, 3-in-1 memory card reader
Video Connectors - 1 HDMI, 1 DisplayPort
Power Supply - 65 W external AC power adapter
Dimensions (W x L x H) - 4.96 x 4.88 x 1.54 inches
Weight - 630g or 1.388912 pounds
KBR Mouse
Product Security - Kensington lock, screw-type write protection, and OS recovery switch.
Warranty: 1-year limited hardware warranty, 1-year software support; 24/7 technical assistance available online or toll-free by phone and Lifetime use of HP Support Assistant

Overall, the HP Chromebox is small, quiet, and efficient. It also has the ENERGY STAR seal of approval. However, is this device worth the money and will it find a niche in the crowded computer marketplace?
One obvious drawback is the limited storage space - just 16GB of data that will probably hold one or two Blu-Ray movies. However, with Google Drive included, you have 100GB of online storage. This is also the faster SSD (Solid State Drive) so start-up times will be faster.
The Chromebox is run through Google's web-based operating system where applications and user data can reside in the cloud. It is part of Google's Chromium OS project which goes back to 2009 and was designed as open source to let developers modify their own versions. But keep in mind, this Chrome OS is supported by Google and unlike Chromium OS, will automatically update to the most recent version.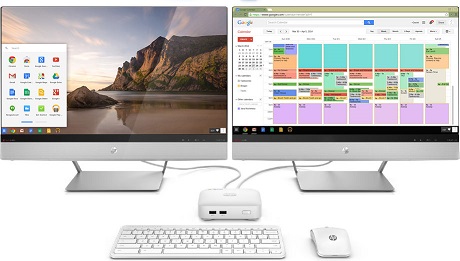 No matter how you slice it, in reality and in the computing world, this is a lower end Intel Celeron 2955U 1.4 GHz processor with Intel graphics. While quite capable of handling the simple tasks (web surfing, running Google apps and media TV streaming) it was designed to process, this device would have serious limitations as your main desktop computer.
Guess it all comes back to how well you like Google? Personally, I am atheist - I don't believe in Google! It started out as a good idea but has morphed into the world's biggest data collection agency - just another Big Brother wannabe... and don't get me started on the Google search engine.
However, personal views aside, we do have to be somewhat objective when judging our computer gadgets. The HP Google Chromebox is a handy device which is compact, energy efficient, relatively inexpensive and will let you access the web and your Chrome apps with ease. And if one monitor or TV is not enough for you, there is room for an extra one.
The HP Google Chromebox is regularly priced at $179 but you can order it here for $159:
Introducing the HP Chromebox. Starts at $159.99.
Immediate Competition:
ASUS CHROMEBOX-M004U Desktop - $166.53
...
Click Here for a Full Page of the latest: HP Coupons & Discounts
The Notebook Guide
Please bookmark with social media, your votes are noticed and greatly appreciated:
To Check Out Top-Selling Notebook Computers That Are Updated Daily Click This Link: Top Deals For Today!
If money is no object - You might want to Click This Link: the-best-notebook-money-can-buy!
CLICK To View Our TOP HAND-PICKED Quality Laptops: