Presenting The Information You Need...
Notebook Computer Guide*
Quick...Reviews...Summary...

Become An Educated Buyer & Save
Order Call of Duty Ghosts - Get Dell $25 Promo eGift Card
Call of Duty Ghosts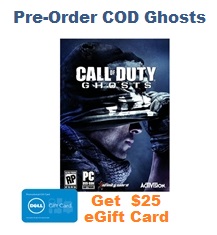 Order Call of Duty Ghosts for $59.99 only and
get $25 Dell promo eGift Card! Free shipping!
Dell is presenting a Pre-Order Sale of the popular Call of Duty Ghosts video game for $59.99 only with free shipping, plus buyers/gamers also get a promo eGift Card for $25. This is an attractive offer, especially if one is planning on buying a Dell laptop or PC this coming Holiday Season.
COD or Call of Duty is the very popular video game series by Activision and developed by Infinity Ward. This newest game features a whole new storyline and powered by the next-generation Call of Duty Engine. The graphics seem sharper, and the action gameplay is superior to most current games. See the COD Trailer below to get a feel for the new game.
New Call of Duty Will Be Different
Like other games in this series, Call of Duty Ghosts is a multiplayer "first person" shooter games which is quite violent and graphic in nature, parents take note. Actually the ESRB (Entertainment Software Rating Board) Rating is Mature 17+ and the PEGi (Pan European Game Information) Rating is listed as 18 on the Dell site and on other promotional material.
However, some online sites are saying the actual PEGI rating will be 16 - whether this is true or not, doesn't really matter if parents realize this is a rather graphic game better suited for a more mature audience.
From information from Wiki and from a behind the scenes video of the new game we know there will be a lot of changes. It will feature 6 whole new maps and probably more... these maps will now have areas which can be destroyed or altered. The main character will be wearing a "ghost uniform" and for now is known as Hesh but this name will change according to Infinity Ward's executive producer Mark Rubin - if they come up with a better name.
There will be a new multiplayer type called Squads which you can build and the zoomed in scope mode will let you see around the outside of the highlighted target. Plus, for the first time, there will be playable female soldiers.
It also has been leaked in other forumsthat COD will require 50GB to be installed on the PS4's hard drive... this is rather large since most games are around 10GB or less. PS4 will be available November 15, 2013 and Xbox One will be launched on November 22, 2013.
Regardless, the System Requirements will be 40 GB of free hard drive space, 6 GB Ram, Windows 7 64-bit or Windows 8 64-bit, Intel Core 2 Duo 8200 2.66 GHz or better, Nvidia GeForce GTS 450 Ti or ATI Radeon HD 5870 or higher.
Call of Duty Ghosts will be released on Nov. 5th, 2013.
If you want to check out Dell's Pre-Order Offer go here:
Pre Order Call of Duty Ghosts for $59.99 only and
get $25 Dell promo eGift Card! Free shipping!
For more detailed information on COD Ghosts try this link on Wikipedia.

...


Click Here for a Full Page of the latest: Alienware Coupons & Discounts










The Notebook Guide

Please bookmark with social media, your votes are noticed and greatly appreciated:

To Check Out Top-Selling Notebook Computers That Are Updated Daily Click This Link: Top Deals For Today!

If money is no object - You might want to Click This Link: the-best-notebook-money-can-buy!

CLICK To View Our TOP HAND-PICKED Quality Laptops: