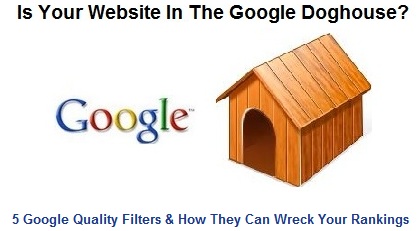 Is Your Site In The Google Doghouse?
Copyright © Titus Hoskins
You might have a perfect site, but if it trips one of Google's Quality Filters your rankings and traffic from Google may plummet. Here are 5 Penalty Filters and some solutions on how to fix them...
1. Panda - Sometimes called the "content-farm" Update because it lowers the rankings of sites with too many low quality pages and content. First released Feb. 24, 2011 with many follow-up changes/updates.
Solution: Closely examine your site and remove or improve pages which have little or poor quality content. Remember, with this Penalty your whole site will tank, if Google believes your content is of a low standard or non-original in nature.
2. Penguin - If Google believes your site has too many "spammy", "artificial" or "low quality" inbound links, your site will be penalized. Released April 24th, 2012 with several follow-up updates.
Solution: Closely examine your backlinks and remove as many as you possibly can by contacting webmasters and requesting removal. MAKE an honest effort and if you can't remove some links use the Google Disavow Tool in Google Webmaster Tools to neutralize the rest.
3. Top Heavy Page Layout - If Google finds your site has pages with too many ads and very little content "above the fold" then your site may be penalized. First released Jan. 19, 2012.
Solution: Easy one - place more content and fewer ads above the fold.
4. EMD (Exact Match Domain) - If Google feels your exact domain site has little valuable content and was mainly chosen to rank for the keyword phrase in question, your site may be penalized. First released Sept. 28, 2012.
Solution: If you go with an Exact Match Domain, make sure your site has valuable content, which your visitors want.
5. Pirate/DMCA - If Google discovers your site has too many Digital Millennium Copyright Act violations or takedown requests, your site may be penalized. Announced Aug 13, 2012.
Solution: Make sure you use only original material or make Doubly sure you have permission to use someone else's material to avoid these takedown requests.
Final Note: Check the dates of these Algorithm Updates and their follow-up changes to see if your site had any significant rankings/traffic drops at those times. Usually, if you fix the issues causing your site trouble, once that particular Quality Filter is refreshed by Google, your site's traffic and rankings will fall back into place. With a couple of notable exceptions - if your Google rankings were mainly achieved by building low quality links, once you remove or disavow those links, you may no longer have enough PageRank or Link Juice to rank in Google.
Finally, if your site gets a Manual Penalty from Google because it is violating Google's Guidelines, then you must address any issues through Google's Webmaster Tools and Quality Support Team. Be prepared to beg, plead and possibly give up your first-born child, to get back into Google's good graces and out of the Google doghouse.
.........................................
Related Resources worth checking out:
Above article is rather brief, if you want a much more detailed analysis on all these Google Changes and how you can fix them - try this Special Report on Google Panda/Penguin
Or some of these might also help:
.........................................
Want to thank BWMagic for this content? Tell a friend about us, add a link to this page - or visit our main page for more free guides & marketing content.
Link to this page:
Please bookmark with social media, your votes are noticed and greatly appreciated: