Pinterest Marketing For Online Marketers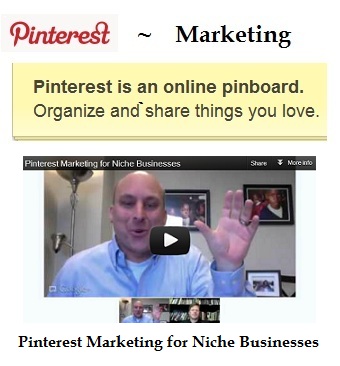 Pinterest is the latest social "buzz" site of the moment, stacking up numbers which
would even make Google blush. This "picture" bookmarking site has only been around
since 2010 (domain was created at the end of 2009) and holds the record for the fastest
growing site in history.
It took Pinterest only 9 months to go from 50,000 to 17,000,000 users. It is increasing at
40% each month and is on track to reach 180 million users by the end of this year.
Impressive numbers indeed, but for webmasters and online marketers, that's not really
the important factor concerning Pinterest. What really has marketers buzzing is Pinterest's
referral numbers.
Members or users of Pinterest "click thru to your site" more often than users of Facebook,
Twitter, Stumbleupon… in other words Pinterest has become a valuable source of free
targeted traffic on the web. More importantly, because your pins can get re-pinned over and
over again, your content lasts a long time and has legs.
Many experts compare this traffic to YouTube content which can deliver traffic to your
site for years.
That's what really has online marketers excited about this new picture sharing site, use it
properly and Pinterest can deliver targeted prospects for your business for years into the
future. It is also great for building a community of customers or interested parties, ready
for your latest offering.
Of course, like any online site or platform, Pinterest has to be used in the right manner,
if you plan on marketing your business or site on it. If you just figure on signing up for
Pinterest, pinning a few images and then wait for the referral traffic to flood your site –
well, you might hit it lucky but like all these social programs, you have to prime the pump.
One of the best resources or experts on Pinterest (which I have found) is Jason Miles –
Vice President for Advancement at Northwest University. He runs a very informative site called http://marketingonpinterest.com
But the real reason I pay special attention to what Jason has to say – his wife runs a Doll's Clothing/Pattern site on
the web! They have first-hand experience of how Pinterest has helped their niche business and have figured out ways to
take full advantage of Pinterest from an online marketing perspective.
As a given rule, I find it is these "hands-on" individuals who supply the best information, regardless of the program
or platform. The same applies here – they have been there, done that and give us the best nuggets of information which
bring in the traffic and sales.
So if you're wondering how you can use Pinterest for your business or site, watch the following video carefully and
take notes. This video is called "Pinterest Marketing for Niche Businesses" and was done via Ken Evoy's SBI SiteBuildIt Review program.
It will give you valuable information on how to use Pinterest to your advantage and help you really discover what
all the fuss is about.
Important Takeaways:


– Always create an Attractive/Informative/Interesting image for each
piece of content you have on the web. Make these images your "pre-selling" tools
which will get re-pinned and bring targeted traffic back to your site or business.
– Always remember it's about building online communities and joining those
communities together. Fully integrate your Pinterest followers with your
Twitter, Facebook… followers.
– Always make sure you have your images fully optimized with your
information – product name, product description… and of course,
a link back to your site.
Did you find the above information helpful? If so, why not
help spread the word – recommend this content by using
the social bookmark sites below. The SEO Gods will Thank You!