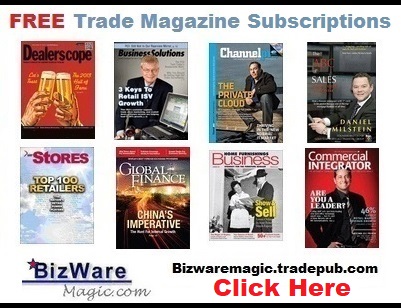 Free Trade Magazine Subscriptions For Anyone?
Written by Titus Hoskins


One of the most popular giveaways on the Bizwaremagic site
has been professional trade magazine subscriptions. These
subscriptions are targeted to specific industries and/or fields
dealing with marketing, sales, small business solutions,
engineering, construction, manufacturing, retail… and
numerous others topics.
These Free subscriptions are open to qualified professionals
working in these different trades.
Make no mistake about it, these are high quality publications
which one would normally buy on any newsstand and the only
reason they are free is because of advertising. Publishers
can charge more for advertising if they have a larger targeted
subscriber base reading their magazines.
To find out more and to see if you qualify go here.
Helping People Succeed Online Since 2002!
Kind Regards,
www.bizwaremagic.com.
Did you find the above information helpful? If so, why not
help spread the word – recommend this content by using
the social bookmark sites below. The SEO Gods will Thank You!