BWMagic's Internet Marketing Newsletter


Pinterest, Images And Getting More Traffic

I must make a confession, while I have been using images to
get targeted traffic for years, until a little while ago I had
never heard of Pinterest.com! As I said before, I am not that
much of a social media person, but that hasn't stopped me from
taking full advantage of Twitter, YouTube, Facebook, Linkedin…
when it comes to promoting my sites.
Have you heard of Pinterest?
It's a very simple concept – an online bulletinboard where people
pin their pictures. Pinterest users can share and re-pin images that
they like and you can also follow other pinners.
Pinterest has only been around for two years but is slated to
be the break-out social media site for 2012.
According to Bizreport, Pinterest delivers almost as
much referral traffic as Twitter and Google.
According to Hitwise, Pinterest is one of the top 5 social networks
on the web. In an article, Huffingtonpost states that Pinterest hit 10 million
monthly views faster than any other site in history. But what really
caught my eye, were two important facts concerning traffic…
– Pinterest delivers more referral traffic than Google+, YouTube
and Linkedin Combined
– Pinterest users stay on the image site longer than Facebook users
On average, Pinterest users spend 15.8 minutes sharing images, while
Facebook comes in at around 12.1 minutes. This metric is important
because, where Internet users spend most of their Internet day is
vital to advertisers and the amount of traffic you get.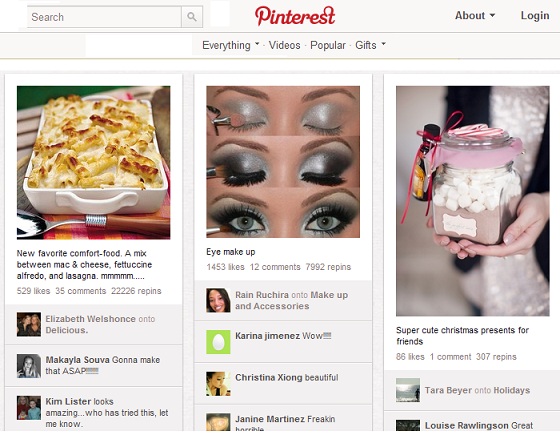 Another important feature which caught my attention – you can link
your images directly to your site or URL. This is extremely vital
for getting traffic and exposure for your products or services.
You can also tag or keyword your images which is needed for
full SEO benefit.
Furthermore, you can also pin your videos on the site, which
really makes Pinterest something you should be interested in,
pardon the pun.
Being a former professional artist (albeit a poor one), I am extremely
interested in using Pinterest to full advantage. Over the years, images
have been a great source of traffic for me, especially from "image search"
on the major search engines such as Google, Bing and Yahoo.
Some webmasters and online marketers ignore the importance of images
in their promotions. Don't! These images can be a great source of
traffic for your site or sites.
Only downer I can see, you have to put your name on the waiting
list before you can get an invite from Pinterest. Currently, from
what I can gather, the waiting time is around one week.
But the sooner you're on that waiting list, the sooner you
can be pinning images and getting all that free traffic.


www.pinterest.com
Helping People Succeed Online Since 2002!
Kind Regards,
+Titus Hoskins
Did you find the above information helpful? If so, why not
help spread the word – recommend this content by using
the social bookmark sites below. The SEO Gods will Thank You!