Internet Marketing Newsletter – Special Report
Can Microsoft's Bing Beat Google In The Search Engine Wars?
This week, like many online marketers who keep a close eye
on countless profitable keywords, I spent most of my time
giving Bing (the new search engine from Microsoft) a really
good run-through. I was mainly testing it to see how good the
results were compared to those given by Google, who is still
the top dog when it comes to the extremely lucrative online
search market.
My first overall impression of Bing has been surprisingly
positive. I really wasn't expecting it to be so good, mainly
because it was coming from Microsoft and my opinion of them
lately has been permanently downgraded by my own trials and
tribulations with Vista on my brand new "IBUYPOWER" gaming PC.
What were they thinking… it had me scrambling for my old Windows XP
which I truly love using… lets just hope Bill and the boys get the next
Windows OS right!
In this light, I was very curious to see how Microsoft would
do with this new search engine or site? Would they give us
something useful or totally mess it up?
While one would like to remain objective in analyzing any new
search engine, our own viewpoints do creep into our judgments,
many a time without us even realizing it. So with this in mind,
please read the following information and critique of Bing in
this light. Also, since the majority of my present online income
comes directly or indirectly from Google, most of my own personal
opinions are slanted in favor of Google. I really like Google
and I have been using it personally for years. I can honestly
say I could not get through my marketing day without Google.
And this is not so much Google search, it's Google Alerts,
Google Analytics, Google Adwords, Google AdSense, Google Docs,
Google Maps, Google Earth, iGoogle… and the list goes on.
But the question at hand – Can Microsoft's Bing Really, Truly,
Honestly give Google Search a run for those all important search
engine dollars?
First, you really have to check out the Bing site or interface
and see it for yourself. Like Google's, it's very simple with only
search as the main function, as it should be. Your search can be
on the Web, Images, News, Maps, and more… does this sound
familiar to you? Does it remind you of another search engine?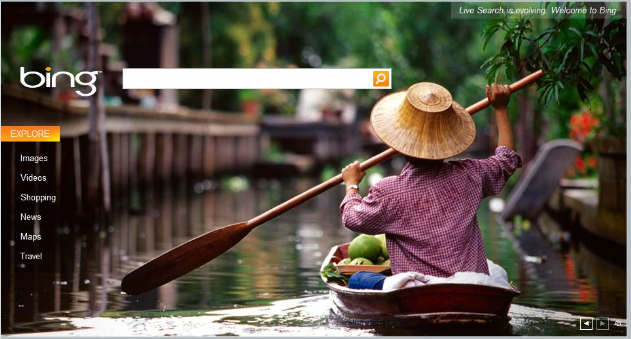 There are also links at the top of the Bing homepage pointing
to Sympatico/MSN, Windows Live and Make Bing Your Homepage. There
is also a very scenic background picture which they seem to be
changing/rotating each day. This might seem like a minor point,
but in my opinion it's a nicely added touch that will help visitors
remember Bing in their mind's eye. Catching your potential user's
attention should never be frowned upon when you're discussing the web.
As a former artist I am always impressed when I see a nice
layout and design incorporated into a website. Bing gets top
marks for a simple, yet great design. It just has a little more
impact than Google's now iconic homage to white space. But will
search users of Bing really be looking for scenic pictures or will
they be looking for good solid results to solve their questions
and problems. In most cases, they will be looking for the latter.
However, the background images on Bing could help distinguish it from
Google because the search results themselves are extremely similar
in many cases. Don't know if this is good news or bad news for Google?
I was firmly struck with how same the results are in both search
engines. Since I am a ful-time online marketer, I monitor countless
keywords on a regular basis (hey, they're my bread and butter), so
I have to keep a close watch on them. Thankfully, most of my first
page Google keywords are also being displayed on the first page in
Bing, so I can easily remain neutral in any upcoming search wars
should they occur, those Swiss guys have the right idea.
While the results and the way they are displayed, are very similar
in both engines, in my opinion, Bing has the better layout with
a much more pleasing arrangement of their listings. There's a nice
preview button for each listing and it gives you related searches
and your search history on the left hand side of the page. More
importantly, the search results are substantive, for example,
if you search for Obama, in addition to the search results you
will get related Obama listings for Issues, Facts, Biography,
Childhood, Speeches and News. Also in this case, you have around
20 main listings running down the results page as opposed to Google
which usually gives 10 main organic listings. Although this is
changing as Google places in more News, Products, Videos
and Brand Name links into their rather crowded listings.
One slight difference, Google has the "Did you mean" feature
which helps correct your spelling and help you find the right
word you're searching for. It would be curious to see how many
people/students/searchers use Google not for search but as a
gloried spell-checker! Regardless, this is still a major reason
for many people to keep using Google. Not to be outdone, Bing has
a similar function and will guess at the right word or spelling.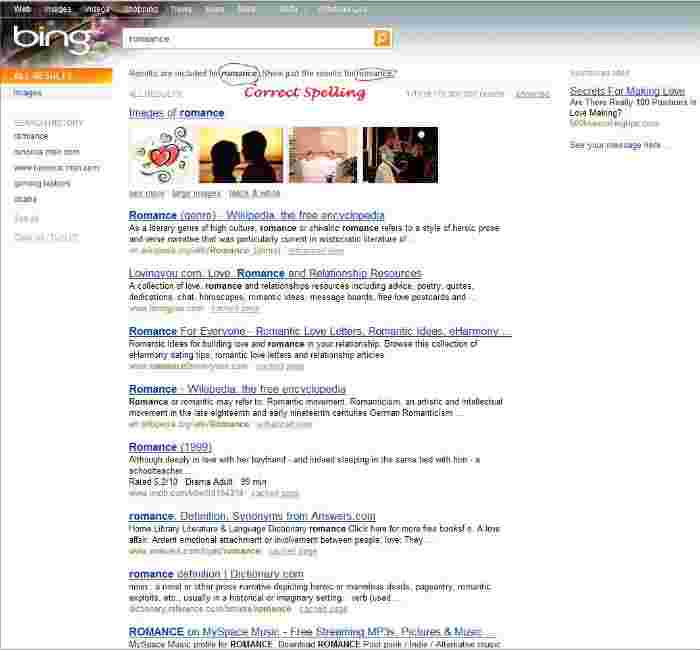 At the moment if you compare web traffic as measured by Alexa.com,
you will see that Google is in the number one spot. It gets the most
traffic of any site on the web but all of this is not search traffic,
only around 65% goes to search if you also count image search – gmail
counts for around 25% of the traffic.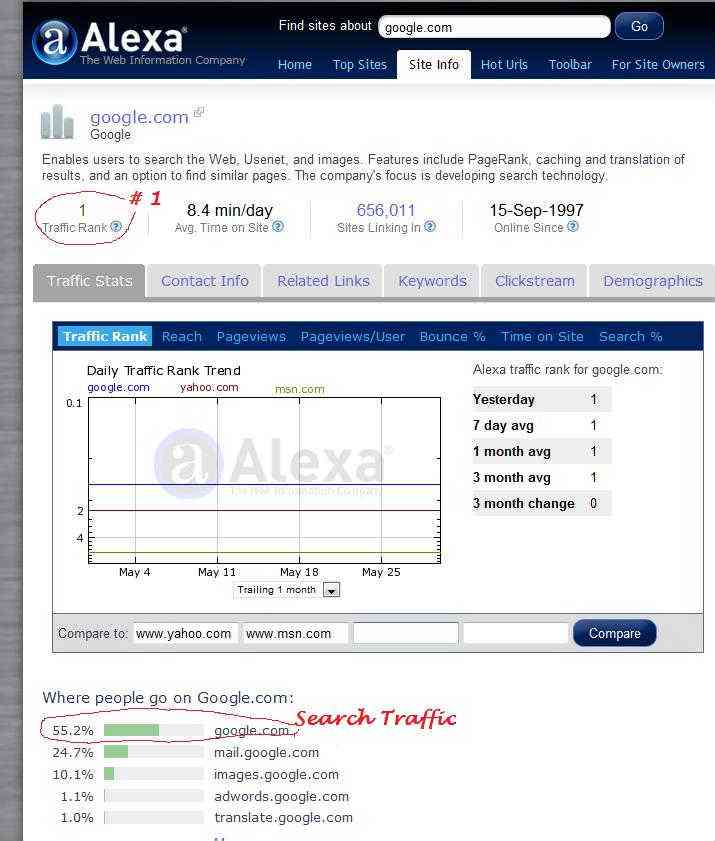 In second place we have Yahoo.com but most people use that site
for email, around 43% and much less use it for search. MSN comes
in at number 6 and again visitors are using it for other things than
for search. You can note that Bing traffic is listed under
"runonce.msn.com" and accounts for roughly 20% of the traffic.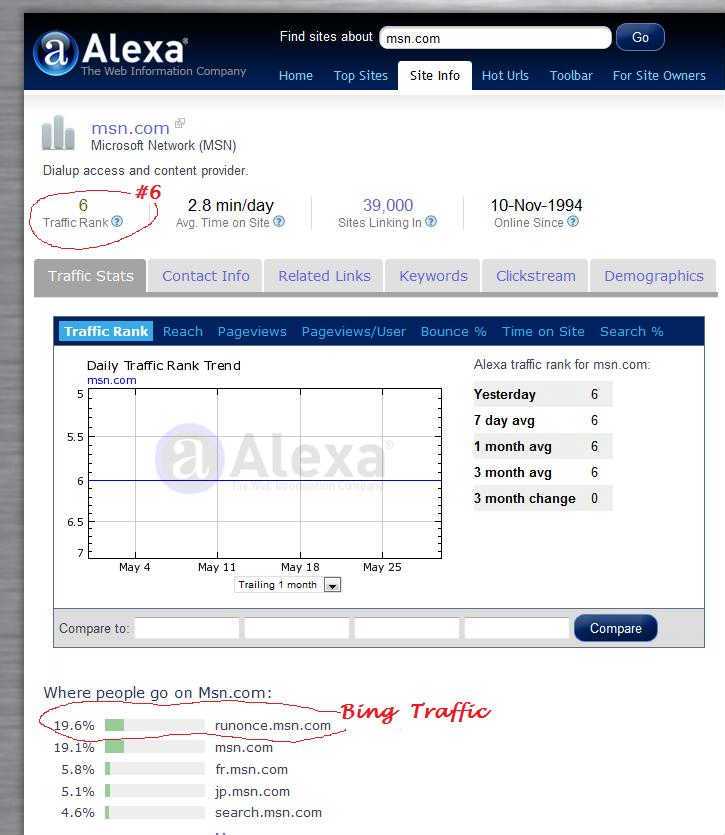 Curiously, I see from own log stats that Bing is regarded as a
site rather than a search engine. Most of my sites uses AWStats
and Bing is listed under sites rather than in the search engine
section. I am already seeing some traffic from Bing, be interesting
to monitor this traffic and see if it increases over time…
could be a good indication Bing is catching on with search users.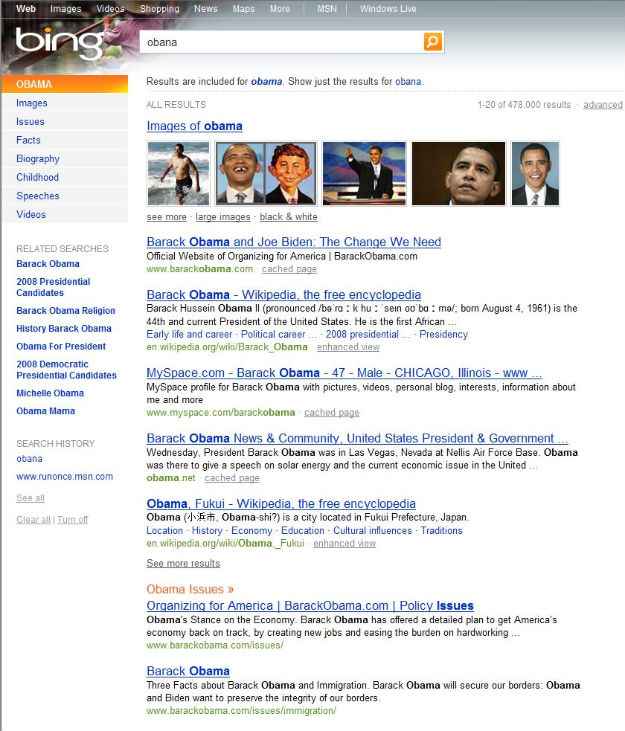 Can Bing truly compete with Google?
Well, judge for yourself, take the Obama test! Do a test search
of Obama in both Bing and Google. Compare the results – which
one do you like? Which one gives a better overall picture/summary
of Obama? Be honest, be true… which results would you like to
see in your searches? Does Bing give Google some real competition?
The answer to that question lies on both those pages… any search
engine who will beat Google must give quality results, as good as
or better than Google. Same holds true for Bing or any of the new
search engines which have appeared recently on the web.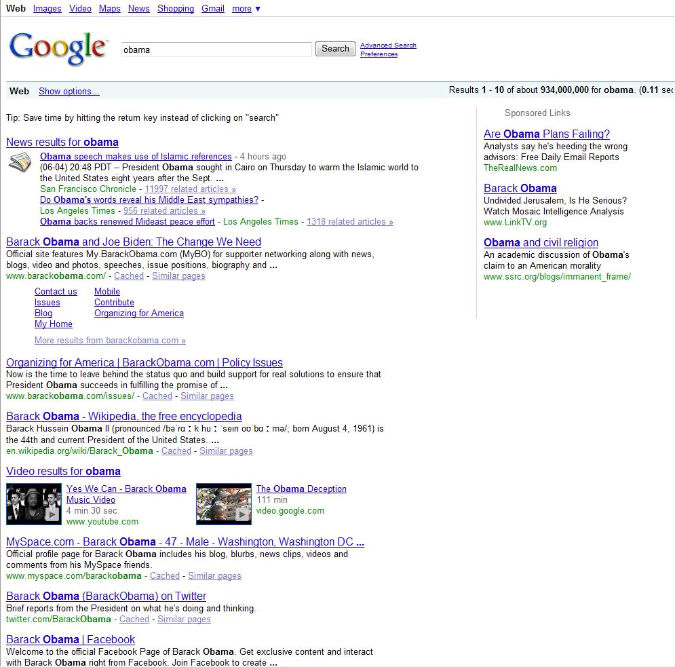 Frankly, at the moment, I don't see any search engine (old or new)
giving Google any real serious competition. Mainly because Google
hasn't just remained a search engine, wisely, it has expanded its
functions and services over a whole list of web activities, way beyond
search. Combined, all these services (mostly free) have propelled the Google
Brand Name into the most serious player on the web. Even if someone
gives Google a run for all those search dollars… Google can easily
win the traffic war on so many other fronts.
Only time will tell if Bing can eat into Google's 70% or more share of
the very lucrative U.S. search market. But if they keep it simple and
start offering the same or better results than Google, Bing (aka Microsoft)
could give Google a few hiccups, we could actually see some major battles
for the search users' hearts and minds, especially among the hard-core
searchers. Bing does have an appeal and one can't forget that Microsoft
does have more than a few pennies to throw at this venture.
In the end, because of Google's dominance and well-deserved reputation
for giving quality results, not to mention a Brand Name that has probably
already leaped into our genetic code, only marketing and lots of it, will
give Bing an outside chance of beating Google. And if you're laughing at
that statement, you probably have an attic full of GM stocks gathering dust.
Please Share:
Titus Hoskins
www.bizwaremagic.com