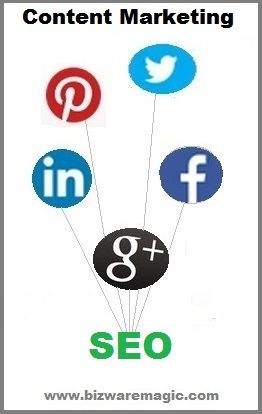 Is Content Marketing The New SEO?
Written by Titus Hoskins



Search Engine Optimization or SEO has long been the main stable of many a
successful webmaster or site owner, but is it still effective on today's web?
After Google's many decimating algorithm updates, especially Penguin, has SEO
run its natural course? Guess the real question here is a little more dramatic
– is SEO dead?

One thing is certain; Google has drastically changed how the web now works.
Through its many algorithm changes and fear mongering Google has altered
forever how content is presented and accessed on the web. Exact keyword
linking, the very heart of the Internet, has been severely if not fatally
damaged. In addition, finely tuned optimized webpages and sites are now
looked on with disfavor – especially by Google, the company that controls
75% of the web's lucrative search traffic.

In recent years, webmasters and site owners have become so scared of Google's
Mighty Wrath, they hesitate to even keyword link to content on their own sites
and are extremely leery of linking out to any resources, no matter how helpful
these may be for their site's visitors. The erosion of these essential keyword
links has made the web less relevant and useful. And the fallout is just beginning.

Link building of any kind is now perceived as "unnatural" and against Google's
infamous Webmaster Guidelines. At the very core of this discussion, if webmasters
have to actually build links then these links can be seen as unnatural and manipulated.
Backlinks from article resource boxes, blog posts, press releases, forum comments…
have all come under disdain. In other words, link building by its very nature,
is wrong and should be avoided if you want to rank in Google.

Not everyone agrees with this statement, but one does get the general overall
feeling that SEO and link building, in particular, have lost their effectiveness
on the Post-Panda/Penguin web. Webmasters have also become keenly aware of their
link profiles and backlinks from other sites. These same webmasters are scrambling
to clean up any bad links – either by removal or by disavowing them in Google's
Webmaster Tools.

[For a very insightful look at links and link building in 2015 – read this article
by Eric Ward, a link expert who pioneered the process long before Google reared its
delightful head.]

So if link building and on-page optimization are out, what is there left for the
poor webmaster to do? One over-riding solution that is gradually coming to the
forefront is content marketing. This solution is a broad term that encompasses
a whole series of promotions webmasters and site owners can do to bring their
content into the spotlight.

This new method can often be seen as a roundabout way to promote your site and
brand. Instead of traditional SEO methods, a webmaster puts into place or builds
numerous social platforms and subscriber bases, in order to push or market their
content. For example, in the not so distant past, if a site owner wanted to build
backlinks/seo for a certain important webpage on his or her site, they would
build/exchange links from other related sites, perhaps do a guess blog post or
submit a related article to another site and do other like-minded things.

Now with content marketing the process has changed slightly – a webmaster can do
an infographic of that "certain important webpage" and submit that infographic
to all their social media sites like Facebook, Twitter, Google+, Pinterest,
StumbleUpon, Linkedin… where they have thousands or 10's of thousands of
followers/fans eager to like and share this infographic. Or the resourceful
webmaster can make a related video to not only share on YouTube, but also on
all the other social bookmark sites.

Webmasters are now marketing/promoting related content (infographic, video,
slideshow, image…) in order to create buzz and momentum for their webpage or
brand. Subscribers and followers will comment, like and share this helpful,
funny or inspirational content to their fans and followers. All this social
activity and engagement can be seen as the new SEO. One can use it to build
natural backlinks to your website.

Same old, same old… you're thinking, but not really.

This whole social involvement/sharing is much harder to manipulate and can be
seen as a more "natural" ranking metric by the search engines – especially Google.
Having thousands of social media followers discussing and recommending your content
will no doubt be a major ranking factor in the years to come.

In a similar light, how many active followers/fans your brand or site attracts
will also be another important ranking metric when the search engine come calling.
How well you can "market" your content will play a significant role in the number
of visitors or clients your site receives. Lastly, actively promoting your content
in all these social platforms may just be the new SEO.


Want more help with content marketing? Here are: