BWMagic's Internet Marketing News


Free eBook On ClickBank Residual Income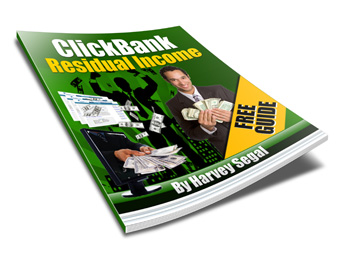 If you have been a regular reader of this small newsletter you will
probably know what I have been telling my subscribers for years:
one of the main keys to succeeding on the web is obtaining
recurring or residual income.
I have made this my main goal because you can make one sale and get
paid for months, years into the future.
Not everything works, you have to find the products or services
that will be long-lasting. That is, once a customer signs up,
they will keep paying and paying for years.
Now, I have found the trick is to not only pick quality products
and services to recommend – but also to find those products/services
which people keep for a long time. This is not hard, just ask
yourself – which services have you kept and have been paying
each month for years on end?

Telephone services? Cable bill? Web hosting? Gym Membership?
Internet Access?
Some services we keep for the long term – those are the ones
that offer the best recurring residual income. As for my self, since
I have several marketing sites… web hosting, autoresponder services,
SEO services, cloud computing services and so on – work the best.
These ones have done very well for me. Make one sale and get a
recurring payment for the life of that customer you referred.
Of course, there are other programs and products which offer
recurring income such as membership sites.
And now ClickBank offers recurring products or programs on which
you can earn residual income. Now I am not a ClickBank expert,
I have been earning income from ClickBank products for over 6
or 7 years but it is not one of my major affiliate networks.
Of course, that doesn't stop me from finding experts on
ClickBank – one of my favorites is Harvey Segal.
Now Harvey Segal is acknowledged as the world's top ClickBank
expert – he runs a ClickBank forum and has written several
affiliate marketing books on it. Such as "ClickBank Vendor SuperTips"
& "ClickBank Affiliate SuperTips"
He has just written one entitled "ClickBank Residual Income"
which you can download for free:
Actually, if you download the ClickBank Residual Income
PDF book… you will find a link to the other 2 free ClickBank
books, plus other helpful links.
If you're interested in this subject of residual income,
you can download the ebook here:

ClickBank Residual Income
Helping You Succeed Online Since 2002!

Kind Regards,
Titus
http://www.bizwaremagic.com