Google's April 21st mobile deadline has come and gone. Did you manage to get your website mobile-friendly? Or are you still struggling to get all your webpages mobile-friendly?
To be fair, Google did give webmasters several months warning to get their sites mobile-friendly if their wanted to fully take advantage of Google's listings/rankings when it comes to their mobile index. Small webmasters with 1000's of webpages to optimize for the mobile market were left scrambling to meet the deadline.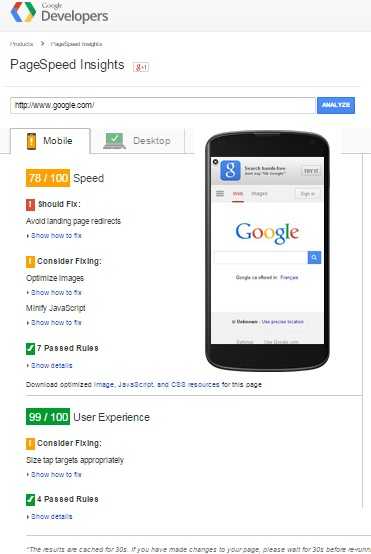 However, unlike the Panda & Penguin Updates, this time Google promised this mobile update wouldn't affect or bring down your whole site. In other words, having a few mobile-challenged pages won't cause your whole site's rankings/status to tank like it does for the other Updates where a few bad pages or links can send your site into Google Purgatory.
And unlike these other Updates that severely damaged the web and link sharing, making your webpages and site mobile-friendly is a good thing. Since over 50% of web surfers are now accessing the web through their smart phones/gadgets/tablets – improving the mobile user's experience can only help your site. More traffic, lower bounce rates and more time spent on your pages… this is good for business, not just for higher mobile rankings in Google.
Like thousands, if not millions of other webmasters, I scrambled to get my sites mobile-friendly. I have spent weeks re-writing code and testing my pages in both Google's Mobile-Friendly Test and the more detailed PageInsights Test.
After managing to get most of my pages at least Mobile Friendly (with scores of at least 90% in the mobile user experience) I wondered just how does Google and the other other search engine sites stack up when it comes to mobile friendliness?
Well, Google.com gets a warning in its own PageInsights Test with a 78/100 Speed score with suggestions to avoid landing page redirects, optimize images and minify JavaScript. However, Google did manage a 99/100 on Mobile User Experience with the suggestion they should consider fixing or re-sizing the tap targets appropriately.
Can't say I was surprised by the results but did expect to see a 100% on that user experience metric. Guess Google doesn't really have to live by your rules or their own for that matter, but you would think they would fix the speed issue when it comes to mobile – just saying.
Here's how Google.com faired on the PageInsights Test:
Mobile
78/100 Speed
Should Fix:
Avoid landing page redirects
Consider Fixing:
Optimize images
Minify JavaScript
7 Passed Rules
Download optimized image, JavaScript,
and CSS resources for this page.
99/100 User Experience
Consider Fixing:
Size tap targets appropriately
That's Google, but how does the other search engines stack up – remember them, Yahoo and Bing? Not much
better, especially when it comes to page speed.
Yahoo.com PageInsights Test:
Mobile
66/100 Speed
Should Fix:
Eliminate render-blocking JavaScript
and CSS in above-the-fold content
Consider Fixing:
Leverage browser caching
Minify HTML
7 Passed Rules
98 / 100User Experience
Consider Fixing:
Size tap targets appropriately
4 Passed Rules
…………………………………………
Bing.com PageInsights Test:
Mobile
72/100 Speed
Should Fix:
Eliminate render-blocking JavaScript
and CSS in above-the-fold content
Prioritize visible content
Consider Fixing:
Enable compression
7 Passed Rules
100/100 User Experience
Congratulations! No issues found.
While both Yahoo (66) and Bing (72) scored lower on the page speed test, it should be noted that Bing was the only one with a 100% – No Issues Found – on its mobile user experience test. By the way, DuckDuckGo.com also gets 100% on the user experience but only 71 on the speed test.
If you need help with making your webpages mobile-friendly I would highly recommend this comprehensive
article by Aleyda Solis on Searchengineland. You can find it located here.