Independence Day Sale – Get 33% Off Ken Evoy's SBI & bizXpress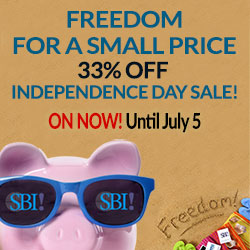 SBI Independence Day Sale – 33% OFF
Written by Titus Hoskins


Sitesell's popular web hosting packages from SBI! & bizXpress
(WordPress Version) have always been a favorite promotion on
the Bizwaremagic.com site. This is mainly because Ken Evoy's
products over-deliver, not only on quality but also on all
the different features involved in these hosting packages.
They come highly recommended, especially for the beginning
webmaster or site builder who may need extra instructions
on how it is all done.
SBI and bizXpress will give you step-by-step instructions
on how to create a site. The material is extensive and can
be a little overwhelming but well worth it – if one puts
in the time and effort to truly work the tools given by
Sitesell.
No other web-building system on the web even comes close to SBI!
However, don't jump to the wrong conclusion, building an
online business will take much hard work and some time.
Nothing happens overnight, and this is not one of these
"get rich quick" deals… put that thought far from your
mind.
These hosting/site building packages will give you all the
tools you need to construct a very SEO friendly site and more
importantly it will tell you what "Not To Do" when building a site.
Perhaps, the most important part of the whole SBI and Sitesell
is the very active online forum which comes with these packages.
These active members will go out of their way to help beginning
and/or seasoned webmasters. It is this community, which has
built up around SBI over the years, that gives these packages
true value and worth.
This Independence Day you can check out these hosting deals
and seriously consider giving yourself a decent shot at your
own online independence. Believe me, the lifestyle cannot be beat.
Sitesell and Ken Evoy, for the first time, is offering 33%
off both SBI! and bizXpress with this Independence Day Sale.
This might just be the right time to check out these hosting
packages…
You can find our review of SBI: here.
Kind Regards,
+Titus Hoskins
Did you find the above information helpful? If so, why not
help spread the word – recommend this content by using
the social bookmark sites below. The SEO Gods will Thank You!