BWMagic's Internet Marketing Newsletter

Bizwaremagic Gearing Up For Black Friday & Cyber Monday 2013
Written by Titus Hoskins


Last Minute Holiday Gifts For Christmas
Down to the wire, but there's still time to order that special
holiday gift and get it in time for Christmas. However, you better
act fast because the cut-off times for shipping dates are quickly
approaching.
Here are some attractive last minute gift ideas and the online
retailers offering them:








There's a Free 2 Day Shipping Sale at MacMall.com where there are over
656 Deals on Macs, iPads, Notebooks, Tablets, Electronics and Accessories.
This shipping offer applies to orders over $293 & under 20lbs.
Offer Ends 12/19 11:59PM PT.


Toshiba Free 2-Day Shipping Upgrade


Toshiba is offering a 2-Day shipping upgrade on all its popular tablets,
All-in-One desktops and select prebuilt laptops. This offer ends Dec. 20
so you will have to act quickly. Just click the link below:


Get it for the Holidays with a FREE 2-Day Shipping Upgrade on all Tablets,
All-In-One Desktops and Select Prebuilt Laptops** Valid 12/13–12/20.





Amazon Prime Two-Day Holiday Shipping
Shop Amazon – Top Holiday Deals in Laptops
Amazon's Prime members can get a Two-Day shipping benefit
which should get that last minute gift to them by Christmas –
but they have to order by December 22.
There are more last minute gifts and gift ideas listed
below in the Corporate Business Gifts links and banners.



Gift Cards Make Great Last Minute Gifts:







Just Added – Site Build It – 2for1 Sale!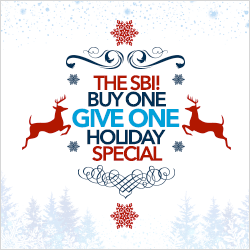 Star your e-Business right now with SBI's complete
website creation package. Site creation, hosting,
traffic building and one of the most active online
communities on the web to help you out.
Take Full Advantage Of The 90 Day Guarantee
& Turn Your Purchase Into A Risk-Free Trial.
Now you can buy one and give one as a gift or
save it for yourself.
To get all the details just click here.


Please Note Dell's Cyber Week Sale sale will run
from Dec. 3rd to Dec. 9th
– to see all the discounts and coupons go here
or click the banner below.
Bizwaremagic is well into its promotions for upcoming Black Friday (Nov. 29)
and Cyber Monday (Dec. 2nd) of 2013. The major push will be updating all
the laptop and computer coupons and deals from major manufacturers such
as Dell, HP, Toshiba, Lenovo, Sony, Apple and Alienware.
Our site has already done several press releases thru PRweb about Dell's
PreSale for Black Friday. And we will be constantly releasing new releases
as more Dell and Alienware coupons become available – especially the
doorbusters items which our visitors seem to be the most interested in
finding and buying.


Again this year, more press releases will be done on Corporate Business
Gifts as this is also a popular part of our site during the holiday seasons.
Banners will also be placed on the home page so visitors can quickly find
these webpages or buying guides.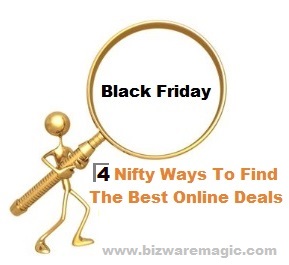 In addition, this year the Bizwaremagic site has created a special webpage
on how to find the best deals online or off. This page is entitled
"4 Nifty Ways To Find The Best Online Deals" and gives helpful tactics
and links for the busy holiday shopper.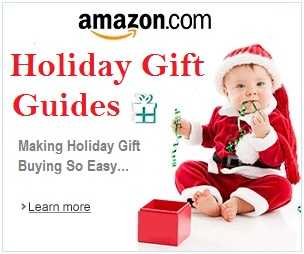 Amazon is always a major part of the holiday shopping season, and we have
constructed a simple webpage with all the popular Amazon Buying Guides.
Amazon is a popular and well trusted online retailer and visitors feel
more than comfortable ordering their gifts from Amazon.
For the first time, Bizwaremagic is heavily promoting its Facebook Fan Page
which will also have all these Black Friday and Cyber Monday links. This
Facebook page contains all the popular free guides which Bizwaremagic offers,
as well as videos, photos, slideshows… of its most helpful information.
In a rather bold move, Bizwaremagic is by-passing search engines such as Google
(at least as a primary source) of traffic and directing its promotions thru PPC,
Facebook, Twitter… and PRweb Press Releases. Search engines are often a lot
slower than social media sites like Twitter and Facebook – especially when it
comes to finding the latest discount bargain.
Judging from other years, 2013's Black Friday and Cyber Monday will be very hectic,
and forecasts show shoppers will be out in full force on those dates and the days
surrounding them. Bizwaremagic is ready for the friendly onslaught. Hopefully!
Kind Regards,
www.bizwaremagic.com.
Did you find the above information helpful? If so, why not
help spread the word – recommend this content by using
the social bookmark sites below. The SEO Gods will Thank You!