Dell Upgrades Its Alienware Line Of Gaming Laptops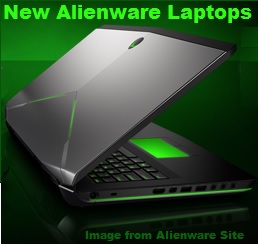 Alienware 14, Alienware 17 and Alienware 18 Are Introduced
Written by Titus Hoskins


So familiar – yet different. These newly re-designed Alienware M14x,
M17x and M18x are different on the outside and inside. Dell has taken
the introduction of Intel's 4th Generation Core (Haswell) processors
to update its popular line of gaming notebooks, which regularly makes
the top 10 list.
Most noteworthy will be the upgrade to the Haswell processors which
gives 15% more power but can also handles graphics in the CPU itself,
saving battery life. These rigs also feature the latest Nvidia 700
series of cards which should easily handle most modern video games.
The outside appearance has also changed – with a more angular look
and design. Alienware is using anodized aluminium on the outer shell
and a magnesium alloy for the body, and it should also be noted that
the keyboard is now protected by a reinforced plate on each notebook.
The appearance is supposed to mimic a jet engine, fully vented by heat
exhaust vents at the rear.
For the first time, dual Nvidia Graphics Cards comes as standard on
the Alienware 18. The Alienware 17 has a 3D option, and the Alienware 14
comes with an Anti-glare full HD display.
For other details and a limited time offer to get an extra $50 off
your next Alienware laptop click here:
Dell Alienware 14, 17 and 18 Laptops
Regards,
www.bizwaremagic.com.
Did you find the above information helpful? If so, why not
help spread the word – recommend this content by using
the social bookmark sites below. The SEO Gods will Thank You!