BWMagic's Internet Marketing Newsletter


Best Black Friday Deals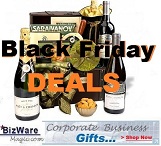 Like every Black Friday or long before it, my inbox becomes flooded with
holiday offers, coupons, doorbusters and bargains. I comb through
all these offers and place the best ones on my webpages.
Like years past, there are some excellent savings to be had, if one
acts fast and manages to snap up any of the limited doorbreaker or
doorbuster items. Bit hectic, but shopping online does beat camping
out in the cold.




I have spent the last few days updating numerous pages on this site
with the latest Black Friday and Cyber Monday deals and coupons. Mainly
my Corporate Business Gifts Pages and my Dell, HP and Alienware laptop
coupons pages – there are some great deals to be had if you're in the
market.
Hot holiday items this year include the tablet devices such as iPad, iPad
mini, Surface and the Dell XPS 13 Ultrabook. Smartphones are again very
popular, with the Samsung Galaxy S3 giving the Apple iPhone a run for
its money.
Black Friday Deals & Online Marketing
Besides making a few bucks, these holidays are an affiliate marketer's
dream come true, what I really enjoy is all the marketing behind the
scenes. Creating graphics, writing press releases, doing viral marketing,
trying different PPC campaigns… and the list goes on.
Working out an advertising budget and sticking to it is perhaps the
hardest rule to follow. The more you spend in advertising, the more
you will earn – especially during these holiday buying events such
as Black Friday and Cyber Monday. However, there is a fine line and
you don't want your business to end up in the red on Black Friday
of all days.
This year I am putting more emphasis on social bookmarking sites
like Facebook, Twitter and Pinterest. Even though I don't
find that kind of viral traffic half as good as search engine
visitors… for me at least, search engine and PPC traffic converts
much better into a sale.
The only exception – if you can manage to get the social traffic
to subscribe to one of your newsletters or marketing funnels – then
your chances of achieving better conversion rates go way up. Customers
buy from people they know – so establishing a good relationship is crucial,
especially in the online world.



While Black Friday and Cyber Monday are excellent times to pick
up that perfect holiday gift at the best price, it is also an excellent
time to do online marketing and test out new strategies.
Now if you will excuse me, I have to go back to monitoring my
Black Friday traffic in Real-Time in Google Analytics.
Happy Shopping and Happy Marketing Everyone!
Kind Regards,
Titus Hoskins
Did you find the above information helpful? If so, why not
help spread the word – recommend this content by using
the social bookmark sites below. The SEO Gods will Thank You!