BWMagic's Internet Marketing Newsletter


Made EzineArticles Top 20 Expert Author Showcases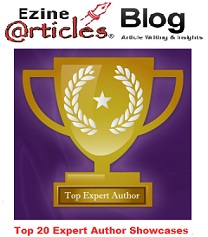 Hey, I am still proud to be an article writer and marketer, despite all
the recent uproar about the whole idea of using online articles to get
your message on the web. And I was a little more than pleased to see I
had made it into EzineArticles' Top 20 Expert Author Showcases… in
the #3 spot!
For me, article marketing is not dead and I refuse to believe otherwise.
It is still an effective marketing tool, especially if you use unique
articles and carefully monitor your anchor text links in your resource
boxes.
However, I would be foolish to believe article marketing hasn't taken
a serious beating in the last year or so. This is mainly due to Google
and its recent algorithm changes – mainly the Panda and Penguin Updates.
In the Panda Update, articles took a serious blow, because websites and
webmasters no longer wanted to display or reprint articles on their sites
since Google and Panda believed them to be of lower value/quality because
they weren't original.
With the Penguin Update, articles faced an even greater firestorm because
Google was now targeting and de-ranking exact keyword matches in the
resource box links of these articles. Sites did not want to be seen by
Google as having spammy links and countless high quality articles simply
disappeared from the web. You even had some sites deleting millions,
yes millions of articles, from their sites. Other sites displayed articles
but with no backlinks.
Good, informative high quality writing and articles will always be important
on the web. And despite what Google wants, syndicating content is still not a
crime. But writers do have to be careful not to violate Google's Guidelines,
especially when it comes to backlinks and keyword anchor text, if they still
want to rank in Google.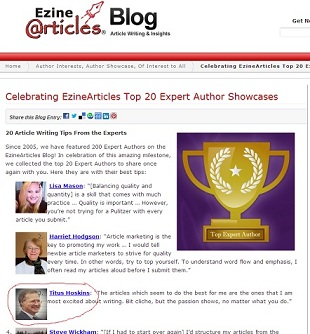 As for making EzineArticles Top 20… this was out of some 200 showcases featured
on the EzineArticles' blog since 2005. The blog is run by Chris Knight who owns
the popular EzineArticles.com site. Keep in mind, EzineArticles is probably
the top article directory on the web. It has over 462,195 expert authors submitting
articles, the popular site also has an Alexa traffic rank of 374 and a Google Page
Rank of 6.
My Top 5 EzineArticles And How They Have Performed
Helping People Succeed Online Since 2002!
Kind Regards,
+Titus Hoskins
Did you find the above information helpful? If so, why not
help spread the word – recommend this content by using
the social bookmark sites below. The SEO Gods will Thank You!