BWMagic's Internet Marketing Newsletter


Panda, Penguin, Google Shopping… What Is Google's Masterplan?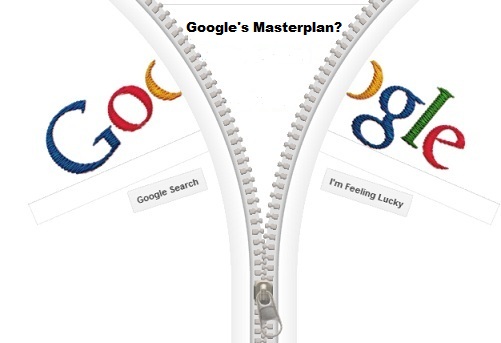 Just what is Google's overall objective – better search results
or total control of all e-commerce on the web?


When you're a multi-billion dollar company controlling the majority of
the search traffic on the web, nothing happens without extensive planning
and decision making. Google and the people who run it, must have a Masterplan
when it comes to how both its business model and web search will play out in
the coming years. Recent "jarring and jolting" changes to Google search and
Google Product Search could be pointing the way for a web filled with "paid
advertising" and little else.


Too extreme a view?


It all comes down to your own perspective, if you're a 10 year seasoned affiliate
marketer and have seen most of your lucrative "keyword traffic" from Google wiped
completely off the net, Panda and Penguin are creatures from hell, designed to
annihilate your online business. Google is again the "big bad wolf" gobbling
up affiliate sites and making them invisible on the web.
If you fall into this group, you may even believe Google is directly targeting
SEO and anyone who has optimized their sites to take advantage of keyword marketing…
you may even believe Google is not really interested in achieving better quality
search results but just changing the playing field, so that advertisers and companies
will have to come to Google if they want to continue to sell their wares on the web.
It would be in Google's best interests to completely wipe out SEO and affiliate
sites/marketers; then these sponsoring companies will have to come to Google for
exposure on the web. These companies will now have to pay for this exposure through
advertising programs, such as Google's bread and butter cashcow – Adwords.
Then you also have to consider Google's move to make Google Shopping all paid listings,
where companies simply have to pay to get their products shown. Google Shopping was
formally known as Froogle, then Google Product Search. Regardless of what it was called,
this used to be a free program which companies relied upon to bring in sales and clients
– now businesses have to pay to get their products or services listed.
However, while there may be some underlying grains of truth to this line of reasoning,
one really has to stand back and take a much more critical look at Google's recent
changes to its SERPs and Rankings, (changes which are ongoing and constant) to grasp
the big picture. Google may have more troubling issues, than worrying about a few thousand
online marketers who have optimized and taken advantage of Google's easy keyword manipulation,
issues which can really cause the search giant some sleepless nights.


So what does Google have to worry about?


You – dear reader and Internet user!


More precisely, your Internet habits and interactions, which could definitely cause Google
to stand up and take notice. Like everything, the web is evolving and again more precisely,
the way we use the web is evolving. General search engines, like Google, could even become
irrelevant in the web of the future.
Instead of starting their search or Internet day via a search engine, the web user could
enter via a social network like Facebook or go directly to a site like Amazon and start
their search there. Either way, search engines such as Google (unless they change and
reinvent themselves) are cut out of the big picture.


Hogwash you say.


Not really, according to Alexa, Facebook has already knocked Google off the #1 spot, as
the top ranked site on the web. This is in spite of Google coming up with its own social
network called Google Plus, which you may or may not have heard about. Even more importantly,
web users spend twice the amount of time on Facebook than they do on Google. Facebook is
where a large majority of web users spend their day – a very important factor which can't
be ignored. Once Facebook is totally monetized, a very competing onsite search engine could
give these Facebook users a viable alternative to Google.
Some type of Facebook search engine is even more evident after one considers Zuckerberg's
recent comments at a TechCrunch session, which included the following statement, "We're
basically doing 1 billion queries a day and we're not even trying."
Just as troublesome, Google has to worry about web users going directly to sites to find
what they're looking for on the web. Gradually, as the next generations of web savvy users
evolve and change, they will know exactly which sites will give them the results faster
than Google or any search engine for that matter.

"In 2009, nearly a quarter of shoppers started research for an online purchase on a search
engine like Google and 18 percent started on Amazon, according to a Forrester Research study.
By last year, almost a third started on Amazon and just 13 percent on a search engine. Product
searches on Amazon have grown 73 percent over the last year while searches on Google Shopping
have been flat, according to comScore."


If you need to find a movie, instead of searching Google, why not go directly to sites like
IMDB (Internet Movie Database) or a review site like Rottentomatoes? If you need general
information, forget Google Knowledge Graph – why not go directly to Wikipedia and start your
search there. As you can plainly see, how web surfers use the Internet will play an even
greater role as these users' habits mature and evolve… which could spell serious trouble
for Google.
Then one has to factor in all the hardware changes in recent years, all those new mobile devices,
apps and gadgets. These mobile devices could dictate how web users access and search the web.
Something like Apple's Siri, must be giving Google a few headaches, changing how searchers
use the web and shaking up the landscape, especially in light of Apple's recent victories
regarding Android and patents.
The one certain thing you can say about Google – it takes on its competition with a vengeance.
Facebook – Google Plus, Apple – Android, Wikipedia – Knowledge Graph, Internet Explorer – Google
Chrome, Amazon – Google Shopping… and the list goes on.
Rightly or wrongly, many in the online marketing world would add the following…
Affiliate Sites – Panda, SEO – Penguin. They would put forth the argument that
Google is in direct competition with affiliate marketers and SEOs, if companies can
sell their products and find clients via affiliate marketing and SEO, they don't need
Google and their costly advertising programs such as Adwords and now Google Shopping.


So what is Google's overall MasterPlan?


All moral and ethical issues aside, Google is a business and the goal of any business
is to beat the competition and prosper. With such ongoing changes as Panda, Penguin,
Google Shopping… Google's Masterplan is probably to wipe out as much competition as
they possibly can and of course, to survive well into the future. Providing the best
quality search results is probably still in their plan, but one gets the general impression,
it is being pushed further and further into the background, well down beneath the fold
and constantly being over-ruled by stockholders and the desperate need to keep revenues
flowing.
For more information on Google's recent changes and
how they affect your web marketing, try this link:
Helping People Succeed Online Since 2002!
Kind Regards,
+Titus Hoskins
Did you find the above information helpful? If so, why not
help spread the word – recommend this content by using
the social bookmark sites below. The SEO Gods will Thank You!