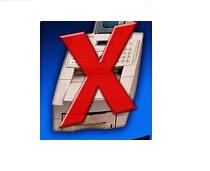 Internet Fax Service Guide
Faxage - Denver Internet Fax Service
Faxage is a part of EC Data Systems out of Denver, Colorado.
Faxage offers 'Never Busy' faxing lines to its clients and it also offers some of the most competitive pricing of any fax service listed in this guide.
For many small or large businesses, especially for those operating around the Denver area, and those in the US - it can be an excellent choice for any business or home office. Large or small.
Faxage will supply that personal touch to your company's faxing demands, sometimes overlooked in larger, flashy faxing services.
Faxage has numerous different faxing plans:
Lite Plan Local or Toll free - Monthly per line $3.49 - 5 cents a minute.
One-time setup fee $5.00.
and works its way up to:
Toll-Free Unlimited Outbound Plan
Designed for high-volume users who want a Toll-Free Unlimited Outbound Pricing Structure, at Monthly per line $64.95 with 500 inbound minutes and unlimited outbound minutes. Per-minute overage cost $0.05 (5 cents per minute). One-time setup fee $5.00.
Toll-Free 500 was $19.95 and is now $11.95
Toll-Free 1000 was $29.95 and is now $19.95
Fax Numbers Local/Toll Free numbers.
Faxing Web Interface. One-time setup fee $5.00. Uses TIFF image file or an Adobe Acrobat PDF file. 'Never Busy' numbers.
Very flexible plans makes Faxage an excellent choice for small or large businesses or companies. It might not be as well known or flashy as the other major Internet Fax services but Faxage offers quality service with a personal touch that you may find lacking in the larger fax services.
Faxage is a good choice or alternative, especially for companies operating in the US. FAXAGE recently updated its services to now offer local number coverage to all 48 states in the Continental U.S. as well as Washington D.C.
Place Faxage on your list of fax services that you have to check out before you sign up for any one faxing provider. Your company will thank you!
Click here to find more info on Faxage.
..........
Please Note In gathering information and facts about the different Internet Fax Services, some online sites proved very beneficial. Mainly sites that rated the different Fax Services - nothing beats an opinion poll of actual users.
Internet Fax Service Guide
www.bizwaremagic.com
Please bookmark with social media, your votes are noticed and greatly appreciated: